by Steve Schwinghamer, Historian
(Updated July 20, 2021)
Our Museum is located at a National Historic Site: Halifax's historical immigration facility at Pier 21. One of the principal tasks for the Museum has been to introduce and orient visitors to the historic place as they stand in the converted, modern space of the Museum. One of my favourite tools for this has been a scale model of the historic buildings at Pier 21. With the opportunity to renovate the exhibition, I tackled the job of researching updates for the model. This post will introduce a few of the updates, and discuss some of the related historical context. The update process for the model required research in interesting sources, including memoirs and oral histories with staff, files of correspondence from Halifax immigration authorities, procedural manuals and regulations regarding detention, photographs, and architectural drawings and floor plans of the facility itself. My colleagues and I used these sources to suggest artistic touches – even things as tiny and offbeat as the addition of miniature trash cans – that would add opportunities for richer interpretation based on the model.
Trash Cans and Baggage
Adding waste bins to the model might seem something of a low priority – they add a touch of realism, certainly, but what interpretive value might they have? At Pier 21, the process of having items discarded while clearing customs was a memorable one for many immigrants. Wolfgang Christl remembers arriving from Germany to Pier 21 in the early 1950s:
"We were led down the gangway, and we had to muster up, and face Canadian customs. And the instructions were for us to have our suitcase, which we did, and we took our turn in line, with the customs officer, until I was inspected. And casually, I observed the officer checking my baggage, and there he grabbed a sausage—a salami sausage which my brother, Helmut, in Germany, packed for me in my suitcase. And not realising what was going on, I observed he threw that sausage in the garbage! And, my god, I just couldn't believe it. That was a gift from my brother, and he took away that sausage! No sooner did that one land, he grabbed a second one, and attempted to throw [it] too. And I was so upset, I pushed the officer. And I said, "You can't do that." And just to make a long story short…I was escorted into a room, and the door was locked."[1]
Including trash cans in the model introduces a link to the issues around prohibiting goods and seizing items at Canada's borders. A discussion about what goods were permitted (or thought too risky to be allowed) provides an interesting window into the social and cultural climate of Canada at a given time.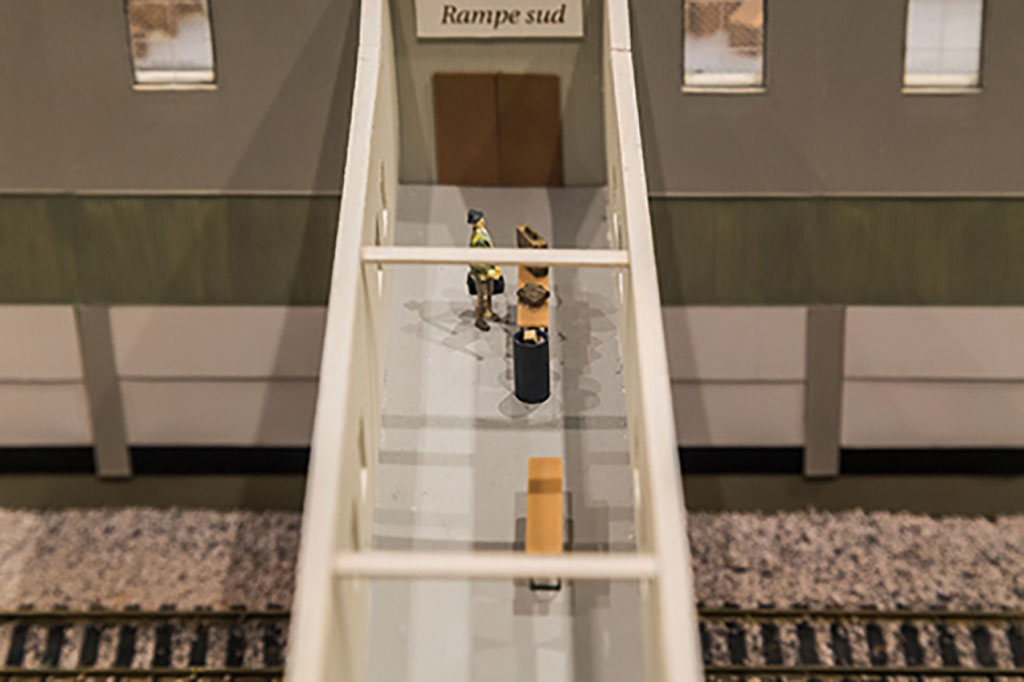 Along with the discards, of course, are the items people brought and kept. The model is full of suitcases, crates, handbags and the like. Eleanor Matheson, one of the Museum's Heritage Interpreters, uses the model baggage and cargo as way of approaching arrival at Pier 21 from alternative perspectives, and for elaborating on personal experiences at the site. For instance, the separate journey a crate might make through entry into the country at the pier helps show many of the important functional areas of the historic facility which did not usually include passenger or immigrant traffic.
Further, the presence of these objects draws into question the relationships between people, places, and objects. This is a valuable discussion to have at the place of the model in the new exhibit, as it adjoins a display of baggage artifacts. What did people bring, or leave behind? What controls were operating for things being taken out or brought into countries? How did people feel when they were reunited with their belongings?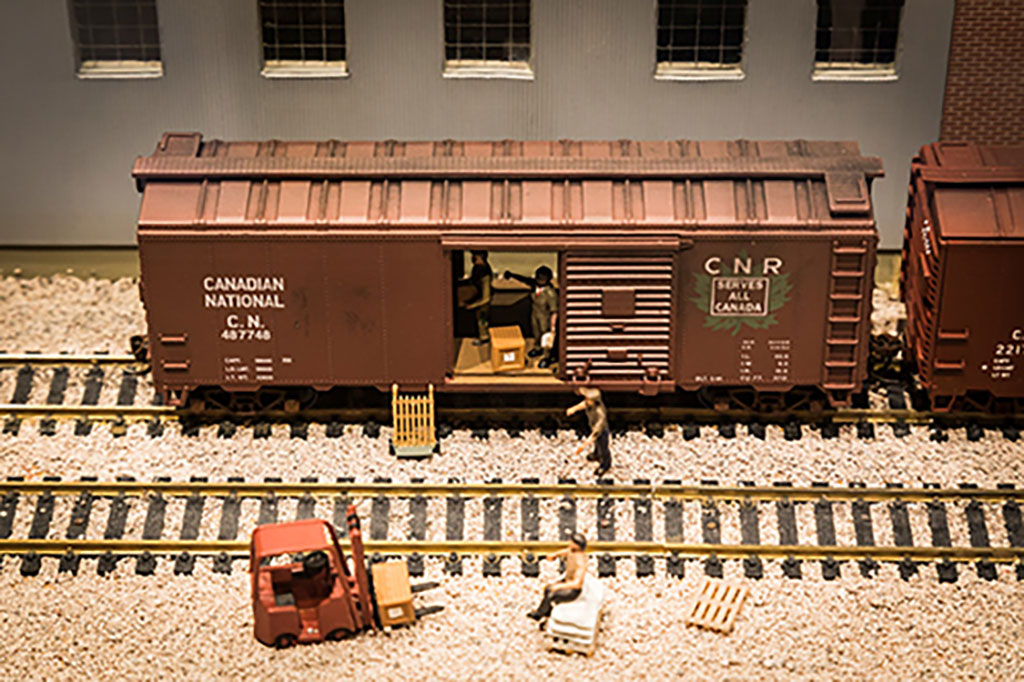 Bars on the Windows
For the revision, my colleagues and I wanted to use cues to draw attention to personal experiences and broader histories at the site. One important aspect of the facility was its place as a detention or accommodation centre, where people stayed or were held as part of immigration processes.[2] Sometimes, an immigrant family might just be here for a few days while a sick child recuperated; in other cases, the building was the last stop for an immigrant being deported. For instance, Tibor Lukacs came to Canada following the Hungarian Revolution of 1956, at age 11. Lukacs, along with his parents and two sisters, fled to Austria after the uprising in Hungary was crushed. They lived there until 1958, when they flew to Canada. After arrival, they went to Pier 21 to complete the immigration process, where they were detained for five months. Lukacs recalls:
"The corridors had small rooms behind here at this other end, this northern end. This is where they had these rooms and none of them had doorknobs. There were no doorknobs. What's going on? In the middle of the door, there was a square little glass pane with wires inside it, so reinforced glass. Fine. But, outside the door, there were latches, all the way from top to bottom, maybe four or five, sometimes six. And then we found a gentleman, a young man who was in here and we actually made friends with him and he was living in here and he was a spy. He was actually a spy. His name was Carl. I don't recall his last name. He was a spy who lived here and he was deported. They caught him on a ship, trying to get into the country, they caught him on a ship and he was in here and he was eating with us in the communal dining room."[3]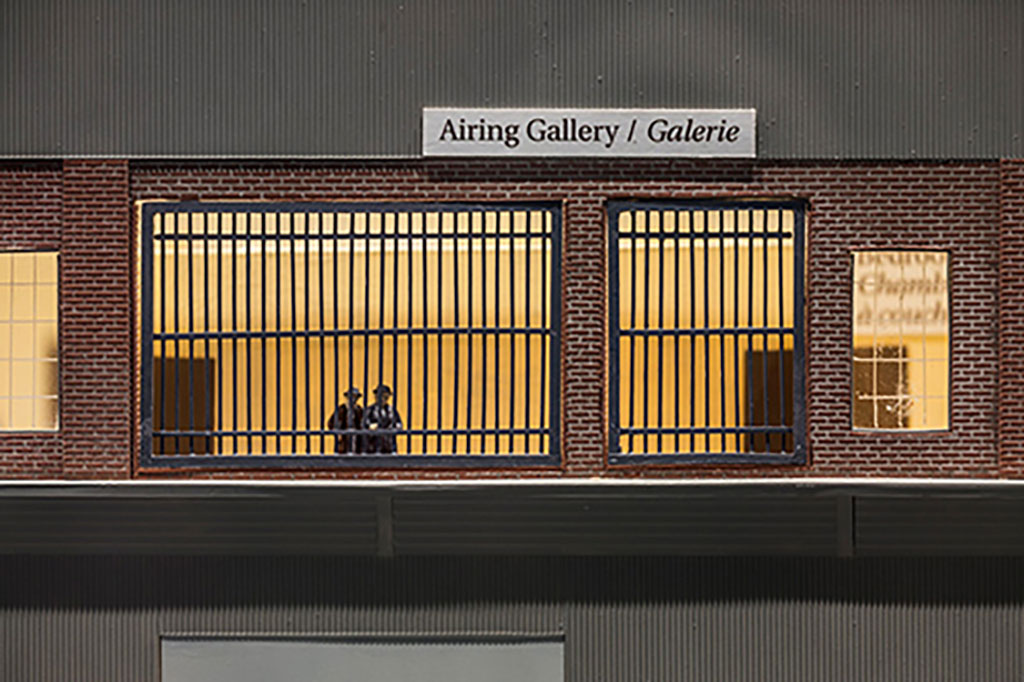 As Lukacs' story shows, detention happened in the context of global politics, but it was also very personal. Geopolitical concerns like Cold War espionage exist side by side with the unsettled feeling of looking out from the wrong side of a steel security door. Secure detention space was an important design element of the facility, though. In addition to the daunting doors on accommodation quarters, Pier 21 had gratings or mesh mounted over many windows to prevent escapes of detainees.[4] This confinement had a profound impact on some people arriving at Pier 21. Jackie Eisen came to Canada with her displaced Polish family in 1950 at age eleven, and they were detained for three months at Pier 21. Eisen remembers "tears running down our faces, seeing all these people getting on their trains" as they were held back in detention, but also recalls kindness from the Sisters of Service during their stay.[5] The addition of bars on the airing galleries is a good visual cue for this complex topic. These bars can trigger a critical discussion with visitors about experiences of detention, and also about the broader authorities that governed admission or rejection and detention or deportation. An interpreter can also introduce the use of secure strong rooms or cells in the immigration quarters at the Pier.[6] In weighing and discussing some of the evidence drawn from the Museum's collection about the immigration quarters as well as broader policy and practice, visitors can participate in making meaning out of a many-faceted past.
Big Histories, Tiny Scale
Although I have only discussed here two kinds of additions made to the model, there are many more new items, including:
Nurses and doctors
Railway employees, including Black porters
More and varied train cars
Immigration guards
Improving and updating the model with these and other additions creates the opportunity to draw visitors into richer conversations about the site and its history. For example, the additions above open up historical topics such as eugenics, race, and class, together with the resulting effects on Canadian immigration policy. Compared to the original model, the new one is more interesting, more fun, and has greater integrity with the varied and conflicting histories of the site.
The Museum would like to acknowledge our model-maker, Fred Bustard, who worked on the original model in 1999 and crafted the revisions for our new exhibition.