Volunteer Program presented by Scotiabank
Volunteers from all backgrounds are welcome at the Museum—including you! Share cross-cultural experiences with fellow volunteers and learn about Canada's immigration history. Meet new people in a vibrant atmosphere and become actively involved in your community. Gain marketable skills and share Canada's immigration story as a volunteer at the Canadian Museum of Immigration at Pier 21. There's no better place to feel Canadian.
Volunteers take on roles in many departments at the Museum, and the roles and projects available to volunteers are always growing and changing. The Museum's volunteer opportunities are as diverse as the volunteers themselves!
Benefits
As a volunteer you will enjoy:
the training and support needed to make your volunteer experience rewarding
unlimited free admission to the Museum and temporary exhibitions
limited free Museum admission passes for friends and family
invitations to Museum activities, exhibition openings and recognition events
opportunities to meet and socialize with fellow volunteers and staff
15% discount in the Museum Gift Shop and Gateway Café
complimentary parking during volunteer shifts
subscription to The Porthole, the Museum's internal newsletter
Interested in joining our team?
Current Volunteer Opportunities:
For any volunteer-related questions, please contact acarter@pier21.ca
Our Volunteers Say...
It has been such a pleasure to work with staff who obviously enjoy what they are doing and who relate so well with all kinds of people. Pier 21 offers multiple opportunities for me to attend various activities…it is definitely more than just a volunteer job! There is no doubt that what one gives is appreciated and that one's ideas are valued!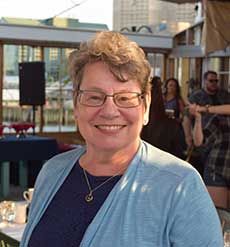 "When I first started working I was the youngest volunteer and the first one to be in a wheelchair. I started out introducing the film, and the next year I assisted with the guided tours. In 2015 I started working at the Citizenship table, I love giving people the sample test and marking it but most of all I love getting people to raise their hand and take the oath of citizenship with me. It gives me experience interacting with tourists from all over Canada, the US and also other countries"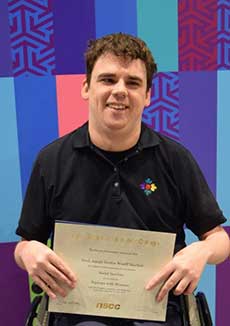 Time 0:02:04
Man with glasses and a grey trimmed beard is sitting in a chair next to a banner that reads Countless Journeys One Canada. He is wearing a blue button up shirt with a name tag.