During the Second World War and reconstruction period, the Canadian Government wanted to fulfill its commitments to England by providing a vast quantity of food supplies for troops and civilians. Therefore, from 1942 to 1947, a system that was completely new to Canadians: rationing was imposed. Rationing had a major impact on women, since they were responsible for purchasing food for the family. Their wholehearted participation in rationing goods became their patriotic duty to support the war effort.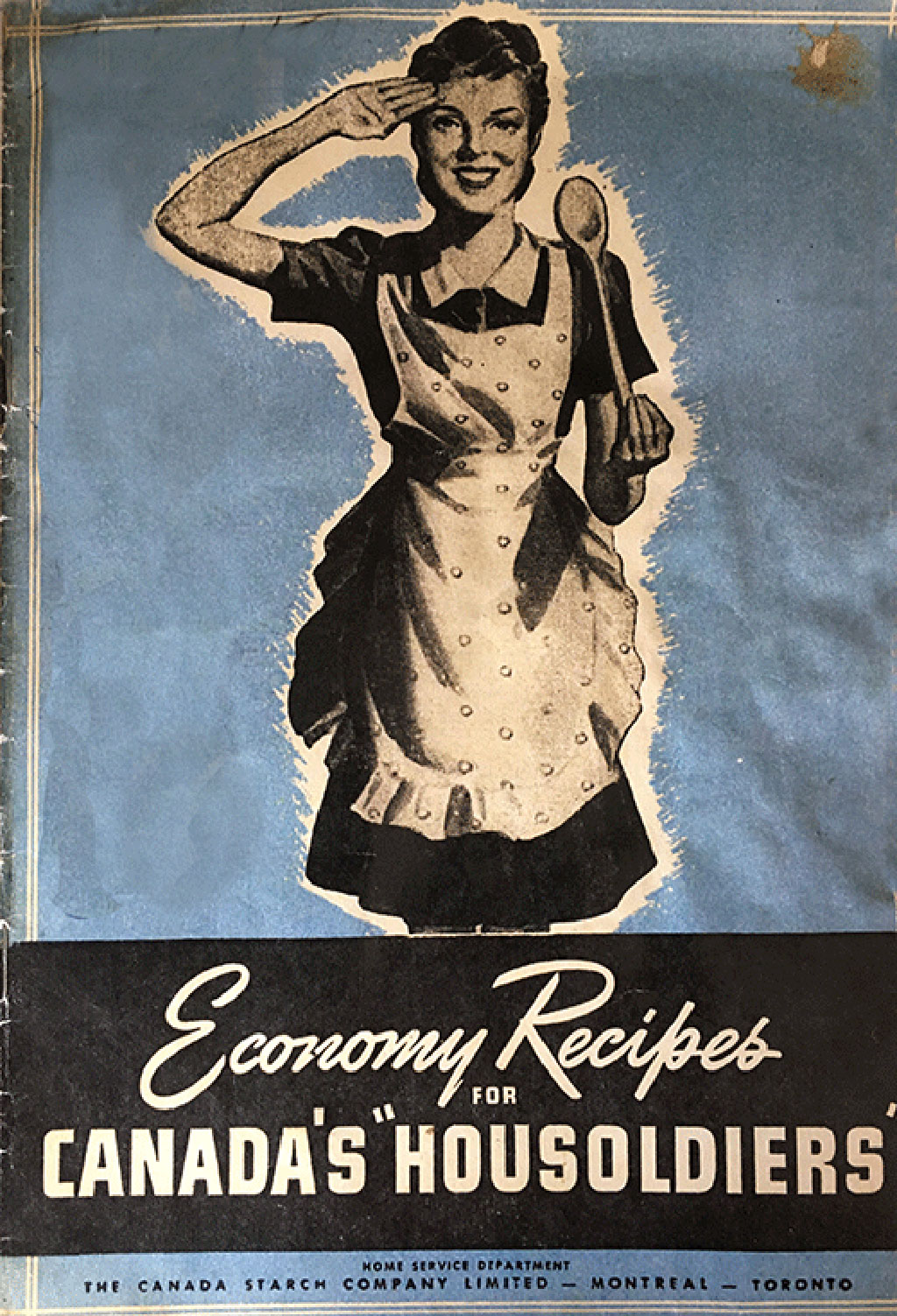 How did rationing work, exactly? The government would decide which foods would be sold in stores, how many a person could purchase, and how often. People would receive a booklet of coupons for their household. The number of coupons was determined by the number of household members. To purchase rationed goods, they would visit a store, present a coupon for butter, and pay the required price.
What goods were being rationed at the time? In general, rationed goods included sugar, butter, meat, tea, and coffee, for instance. Additionally, canned goods, molasses, jams were rationed as well. To cook meals that resembled what they were accustomed to in prewar times, women therefore used their imagination and ingenuity. They adapted their everyday and special recipes depending on the availability of ingredients. For example, they could replace sugar with maple syrup, raisins, or corn syrup. If they ran out of butter for a birthday cake, they'd resort to chicken fat! And if they ran out of chicken fat for cookies, bacon or pork fat did the trick! During this period, women regularly used cake recipes that didn't rely on butter, eggs, or milk.
Today, many of us are experiencing temporary shortages in the grocery stores for the first time. In recognition of the spirit and resourcefulness of war-time bakers, here are some example of how they made do and were still able to enjoy baked goods despite restrictions. Often referred to as "Victory Cakes" by the public, they were designed to make use of ingredients that weren't rationed by the war effort or required lesser amounts.
War Cake
2 cups brown sugar
1 package raisins
2 cups hot water
2 tbsp lard
1 tsp salt
1 tsp cinnamon
1 tsp cloves
Boil the above 5 minutes, when cool add 3 cups flour, 1 tsp [baking] soda dissolved in 1 tsp hot water. Bake 15 minutes in a slow oven. Best in 2 tins.
Source: Daily Standard- Freeholder.
Eggless Spice Cake
Temp: 350o Time: One hour
1 cup seedless raisins or currants
½ cup brown sugar
½ cup Crown Brand Corn Syrup
1 cup boiling water
1/3 cup melted fat
1 tsp salt
½ tsp nutmeg
1 tsp cinnamon
2 cups sifted all purpose flour
1 tsp baking soda
½ tsp baking powder
Combine raisins, sugar, Crown Brand Corn Syrup, boiling water, melted fat, salt and spices in saucepan. Place over moderate heat and simmer gently for 5 minutes. Cool. Add sifted flour, baking powder and baking soda: mix thoroughly and turn into a greased loaf pan. Bake in a moderate oven (350o) for one hour. (This cake is deliciously moist and does not require icing.)
Suggested Food Substitutions:
For 1 cup butter: 7/8 cup lard, plus double the quantity of salt. Or ½ cup suet, plus double the quantity of salt and increase liquid in recipe by ¼ cup or more. Or ¾ cup bacon fat clarified and increase liquid in recipe by ¼ cup or more.
For 1 tsp Baking Powder: ¼ tsp baking soda plus ½ tsp cream of tartar.
For 1 tbsp Corn starch: 2 tbsp flour (to thicken.)
Source: Economy Recipes for Canada's "Housoldiers" from the Home Service Department, Canada Starch Company Ltd.
Thank you to Maison-Laurier National Historic located in the heart of Ottawa for sharing these recipes with the Museum.
Would you like to return to the ambience of a typical kitchen of 1939-45? Do you want to open the old fridge to find out what remains to make supper? Do you still have butter to make a cake and celebrate your big brother's return from the war? If so, plan a visit to the Parks Canada run Maison-Laurier National Historic Site where a guide in period costume will give you a cake recipe that doesn't use butter or sugar but that is absolutely delicious! https://www.pc.gc.ca/en/lhn-nhs/on/laurier/activ/cuisine-kitchen