Change. For some people, change is exciting, for others, terrifying. In June, the Museum changed, the visitor experience changed and the reactions of visitors to our Museum changed. I love change, by the way – especially this kind.
I have been working at the museum for over five years now, and I have had the incredible luck to be able to see our Museum evolve from a small private society, to a national world-class museum. I have also had the privilege of working directly with visitors and listening to them as they tell me about their experiences in the exhibits.
Through visitor comment cards, surveys, anecdotally, and through comments on Trip Advisor, I get a peek at what visitors are thinking and saying about the new exhibit. I have broken them up into several categories, and I'd like to share some with you.
1 - I love all the stuff to do!
"Great interactives - they invite real thought." Comment Card 246
"I enjoy how interactive the experience has been." Comment Card 159
In redesigning the new exhibit, we knew that we wanted many opportunities for visitors to interact with the content. We didn't want to just be a "look and read" type of museum.
In the Pier 21 exhibition and Canadian Immigration Hall, there are places for people to touch, sit, smell, put stuff together, and take stuff apart. Visitors can pack a suitcase, decorate a suitcase, add a patch to a virtual quilt and contribute to the museum content. Visitors have been responding very well to the interactive elements!

There are two sections where we encourage visitor to physically contribute their experiences to add to the display. In "What Pier 21 Means to Me," we ask visitors to share their personal stories about Pier 21 by writing on luggage tags and adding them to a wall of other people's contributions. The second is the "Customs and Traditions Wall," where visitors share their family traditions by writing on a slip of paper and attaching them to the wall with magnets.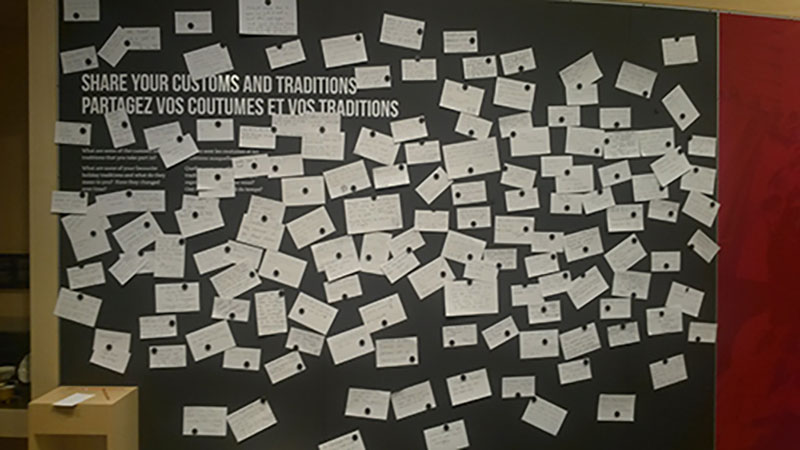 Both these activities are filled every day! People are contributing so much, and it is all so heartfelt and emotional.
2 - What about the _____?
"I would have appreciated some info about Mennonites coming to Canada not just leaving for Mexico." Comment Card 239
"It would be interesting to see info on the Eastern Europe camps implemented during WWI." Comment Card 248
As a Museum, we are limited by all kinds of factors. One being space – we only have a certain amount of square meters in which to present over 400 years of history. We are also limited by the amount of information a visitor can digest. The last thing we want to do is overwhelm visitors and feel like work. Because of these limitations, we took the approach of talking about big themes (like inclusion and exclusion in Canadian Immigration) by using case studies (the passengers of the Komagata Maru being turned away from the port of Vancouver). For each big theme, there are hundreds or thousands of possible case studies, but in most cases, three were selected.
Nonetheless, we love hearing about what visitors feel was left out – it helps us in deciding what content to consider next (we can change/rotate some of the content), and what kind of special programming we can offer visitors in the future.
3 – I miss _____ from the old exhibit!
"Beautiful Exhibits however - missed the film with the hologram immigration officer." Comment Card 278
Ah, the old exhibit! I loved it too. It was so neat and the film with the 3-D projections was so cool, but it was just getting too old. The original Museum exhibit and film were 15 years old when we replaced them. If it were a person, it would have been one year away from legally driving! Parts weren't working as well as they should and we had so much new content that we wanted to add.
We also needed to fulfill our commitment to our new mandate: "To explore the theme of immigration to Canada in order to enhance public understanding of the experiences of immigrants as they arrived in Canada, of the vital role immigration has played in the building of Canada and of the contributions of immigrants to Canada's culture, economy and way of life."
To do this, we really needed to start fresh with our two new exhibits.
4 – What an awesome place!
"A brilliant exhibit!" Comment Card 171
"This is one of the best museums that I have visited, and there are many." Comment Card 381
These super positive comments are really nice to hear. All the staff at the Museum have worked so hard over the past few years working to put this together for our visitors. Seeing people interact with the exhibits and seeing our visitation numbers rise is so exciting.
Getting this feedback from our visitors is very important and valuable. Comments let us know what we are doing right, what we could be doing better, and what we can think about adding in the future. Comments like these help us to stay relevant and interesting to our visitors, which is one of our top priorities. It helps us grow and evolve to better meet the needs of our visitors. Keep letting us know what you think and we will keep trying to surpass your expectations.