Introduction: Sharing Authority
Sharing authority through collaboration is an essential part of oral history research, and can take many forms, including outreach efforts, identifying the focus of a research project, sharing authority in interviewing, and working together to create public content.[1] We have been developing relationships with institutions and individuals across the country over the past decade as part of these outreach efforts. Below you will read about various Canadian Museum of Immigration (CMI) approaches to collaboration in oral history – with settlement organizations, a university-based oral history centre, a Halifax-based community organization with a focus on immigrant women, and a Canada-wide initiative of the Tibetan community.
Settlement Organizations – Immigrant Settlement Services of British Columbia
We work extensively with settlement organizations as a way to let people know when we are interested in conducting interviews. For instance, we send information about our research trip, along with an outreach poster, and ask staff to help spread the word. In Vancouver, for example, we have worked with MOSAIC, S.U.C.C.E.S.S., and the Immigrant Settlement Services of British Columbia, in addition to other institutions such as the Pacific Canada Heritage Centre-Museum of Migration. Each of my three trips to B.C. has helped build these relationships and increase awareness of the Museum and Museum activities. Settlement organization staff have always been helpful, and often there is one person who takes a particular interest in our project.
Liza R. Bautista, for instance, had been working for the Immigrant Services Society of British Columbia since 1995 when we met her in 2018. She gave us a tour of the Welcome Centre in Vancouver, and introduced us to several staff members. We also interviewed Liza. Born in the Philippines, she initially came to Canada through the Foreign Domestic Worker program.[2] We now have several interviews in the collection with settlement-sector staff who came to Canada as immigrants or refugees.
The Oral History Centre, University of Winnipeg
We also seek opportunities for broader collaboration with universities and community groups in various phases of oral history projects, including those already initiated by other centres. In 2016, for instance, Dr. Nolan Reilly, Director Emeritus of the Oral History Centre at the University of Winnipeg, contacted the museum about the potential for an oral history project in Neepawa, Manitoba that could focus on "globalization and immigration in a small prairie town."[3] The Centre was involved in an oral history project, led by Scott Price, with the United Food and Commercial Workers (UFCW) Local 832 to record interviews on the union's diverse history in Manitoba.
The project included interviews with people who worked in meat-processing plants in Brandon and Neepawa, Manitoba. This initial exchange led to a series of discussions, assistance with outreach efforts, and a 2017 trip to Neepawa, Manitoba, where ten interviews were recorded at the Margaret Laurence Home in Neepawa. These included seven interviews with people from the Philippines.[4] These interviews formed the basis for a short video that is now part of the BMO Oral History Gallery online at CMI.[5]
Immigrant Mothers and Daughters – Collaboration with IMWAH
We also developed the collaborative project, My Mother and I: Our Journey, with the Immigrant Migrant Women's Association of Halifax (IMWAH) In this instance, it was the museum that approached IMWAH board members in 2019 to explore the possibility for collaboration in various phases of an oral history research project. We worked together to define the focus of the project on mothers and daughters, engage in outreach efforts, and adapt the museum's interview guide for the project. With input from the six women interviewed, we created a video[6] based on the interviews, and planned a public event for International Women's Day, 2020. The collaboration continued after the end of the project, with (former) IMWAH Co-chair María José Yax-Fraser and myself presenting on the project at the 2021 annual meeting of the Oral History Association.[7]
The Chyssem Project: Celebrating the 50 Year Story of Tibetan-Canadians
The last example here of a collaborative effort, with the Tibetan Canadian community in Canada, is ongoing. In 2016, Sinisa Obradovic, former museum oral history interviewer, conducted three interviews in Montreal. Namchho Chhoyang was born in Tibet and fled to India with her family in 1959. Her daughter Dicki Chhoyang, born in northern India, was also interviewed. The family came to Canada in 1971, as part of a government program to permanently settle Tibetan refugees in Canada.[8] The following year, Dicki Chhoyang, who is a volunteer member of The Chyssem Project, contacted the museum to explore the possibility of an additional collaboration. Members of the Tibetan community in Canada had started The Chyssem Project to commemorate the first movement of Tibetans to arrive in Canada in the early 1970s and to preserve their personal connection to Tibet for future generations.
As a result, we conducted an additional six video interviews with members of the Tibetan community in Canada. We worked closely with the Chyssem Project to identify potential interview participants and develop an interview guide. I travelled to Etobicoke with videographer Darryl LeBlanc, and we set up a temporary recording studio in the Tibetan Canadian Cultural Centre for three days of interviewing. As part of the community collaboration, I also co-facilitated an evening workshop on audio oral history interviewing with Rignam Wangkhang, another volunteer member of the Chyssem Project, with the goal of providing basic training for people to conduct further interviews for the Chyssem Project.[9]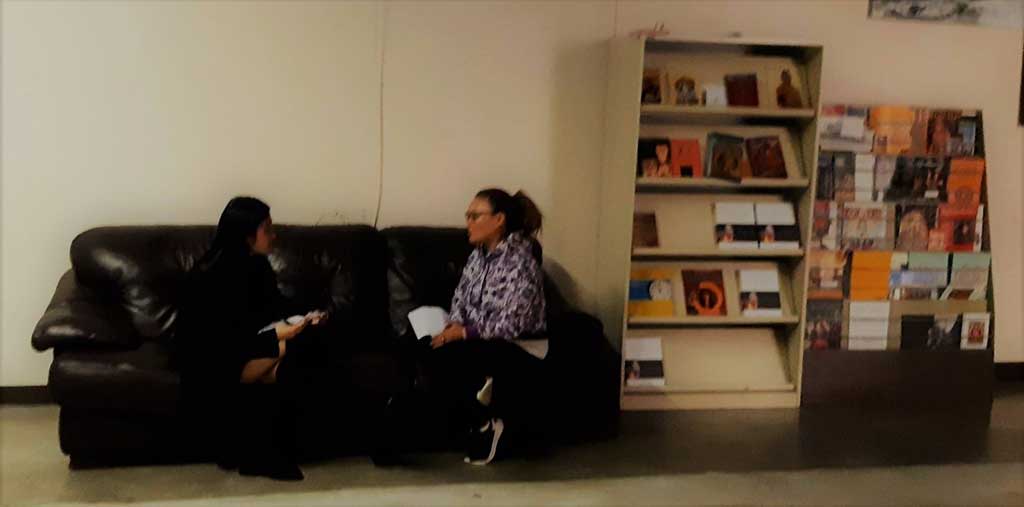 Collaboration and COVID
I had planned to return to Ontario in 2020 to conduct additional interviews, but was not able to travel due to COVID-19. As the anniversary was fast approaching, it was important to continue recording stories that could become part of CMI's permanent collection. We decided to enter into another phase of collaboration, in which volunteer interviewers from within the Tibetan Canadian community in Canada would conduct remote audio interviews. Rignam became the coordinator for this project, and an additional four volunteer interviewers participated in a virtual training session on oral history interviewing. An additional ten interviews have been added to Oral History collection as a result of this initiative, along with documents and images from all three rounds of interviewing in 2016, 2019, and 2021.
Conclusion: Inclusive History and Collaboration
Oral history interviewing involves both core concepts that apply to any interview, and flexibility in approaches to different projects. All interviews are guided by ethical principles, including informed consent. Interviews can also involve varying degrees of collaboration, from assistance with outreach efforts, to involvement in all phases of a project, to the training of volunteer interviewers who are part of the same community. All opportunities for collaboration involve some degree of sharing authority, a term used frequently in oral history research. By focussing on first-person recollections and reflections on lived events and experiences, oral history interviewing has contributed significantly to the democratization of history.[10] Collaboration in oral history research is part of this democratizing impulse.