We get many research requests here at the Scotiabank Family History Centre and none more challenging than looking for living relatives. Most of the records that we would use to trace people, like birth, marriage and death records, are not available due to provincially or federally legislated privacy laws. This means that we have to use other ways, which tend to be less detailed and can lead us down the wrong path or to "dead ends." However, not every search in this case results in such a fate. The following, story is a good example of that. It all began when I came to work one day in May 2012 to discover this lovely email from a gentleman in England:
Good morning from Southern England

Our family have recently discovered a previously unknown ancestor (William Oliver Lewendon), tragically killed in Northern Greece 2 weeks after peace was declared in the area at the end of the First World War. His short life was one of great tragedy from beginning to end, his mother died giving birth to him in 1891, his father was forced to foster him out and the rest of his family were broken apart in the early 1890's.

He had a daughter, whom he probably never met, Lily E Lewendon. She married Albert Richardson in Hendon, UK in 1942 and they had 2 sons, Ian M J (1948) and Peter A O (1950). The family is known to have emigrated to Canada in December 1953, arriving in Halifax on MV Nova Scotia (the arrival of 12th Dec).

It is there that the trail goes cold. My question is whether any records are kept of immigrants on their arrival at Halifax and if any planned destination in Canada is recorded on entry.

It is unlikely that Albert or Lily are still living, but, hopefully, their sons are, and any clues that you might be able to give me as to where they might be would be gratefully received.

With best regards
Malcolm Lewendon
After reading Malcolm's email, I began to search on his behalf. The first thing I found was a record of the family leaving the UK, on a UK Departure list. Unfortunately, these are not very detailed and do not state where in Canada a family is heading. Another obstacle to the search was that Canadian Immigration records for anyone arriving after 1935 are not yet public. This record would surely have the family's destination on it, but alas, only the individuals who immigrated or next of kin can request this record from Citizenship and Immigration Canada in Ottawa.
In Malcolm's email, he stated that he figured Albert and Lily were deceased, so I began searching for an online obituary using Google. Strangely enough I found one, but not in Canada, in the UK! There was a Lily Richardson, wife of Albert who passed away in Biddulph, Staffordshire, England. Even the children's names were correct. The fact that she died in England wouldn't be that unusual. Sometimes people who immigrate to Canada only stay a couple of years and then return to their homeland, or immigrate to another country. It was a definite possibility. Unfortunately, after Malcolm looked into this lead he determined that this was not the right family. Another wall!
Back to Google I went and this time found the following obituary:
RICHARDSON, Peter Anthony Oliver - 56, Halifax, passed away Sunday, September 9, 2007, in the VG Site, QEII. Born in Great Yarmouth, England. Peter was a son of Evelyn (Lewendon) and the late Albert Richardson. He emigrated to Halifax in 1953 at the age of three with his parents and brother, Ian. He graduated from Dalhousie University with a Bachelor of Arts degree (psychology). Peter found enjoyment in the simple pleasures of life, such as music and gardening, and maintained a positive attitude throughout his lifelong battle with rheumatoid arthritis. He is survived by his mother, Evelyn Richardson; brother, Ian and wife Sylvia; sister, Anne and husband Donald Auby; nephews, David, Gregory, Douglas, James, and Colin; nieces, Laura and Joanna. Funeral services will be held at 2:30 p.m. Thursday, September 13, in J.A. Snow Funeral Home, 2666 Windsor St., Halifax. Reception will immediately follow. Peter's family would like to express sincere thanks to the staff of Unit 5A,VG Site, QEII, for their compassionate care. Donations can be made to The Arthritis Society or Canadian Cancer Society.
Peter's 2007 obituary mentioned that his mother Lily was still alive, as was his brother Ian. Since Richardson is a fairly common name, I knew it would be much harder to locate Ian. Luckily a sister was also mentioned in the obituary and her married name, Auby, is not very common (especially in Nova Scotia). A quick Canada 411 search online resulted in a phone number for Anne and her husband Don. I quickly forwarded all the new information to Malcolm and he promptly called Anne and Don. Here is Malcolm's email reply regarding this connection:
I have just spoken to Don Auby, it is the family I have been looking for (in the wrong place!) for the last couple of years. He is working on their family tree! We are going to correspond some more.

Lily, unfortunately, passed away 2 years ago - some questions will probably still remain unanswered.

best regards..........Mal
Believe it or not, the whole process took almost exactly 3 hours on a Friday morning. You would be amazed at the amount of information that you can find on the Internet!
Fast forward a few months and who walks into the Scotiabank Family History Centre in mid-October 2012? Malcolm and his wife Maggie and the Richardson clan: Anne and Don and Ian and Sylvia! What a pleasant surprise! The Lewendons had arrived in Halifax the previous night to finally meet the Richardsons who had become disconnected from the family 60 years prior. Malcolm and Anne brought their family research and some lovely old photographs.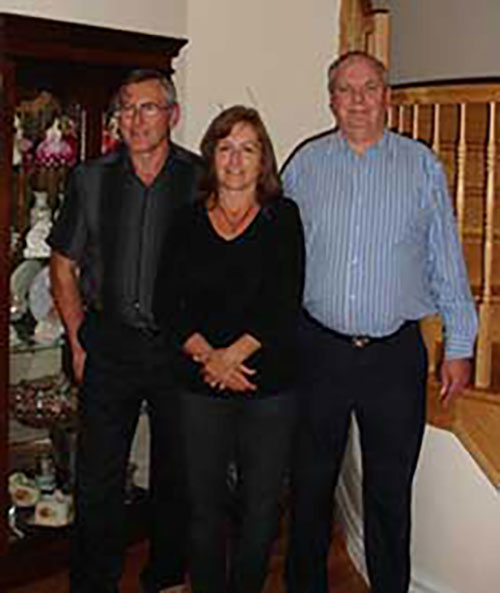 Their story is an interesting one so I asked Malcolm to write a little about the family to share with us. Click here to read more, in Malcolm's own words.
Have you ever tried to track down a long lost relative? What was the result of your search? Share your experiences with us!