Adventures in Genealogical Research at the Scotiabank Family History Centre
On March 13, 2012, I received an email from Bonnie Pollock of Nova Scotia who wanted to find out more about her great-great-grandfather George Little. He arrived in Canada from Ireland before 1837 and settled in Prospect, Nova Scotia. But there was no record of his arrival because Canada did not start keeping record of immigrant arrivals until 1865. Manifests from this time are few and far between, as not many of them survived. Knowing I would not be able to determine which ship he arrived on, I focused my search on determining where in Ireland the Little family is from. I began with some early genealogical research on George Little and his family in Nova Scotia, determining who he married and who his children were. I discovered that George married Mary Coolin and had the following children: James (b. 1840), Thomas (b. 1841), John (b. 1844), Peter (b. 1847), Ann (b. 1848), Margaret (b. 1854), George (b. 1856) and Mary (b. 1858).
On March 28, 2012, I received an email from Patricia Desjardins-Galley of Quebec, who wanted to learn more about her grandmother Mary Ann McGivern. Patricia's father had told her Mary Ann was born in Nova Scotia and she wanted to verify this and wanted to find out more about her connection to the province. The first document I found told me about Patricia's grandmother's marriage in Quebec in 1903 to George Galley. This document listed her parents as being Thomas McGivern and Ann Little. I then looked through the Canadian Census Records and found Mary Ann with her husband George in the 1911 census, which did indeed state that Mary Ann was born in Nova Scotia. Going back through the Canadian census records, I found her in 1901 and 1891 living with her parents in Quebec, and in 1881 living with her parents in Halifax, Nova Scotia. Mary Ann's father Thomas McGivern was listed as being born in Ireland but her mother, Ann (nee Little), was also listed as being born in Nova Scotia. This is when I thought to myself "Another 'Little' from Nova Scotia? How odd! And not a common name here either."  Mary Ann had two older brothers, Michael and George, both born in the U.S. I was intrigued!
I focused my search more on Mary Ann's mother, Ann McGivern (nee Little), since Patricia wanted to know more about the Nova Scotia branch of the family. From the census records, Ann's birthdate was consistently recorded as August 1848. Coincidentally, there was an Ann Little in Bonnie's family who was baptized 17 August 1848 as daughter of George Little and Mary Coolin. Could this be the same Ann?
I needed to find a connection; the hunt was on for a marriage record! However, after checking all the Nova Scotia resources I have access to, I still did not find the result. Since Thomas McGivern and Ann Little's first two children were born in the U.S., I thought that they might have been married there, but where exactly? Experience has taught me that many Nova Scotians immigrated to Massachusetts in the mid-19th century, so that is where I began.
Lo and behold, I found a marriage record stating that Thomas McGivern and Ann Little were married on 14 March 1875 in Glouchester, MA. This record also listed Ann's birthplace as Prospect, Nova Scotia. Unfortunately, her parents were listed as John Little and Ann Coolin, those were not the given names I wanted to see, I wanted to see George Little and Mary Coolin to make a definite connection to Bonnie's family.
What a conundrum! I knew from my research that at the time of Ann Little's birth the only Little family living in Prospect, Nova Scotia were the George and Mary Little from Bonnie's tree. Did George Little have a brother who also married a Coolin girl but then moved away? Why is there no marriage record for John Little and Ann Coolin? Why isn't there a birth record of Ann Little to a John and Ann, only a birth record for Ann Little born to George and Mary? Could the person who recorded the information in the church record in 1875 not have known Ann Little's parents' names?
I knew there had to be a connection between Bonnie and Patricia's families but I was struggling to prove it. I contacted Bonnie and told her I had another patron who may be related to her. I gave Bonnie some background on the McGiverns and she promptly replied with the evidence I sought. A 1900 obituary of her great-grandfather Peter Little, son of George Little and Mary Coolin, stated he had a surviving sister "Mrs. McGovern" in Montreal! The connection was made and it was an "AH-HA! Moment" for us all!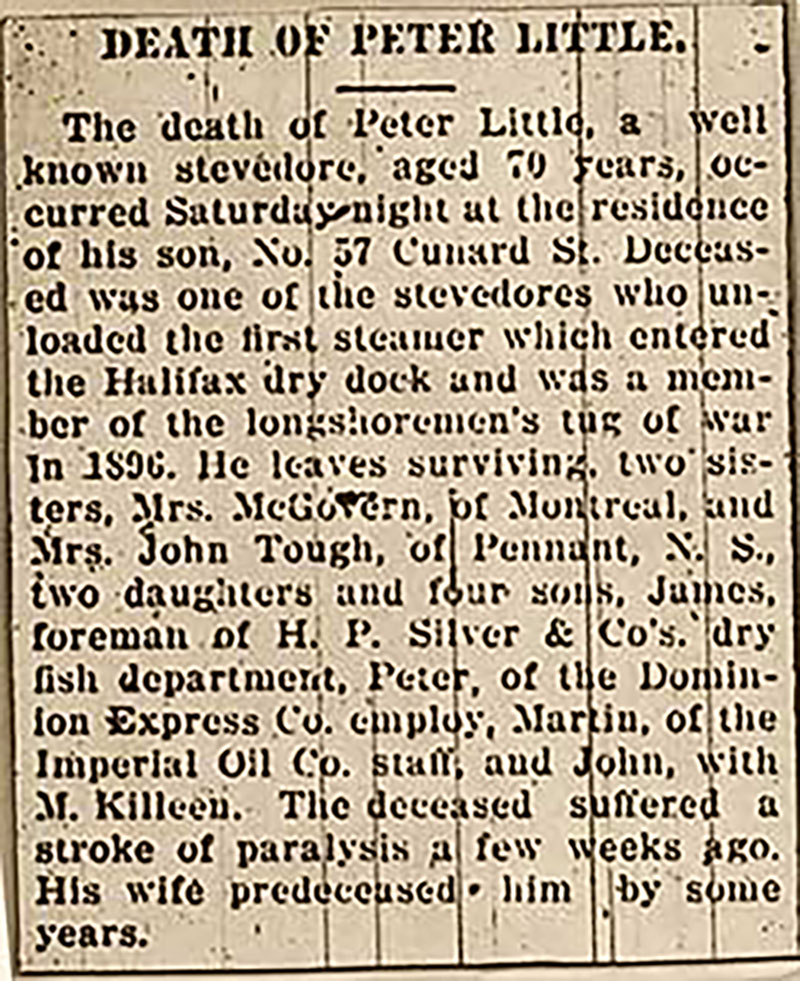 Obituary
Death of Peter Little
The death of Peter Little, a well known stevedore, aged 70 years, occurred Saturday night at the residence of his son, No. 57 Cunard St. Deceased was one of the stevedores who unloaded the first steamer which entered the Halifax dry dock and was a member of the longshoremen's tug of war in 1896. He leaves surviving, two sisters, Mrs McGovern, of Montreal, and Mrs. John Tough, of Pennant, N.S., two daughters and four sons, James, foreman of H.P. Silver & Co's. dry fish department, Peter, of the Dominion Express Co. employ, Martin, of the Imperial Oil Co. staff, and John, with M. Killeen. The deceased suffered a stroke of paralysis a few weeks ago. His wife predeceased him by some years.
Bonnie and Patricia immediately expressed interest in contacting each other and with Patricia's permission I gave her contact information to Bonnie. They have since been emailing each other, sharing family information and extending their family tree branches.
"I have heard from Bonnie Pollock and tears came to my eyes reading her email."
- Patricia Desjardins-Galley
Do you have a genealogical puzzle you need help with? If so, please email me at reference@pier21.ca with your detailed request.