The end of the year is the most preferred time for most people. At least it may be for some people, but for others it is not the greatest time.
Some people consider Christmas time as a moment of sharing. A moment of the year when we go to see family and friends. This Christmas tradition changes from one country to another.
In this blog, I would like to talk about how Christmas happened at my home, and my childhood memories.
I come from Burundi, a small country in Central Africa. Christmas is the most important time of year. Some people celebrate the end of year holidays with their family; others organize large gatherings, either for prayer vigils, or in restaurants to share joy together. For my family, the tradition was to go to midnight mass .The Mass of the "Christmas Eve." We spent the whole night at the church singing beautiful traditional songs of Christmas. It was so much fun because there were several choirs that offered us the beautiful traditional Christmas songs. During mass, we also met with school friends and their families. Christmas was considered like a reunion with all the kids in my neighbourhood; children who have gone to other provinces often come back to the family during this time.
This closeness between Christmas and the Mass encouraged us to participate in the Mass more faithfully. Since it was a long night, the only children who were allowed to go were at least ten years old. The others stayed at home with an adult, waiting for the Mass on the day of December 25th.
Back home, after Mass, children and parents opened gifts.
Then, the little children went to Mass during the day while the others rested and got ready for the big party with the family after the day Mass. The whole family put money together to hire a chef who would come to the house of one of our family members to prepare the meal for everyone.
Burundian celebrations are more community-based. Neighbours, friends and family participate in the festivities together. It was wonderful. However, things have changed since the beginning of the civil war.
In 1993, this small country fell under the weight of hatred, death, and massacres. To ensure security, the government banned the organization of parties in public places. To organize a party, it was necessary to obtain prior authorization from the administration and also from the police. This drastically changed the way people spend holidays.
After 12 years in Canada, I too have changed some of my customs and traditions. Now, with my extended family living in Burundi, I spend Christmas with my two children, husband, and friends. On Christmas day, we always try to Skype with family back in Burundi.
Here at The Canadian Museum of Immigration at Pier 21 , we have two core exhibitions, the Pier 21 Story and Canadian immigration Hall, which help us to experience the diverse adventures and vast contributions of newcomers to Canada's culture, economy, and way of life, from past to present day. In Canadian Immigration Hall, we have a magnetic wall activity where visitors are invited to share their customs and traditions on a small piece of paper and put on the wall by answering these questions: What are some of the customs and traditions that you take part in? What are some of your favorite holiday traditions and what do they mean to you?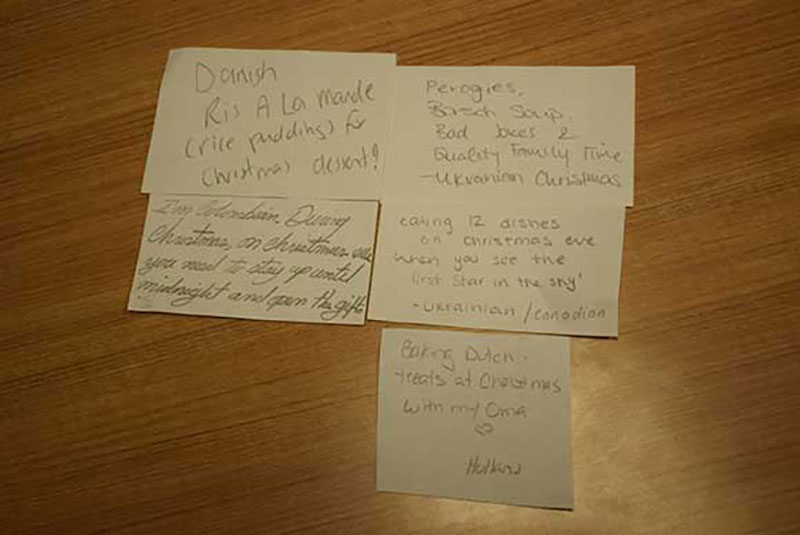 Here is what they say:
Danish Ris a la mande (rice pudding) for Christmas dessert.
Perogies, Borsch soup, Bad jokes and quality family time - Ukrainian Christmas.
I am Colombian. During Christmas, on Christmas Eve you need to stay up until midnight and open the gift.
Eating 12 Dishes on Christmas Eve when you see the first star in the sky! –Ukrainian /Canadian.
Baking Dutch treats at Christmas with my Oma from Holland.
Whatever your origins, Christmas and its traditions, past or future, are the joy of young and old. What are your customs and traditions?