One of the greatest things about my job as a Visitor Experience Interpreter here at the Museum is helping people imagine the experience of being an immigrant during the time that Pier 21 was open as an immigration facility. Sometimes I even do this on my own.
One of my favourite ways to imagine this is by looking at some of the photos and images that we have in our main exhibition. Take this image, for example: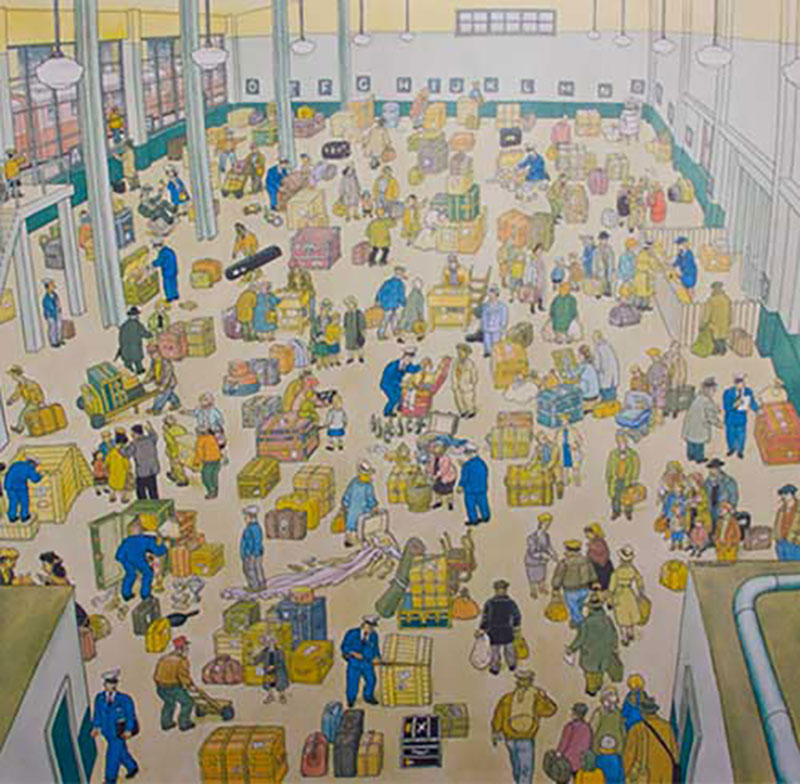 This picture depicts a hectic customs scene at Pier 21. It gives us a glimpse of the point in time when all immigrants' treasured items (undoubtedly very carefully chosen among many others that were discarded) made it safely to the other side of the world—items which were now suddenly under the scrutiny and at the mercy of a Canadian Customs Officer!
Looking at some of the items in the photo can help us imagine different scenarios, the background stories of different people, and different immigrant (and customs officer!) experiences.
When I look at the image, in the top right-hand corner, I notice a washing machine (complete with an attached hand-operated clothes wringer!). For some of the years during which Pier 21 was open, this would have been considered a luxury item that many people would not have been able to afford. For this reason, I like to imagine that the owner of such a domestic appliance would be travelling in fine style!
In the centre of the image is a woman who I like to imagine hails from the beautiful Mediterranean. To me, she seems distressed because the Customs Officer is reprimanding her for bringing too much alcohol into the country. To this woman, the action is incomprehensible as, in my mind, she has never travelled much beyond the village where she was born, and so has no experience whatsoever with border control formalities.
As for the freestanding lamp in the bottom left-hand corner, well, it makes me wonder whether its proud owners ever thought for a moment about a possible electrical voltage incompatibility between the old world and the new...
What do you notice when you see this image?How do you imagine coming to Canada as an immigrant? If you were an immigrant to Pier 21, what was it actually like?