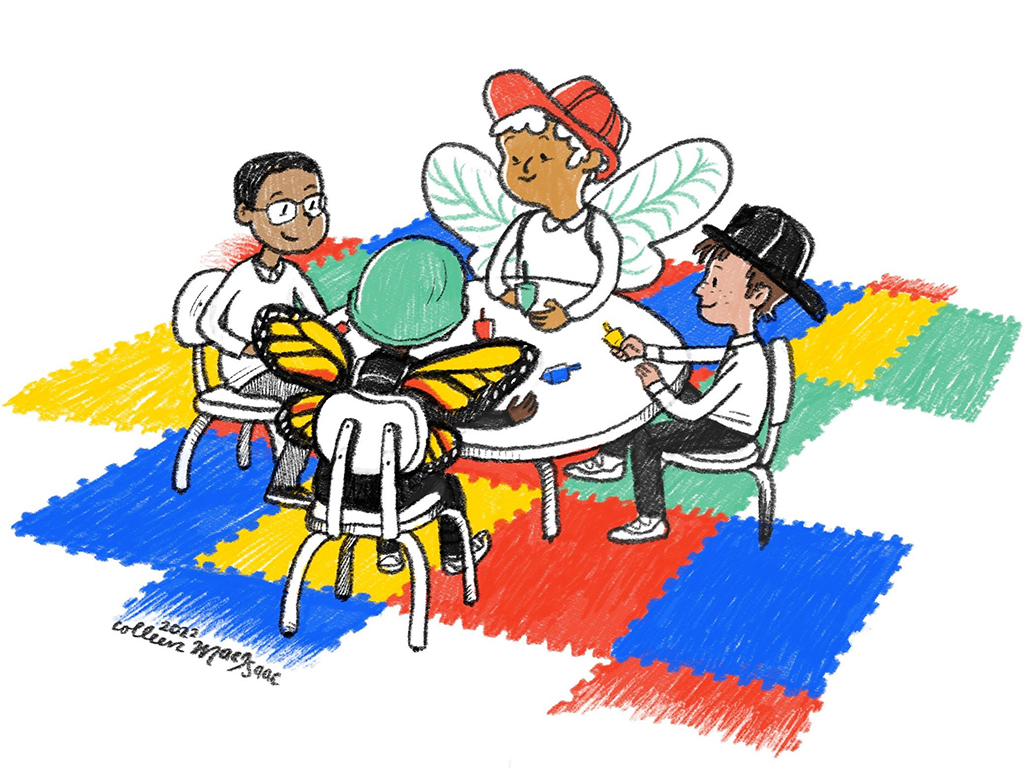 ---
A grade 3 class is enjoying one of the Museum's temporary exhibitions called Kids Celebrate! They are in their school uniforms.
The exhibition focuses on 12 special times of the year. From Christmas to Diwali to Carnival, each is a day or a period of time celebrated by kids and families in Canada. For each of the celebrations, there is a station with activities.
Kids are expert learners
The kids are playing. As kids do. Kids are experts at finding ways to have fun.
And they are experts at learning. Albert Einstein said that "play is the highest form of research". He was right. Research shows that play and learning go hand in hand.
A fantastic image
At a little round table in the Hanukkah section, there are four boys spinning dreidels. A dreidel is a wooden top that has been used by Jewish kids and families to have fun for hundreds of years. On top of their uniforms, the boys have added bits from the Halloween section of the exhibit. Three are in toy helmets. One wears a green army helmet. Another is in a black firefighter's helmet. The third: a red one, worn backwards. He also wears a set of fairy wings. The boy in the green army helmet wears a set of butterfly wings. A Monarch butterfly, to be precise. It is a fantastic image.
It's not clear if any of these kids knew what a dreidel was before today. But it's clear that they know the game or at least that they've made up a game to play with the wooden toy.
A great place to learn
Kids can find ways to play almost anywhere. And if they are playing in a place where they can learn, they will learn.
Parents know that not every situation is appropriate for playing. You don't want your kids playing during their older sister's graduation ceremony, or at a classical music concert, or in the middle of the Trans-Canada highway. But the Museum will always be a great place to play and a great place to learn.