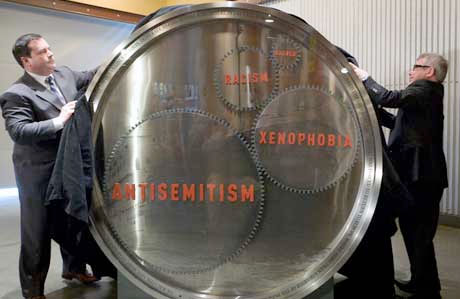 Commemorating the St. Louis Voyage
The Wheel of Conscience is a memorial for 900 Jewish refugees aboard the MS St. Louis who were denied entry into Canada in 1939. The ship returned to Germany, where over one-quarter of its passengers died in concentration camps.
Designed by Polish-born architect Daniel Libeskind, the kinetic sculpture is a heavy steel wheel with four interlocking steer gears. Each of the gears is inscribed with a word: hatred, racism, xenophobia, anti-Semitism. As the smallest wheel—"hatred"—moves, it activates "racism", which turns "xenophobia", and finally "anti-Semitism". The names of the MS St. Louis passengers are etched in glass behind the steel backing.
The monument was developed in partnership between the Canadian Jewish Congress and Citizenship and Immigration Canada. Libeskind—who is the son of Holocaust survivors—unveiled the Wheel of Conscience at the Museum in 2011.
The Wheel of Conscience sheds light on a dark moment in Canadian history. It is a potent reminder of the dangers of racism, xenophobia, and anti-Semitism.