May 13 to July 23, 2023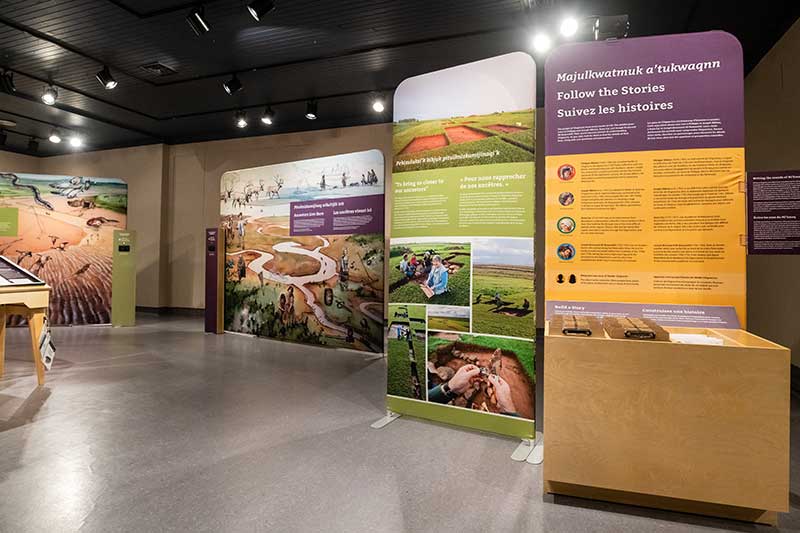 Revealing Chignecto: The Stories Within
In Revealing Chignecto, visitors can explore life in Chignecto's shared Mi'kmaw and Acadian space up to the late 18th century through oral history, archaeology, and written records. Illustrated with beautiful original artworks by Réjean Roy, this exhibit invites visitors to handle high-quality reproductions of archaeological artifacts, listen to oral histories in Mi'kmaw with interpretive text and illustrations to guide them, and explore interactive maps that show changes in the region over time.
At the entrance of the exhibit, visitors can choose a historic Mi'kmaw or Acadian character with a direct link to the story, who will guide them as they explore the exhibit's themes. Visitors find clues and statements from their character to help them build a narrative that encompasses the dramatic and tragic events of Chignecto, leading to the deportation of the Acadians and the displacement of the Mi'kmaw community.
This exhibit lifts the veil of obscured history and empowers the visitor to dig deeper, discover new truths, and question old narratives.
A Collaboration
This Parks Canada exhibit is the result of an extensive collaboration between the Agency, the Mi'kmawey Debert Cultural Centre of the Confederacy of Mainland Mi'kmaq, in Nova Scotia, and Mi'gmawe'l Tplu'taqnn Inc. in New Brunswick.
Experts, Elders, and Knowledge Keepers shared their experience and insight, guiding the exhibit team to a new vision of what a history exhibit could do and which stories needed to be told. Parks Canada is deeply grateful for the time and energy shared and has endeavoured in this exhibit to honour the results of this collaboration. Any errors or omissions remain Parks Canada's responsibility.