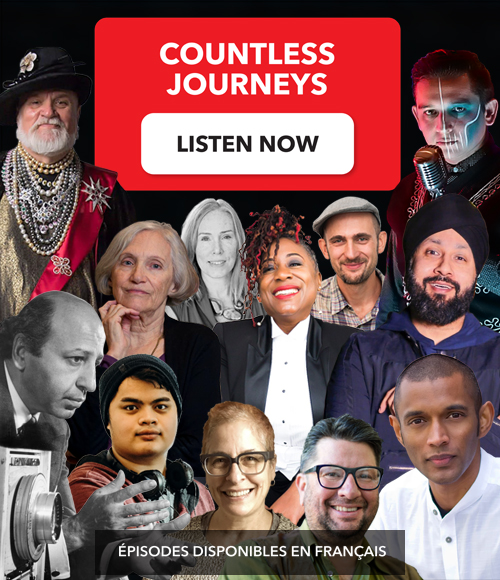 Devoting your life to making art takes guts. Many newcomers have, and Canada as a country is richer for it.
Join host Paolo Pietropaolo and many incredibly talented artists in the creative and performing arts who also happen to be immigrants to Canada in Season 3 of Countless Journeys. People like The Mariachi Ghost band lead singer Jorge Requena Ramos born in Mexico City but has called Winnipeg home for more than twenty years, famed photographer and Armenian refugee Yousuf Karsh and dancer Ida Beltran Lucilla, former principal ballerina with Ballet Philippines.
Season 2 explores the many contributions immigrants have had on our country. From artists to athletes to doctors to community activists, listen in on original interviews where guests share the obstacles – and the fun – they experienced on their way to building lives that would create opportunities, jobs and understanding for countless others along the way.
Season 1 explores unique stories of journey and arrival whether searching for justice, openness, love, adventure or a chance to survive. Filled with stories that warm the heart, dive into history and honour those who have made Canada their home.
This is Countless Journeys. Listen now on your preferred podcast streaming platform.