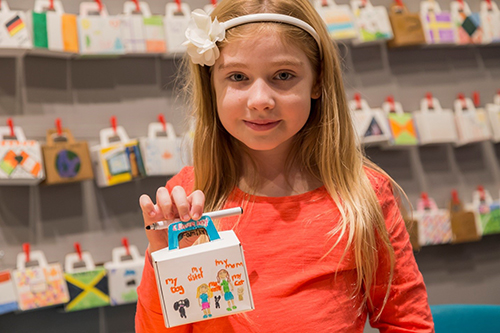 Ideal for: Ages 9 - 15
Decorate Your Suitcase
Decorate the outside of your suitcase with the things that represent you: the baggage and things you take with you everywhere you go. You may want to include things like hobbies, interests, favourites, or people, places or things that are important to you. It's your suitcase, you decide! You may use markers, stickers, scrapbooking or any other medium that you wish. Try to cover all the surfaces of your suitcases and write the date inside the handle.
Pack Your Suitcase
Immigrants to Canada pack different things in their suitcases, for different reasons. Is it something they'll need in Canada? Or a part of home they can't bear to leave behind? Not everything they bring with them goes in a suitcase, but they have also brought parts of their old home in their hearts and in their minds. What would you pack if you were to leave your home for another country? Write on the small piece of paper the things you would pack in your suitcase, and in your heart and mind. What is most important to you that you couldn't leave home without?
We'd love to see your packed suitcases! You can take photographs of your completed suitcases & email them to acishahayo@pier21.ca.
Print this PDF on cardstock or thick paper for students to cut out, fold and decorate.
Required materials:
Card stock or other thick paper (for the suitcase)
Scissors
Tape
Colouring supplies
Small piece of paper