Media Release
June 17, 2019
Halifax, NS
Katarina Marinic Named as Canadian Museum of Immigration
at Pier 21 Artist-in-Residence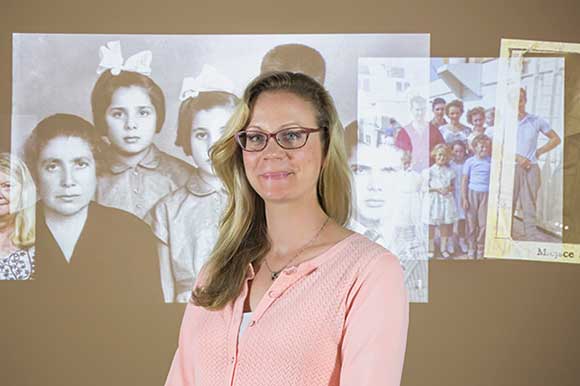 The Canadian Museum of Immigration at Pier 21 is delighted to welcome Katarina Marinic as Artist-in-Residence for 2019. Katarina's work is inspired by Family Bonds & Belonging, the temporary exhibition on display in the Museum's Ralph and Rose Chiodo Gallery until November 3, 2019. Family Bonds & Belonging explores and honours the many different ideas of family, those of biology, of choice, of association and of place. The exhibition celebrates Canadian identity by exploring families and family history, linking past to present and province to nation.
Katarina recently graduated with an MFA from NSCAD University in 2019. She has a BFA with a major in photography from NSCAD in 2017, and a diploma in Applied Photography from Sheridan College in 2005. During her summer residency at the Museum, Katarina will bring together historical imagery with contemporary modes of image making and animate them into a large-scale video projection. At the same time, Katarina will be taking visitors' portraits and adding them to the project and exhibition. As Katarina explains, "past and present will come together in a continually moving display of images, representing the long journey made by immigrants."
Quick Facts:
The Canadian Museum of Immigration at Pier 21's Artist-in-Residence program allows an artist to create new work that contributes to the Museum's mandate while advancing their art practice.
Katarina Marinic will be the Museum's fourth Artist-in-Residence from June until November 2019. The compensation for this six month program is $15,000.
Quotes:
"The family portrait is a moving motif found throughout Family Bonds & Belonging, and family is so central to many people's immigration experience. Whether past or present, Canada's ongoing immigration story is documented through photos. While the experience of taking a picture is so different today, the desire to eternalize the precious moment remains the same. We look forward how this year's artist will build on that experience and share it with our visitors." - Marie Chapman, CEO, Canadian Museum of Immigration at Pier 21
"Changes in technology have affected how personal and family photography is created and shared. As these new practices develop, digital photography becomes ubiquitous and never fixed. The accessibility and ease of taking photographs and sharing them online has shaped how we express ideas of family, place, and community… That which surrounds us shapes our identity, and together we share what this means today through social media and other online platforms." - Katarina Marinic
Countless Journeys. One Canada.
The Canadian Museum of Immigration at Pier 21 is located in the national historic site at the Halifax seaport where nearly one million immigrants landed in Canada from 1928 to 1971. Today, as Canada's sixth national museum, we share the ongoing story of immigration to Canada—past to present, and coast to coast. Our exhibits immerse visitors in the immigration experience and allow for a deeper understanding of how newcomers shape our country. Our staff and collections provide opportunities for visitors to discover the countless journeys to Canada and find their own family's connection to the story.
-30-
Media Contact
Beatrice Houston Gilfoy, Communications Specialist
Canadian Museum of Immigration at Pier 21
Telephone: (902) 425-7770 ext. 264 C : (902) 430-3986 
bhouston-gilfoy@pier21.ca