Trace Your Roots
Just as Pier 21 was a new start for nearly one million immigrants, a journey into your family history could also begin here at the Scotiabank Family History Centre.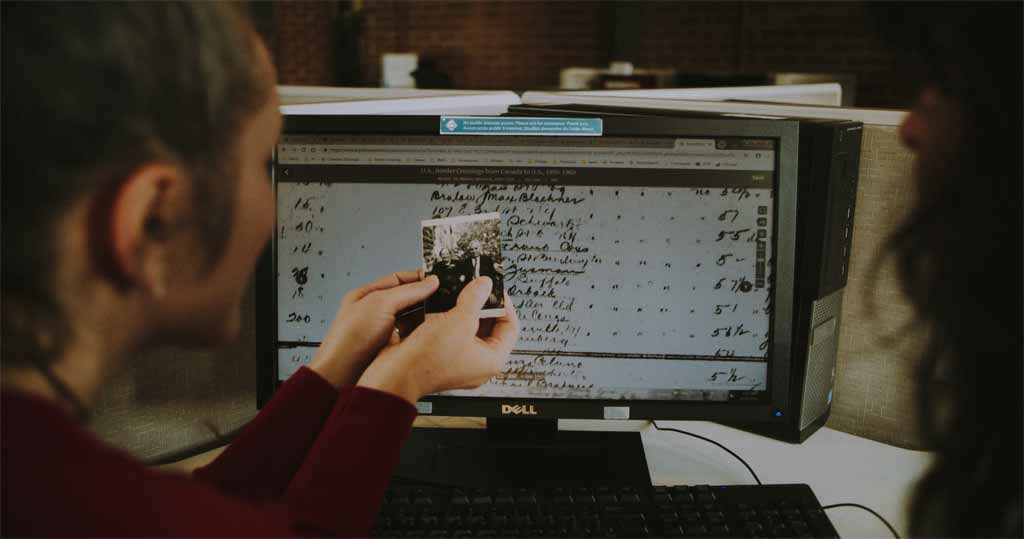 How to Visit
In Person: Every visitor who enters the Scotiabank Family History Centre is greeted by a knowledgeable and experienced staff member ready to help you research.
Online: Research requests can be made remotely through our website. Submit a research request online.
Be Prepared: Plan for your visit by reading this helpful blog post of hints and tips about what to bring. Whether in person, or online, we will let you know if we need more information.
We Can Help Find:
Immigration Records:

Before 1865: The chances of finding an immigration document for someone arriving in Canada before 1865 are low, as there are no comprehensive lists.
1865 - 1935: Canada started keeping immigration records in 1865. We can search records for all Canadian and most American ports of arrival, as well as some European departure records.
After 1935: Access to Canadian immigration records after 1935 is restricted in accordance with the Canadian Privacy Act. The documents are currently held in Ottawa by Immigration, Refugees and Citizenship Canada (IRCC) and are not available to the SFHC or general public. We can provide you with the required forms and explain the legalities involved in requesting them.

Genealogy: Our specialty is finding immigration documents, however we can also help with broader genealogical research using sources such as censuses, birth, marriage and death records, obituaries, newspapers and military records.
Ship Information: Ship information packages that include ship facts, oral histories and lists of crossings, can be prepared for anyone arriving in Canada after 1865 (including after 1935) for all ports of entry. These do not include passenger lists. Commemorative Ship Photos: Available for purchase in person on the day of your visit or online for $25.00 CAD + tax.
Fees:
Copies of records are available for a research and processing fee of $17.39 + tax.