During the Pier 21 years (1928-1971) Dutch immigrants were the fifth largest ethnic group to arrive in Canada. In the pre Second World War years most Dutch immigrants settled in Ontario (15,000 between 1918 and 1939). They trickled in through the depression (3,200) but immigration largely halted with the onset of WWII. The Netherlands was invaded in May of 1940.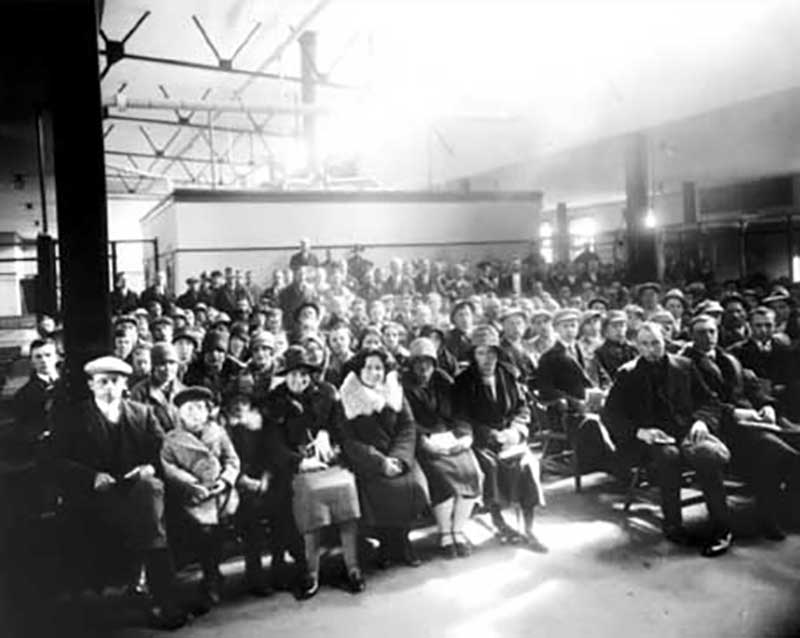 WWII took its toll on the Netherlands. When the Canadian Army liberated The Netherlands, many families and young married couples who would have chosen to immigrate to the United States in the previous decade chose Canada as the place to begin new lives. Among the first arrivals were 2,000 Dutch war brides who had married Canadian service personnel. In their stories many of the Dutch war brides explain that they saw the Canadian soldiers as their saviours, romance was inevitable.
I have two Dutch war bride friends who both tell fascinating and romantic stories. Rea Conroy was a nurse who worked twelve-hour days, seven days a week and frequently cared for German soldiers. Johanna Silvester was active with the Resistance in the Netherlands and risked her life repeatedly during intelligence gathering missions. Both ladies fell in love with Canadian soldiers, married and came to Canada and raised their families.
Dutch immigration to Canada peaked in the late 1940's and 1950's. A poll taken in 1948 indicated that nearly one third of the Dutch population was prepared to leave the Netherlands for a better life elsewhere. There were two main factors; growing population pressures, and an economy which lay in ruin. Prior to WWII the Dutch government had not been in favour of emigration but it began promoting the idea in the post war years as one means of solving the overpopulation problem and their economic difficulties.
Many arrival accounts mention that Canada's popularity grew as more and more Dutch immigrants sent favourable reports of Canada back to their friends and relatives. These range from realistic accounts to tales of streets paved with gold. The bulk of the Dutch came to farm and Canada had plenty of room for that. Many young couples and families were sponsored by Canadian farmers and would work for the farmer for a year or two before buying their own land. The most popular program to aid Dutch immigration was the "Netherlands Farm-Families Movement" or the "Netherlands-Canada Settlement Scheme". The experiences of Dutch newcomers ranged from being housed in a chicken coop by an abusive farmer to becoming part of a loving Canadian family. It was the luck of the draw but countless brave Dutch immigrants were willing to risk it in order to get to Canada.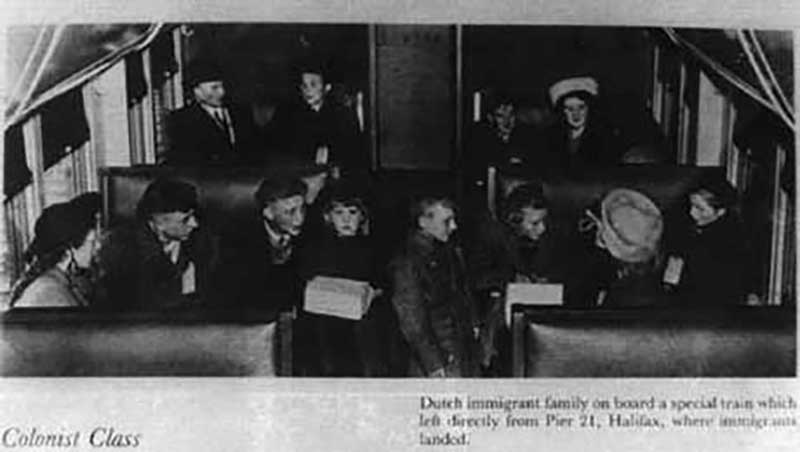 One element that comes up again and again in the Dutch arrival stories is the "kist". The government of the Netherlands would only let people bring a small amount of money out of the country but they could take as many possessions with them as they liked. A "kist" was a huge wooden crate for household items. One family did indeed bring the kitchen sink and another visitor told us that his mother brought the rock that they used to hold their front door open because she did not know if such a thing would be available in Canada.
I have only heard one story about a Dutch family arriving with more money than the Dutch government allowed. This family was making the North Atlantic crossing aboard the Groote Beer, which for some reason was having a problem with its ballast on this particular trip. When the ballast problem combined with a terrible storm at sea most of the passengers and half of the crew were so seasick that they could not function. The father of the man that told me the story was not sick so the captain asked him to pitch in and help sail the ship. Upon arriving at Pier 21 the captain paid the man exactly what a sailor would have made and thanked him for his assistance.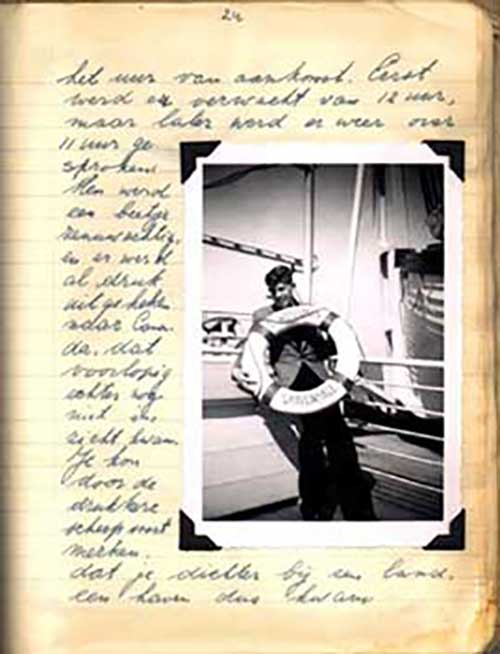 The Dutch have contributed to Canada in countless ways and their visits to Pier 21 motivate and inspire us to keep telling the stories of Canadian immigration. I will close with a quick story that I think illustrates the spirit of these wonderful people. Two Dutch sisters recently visited our Resource Centre to do some research and see images of the ships that brought them and their young husbands to Canada in the 1950's. One of the sisters told us that her husband had always dreamed of a little farm but that they ended up in the city. In later life they did buy a cattle farm and build it into a successful business. At this point in the story she began to get emotional and we were all thinking the same thing, that the husband had died and she had lost the farm.
We held our breath as, after a little encouragement from her sister, she continued and the story went somewhere that we hadn't expected. Her husband had developed Alzheimer's Disease and could no longer operate the farm. Instead of selling the farm and abandoning her husband's dream she and her son had converted it into an orchard. She knew that she could not handle the cattle but she figured that she could make a go of the orchard and indeed she did. This resilience and strength of spirit does not characterize the Dutch alone but they are an extraordinary people.
Vander Mey's To All Our Children and Gerrits' They Farmed Well are excellent reading on the subject and Debi van de Wiel's They Followed the Stars to Canada is a wonderful introduction to the topic written for children. Pier 21 also houses many stories written by Dutch immigrants and their descendents which we happily share with all interested parties.
by Carrie-Ann Smith, Vice President, Audience Engagement