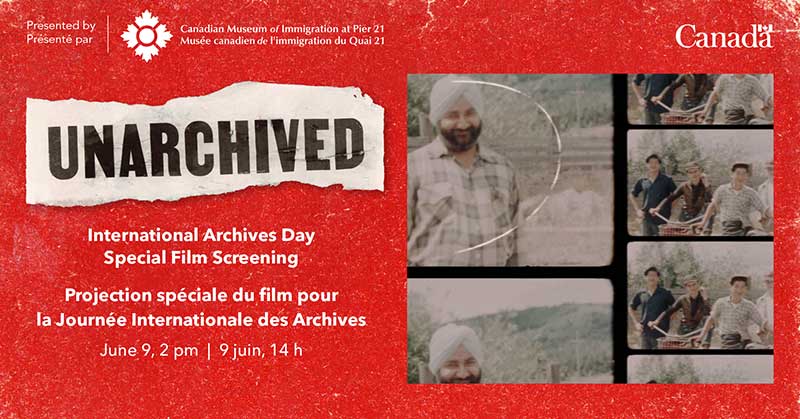 Unarchived: International Archives Day Special Film Screening
Date: Friday, June 9, 2023
Time: 2:00 p.m.
Location: In-person event at the Museum
Language: Presented in English with French subtitles
Cost: FREE
The Canadian Museum of Immigration at Pier 21 is proud to partner with the National Film Board for the Halifax premiere of the documentary film, Unarchived.
Unarchived is a feature-length documentary about the people and places often left out of traditional archives and the communities who are challenging this erasure. Unarchived surveys the inspiring work of community museums and archives across BC, including those of South Asian Canadian, Chinese Canadian, Tahltan Nation and LGBTQ2+ communities.
In Unarchived, we see how the stories of early Chinese Canadians are told through the history of Cumberland's Chinatown, one of the largest Chinatowns in Canada by the end of WWII, and the records now held in the Cumberland Museum on Vancouver Island; how the stories of early South Asian Canadians are told through the history of Paldi, a vibrant multicultural community founded by Mayo Singh in the Cowichan Valley in 1917, and the archives now kept at the University of the Fraser Valley; how since the 1970s Run Dutton has been the keeper of the BC Gay and Lesbian Archive in his small Vancouver west end apartment; and how in 2021, Sandra Marion, the Director of Cultural Heritage at Tahltan Central Government, traveled from Telegraph Creek to Victoria to discuss repatriation of Tahltan Nation artifacts held in the Royal BC Museum.