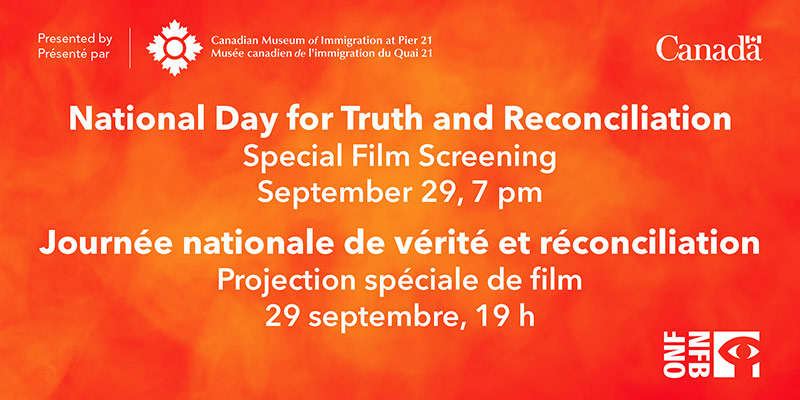 Date: Friday, September 29, 2023
Time: 7:00 p.m.
Location: In-person event at the Museum
Language: Presented in English
Cost: FREE
The National Day for Truth and Reconciliation, held on September 30th of each year, is a day that honours the children who never returned home and Survivors of residential schools, as well as their families and communities.
In partnership with the National Film Board of Canada, the Canadian Museum of Immigration at Pier 21 will mark the National Day for Truth and Reconciliation with a special film screening on the eve of the day itself.
Part oral history and part visual poem, Miss Campbell: Inuk Teacher is the story of Evelyn Campbell, a trailblazer for an Inuit-led educational system in the small community of Rigolet, Labrador.
Meneath: The Hidden Island of Ethics charts a challenging journey for a precocious Métis baby girl as she contemplates her path to Hell.
Alanis Obomsawin shares the powerful speech the Senator gave when he accepted the WFM-Canada World Peace Award, interspersing the heartbreaking testimonies of former students imprisoned at residential schools in Honour to Senator Murray Sinclair.