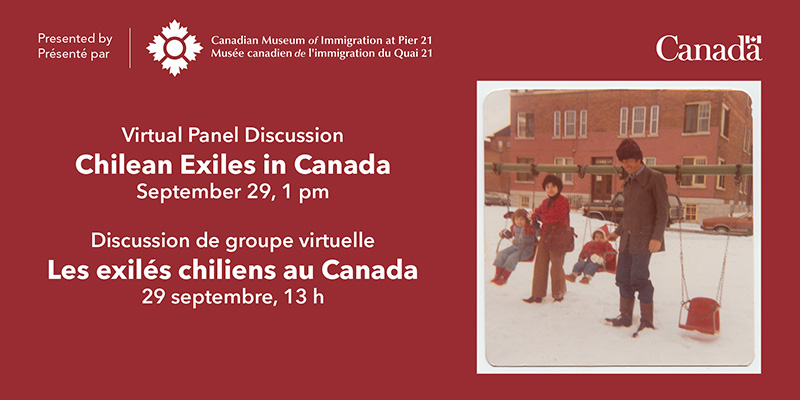 Virtual Panel Discussion: Chilean Exiles in Canada
Date: Friday, September 29, 2023
Time: 1:00 PM
Location: Online
Language: Presented in English
Cost: FREE
In the free elections of 1970, Salvador Allende, who led the Unidad Popular (Popular Unity) coalition – a left-wing political alliance comprised of social democrats, socialists, radicals, populists, and communists – came to power. The United States government and its allies viewed Allende's victory as a threat to Cold War democratic values and American hegemony in Latin America.
In September 1973, General Augusto Pinochet – with the support of the Central Intelligence Agency – staged a coup d'état. The coup displaced left-wing elements in the Chilean government and led to the death of Allende.
In the days following the coup d'état, church groups and humanitarian organizations called on the Canadian government to respond to the plight of Chilean refugees. These groups and their supporters undertook a letter-writing campaign to raise public awareness of the sudden crisis in Chile.
Join us for a virtual panel discussion moderated by Luis Van Isschot, PhD, Associate Chair of Latin American Studies and Associate Professor, Department of History, University of Toronto, and listen to presentations from:
Patricio Bascuñan, President of Casa Salvador Allende, Toronto
Carmen Aguirre, Theatre Artist and Author
Jan Raska, PhD, Historian, Canadian Museum of Immigration at Pier 21
Emily Burton, PhD, Oral Historian, Canadian Museum of Immigration at Pier 21
Liisa North, PhD, Professor Emeritus, Political Science and Center for Research on Latin America and the Caribbean, York University