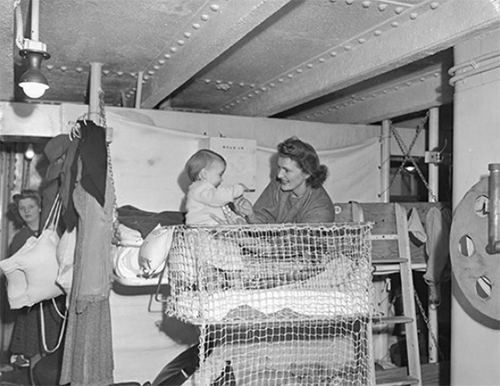 Joan arrived by train to Montreal in a spring outfit with open toed shoes in March. There was 8-feet of snow on the ground when she left the train station. In her defence, she protested, the flowers had been out and it had been warm in England when she left. Joan remembers being amazed at the Canadian shops containing clothes and food that she hadn't seen over the duration of the war. She remembers on the boat from Southampton to Pier 21, that children were given bananas to eat, but didn't know what to do with them and tried to eat them with the skin on. She asked herself many times on that voyage, what she was doing and questioned what she was going to.
"Between 1942 and 1948, over 60 different ships from the United Kingdom, France, Netherlands, Belgium, Ireland, Italy and Newfoundland brought War Brides and their children to Canada, transporting over 97 percent of them to Pier 21 in Halifax," says Jan Raska, Researcher at the Museum. In his book, Pier 21: A History, with Steven Schwinghamer, they explain that there were, approximately, 48,000 marriages of Canadian service personnel during and just after the Second World War. Lets begin with two of their stories . .
Paul Dumaine (born in Saint-Hyacinthe, Quebec) joined the army at 18 and volunteered to go to Europe. He met his wife while stationed at the coast. He bought a bicycle with his salary and would ride it to the cinema. He remembers on one such occasion a girl walking towards him across the yard. He didn't speak English, only French, but remembers saying to her, "you, come, cinema?" That girl was named Joan and she would become Paul's wife.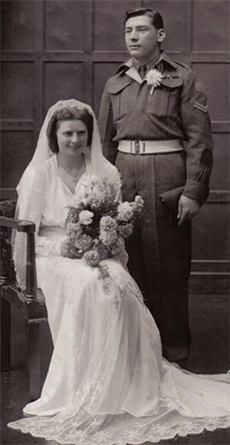 Joan was born in Brighton, Sussex, England. She lived in a nice six-bedroom house with her family. She remembers war being declared and how the government came to inspect her home. Having space to spare, her family was instructed to host two boys evacuated from London, ages 9 and 11. In the six-years of war, Joan's family hosted a policeman, a fireman, a Canadian sergeant with his wife and two children, six British Commandos, and then another six Commandos. Paul also had a room in the house and would stay on weekends while on leave. Joan remembers how Paul would pass by their house on trucks. He would jump off on one side, run in the front door to the pantry, where he would take biscuits or cakes, then leave and jump back on the truck as it drove around the corner.
On August 19, 1942, Paul was ordered to get his equipment as he was departing for France, landing in Dieppe. According to Paul, many of the men were excited to finally see some action. Paul nearly died on the beach in Dieppe and Joan was unaware he had even gone . .
Paul remembers running up the beach and, at the end, there being a wall protecting the town. Every man who went over the wall, according to Paul, died. Paul joined some men who were using a tank, off its tracks and stuck on some rocks, as cover. He remembers shots being fired, being hit and shrapnel going through his helmet and grazing his skull, before losing consciousness. When he awoke, he remembers longing to get to the water to wash, but his legs not working properly (due to shock). He remembers a small landing craft arriving and hearing shouts for the wounded. Paul found strength, stood and began carrying men to the boat under gun fire. Paul never left with the boat; in his eye, although wounded, he was still walking. The boats where Paul had loaded the wounded were sunk by the opposing side. Paul was captured and would go on to spend 13 months in a POW camp in East Prussia, Northern Germany.
Joan got word regarding Paul through a couple of his friends whom she ran into in town. They told her that Paul had been killed on the beach in Dieppe. Paul's parents had received a telegram from the Canadian government saying that he was missing in action. After the funeral was held, Joan received a shock in the form of a card from Paul saying that he was in a prison camp and asking for cigarettes, soap and a toothbrush. Paul was not a smoker, but in the POW camp, cigarettes were currency and used to bribe the guards, particularly for food. Paul remembers being given almost no food at the camp. They were given one piece of bread, a potato and soup that, Paul speculates, was made from dishwater. He wore shackles everyday.
As a driver in the army, Joan drove ambulances and staff cars. She was meant to ship to France the following day, but received a telegram from her mother saying that Paul was back in England. He had been liberated at the end of May, 1945. Joan took several days compassionate leave and reunited with Paul at the hospital. Soon after, they were married. They had two weeks together before Paul was shipped home to Canada. Joan followed in March of 1946.
Sharing a similar storyline, Joyce Audrey Amirault entered Pier 21 on November 12, 2020. This isn't Joyce's first time at the Pier. She entered Canada via Pier 21 almost 75 years previously as a young War Bride. Despite the passing of time, Joyce still houses wonderful memories of a wonderful crossing on the hospital ship, Lady Rodney. She chats about how she was never seasick and was able to enjoy every meal. She recalls being anxious to disembark upon arrival in Halifax, but, being Victoria Day, having to wait onboard another night with her fellow brides. Joyce reunited with her husband, Private Louis Amirault of the West Nova Scotia Regiment, in Yarmouth County, Nova Scotia. Louis had endured a two-year ordeal as a POW after being captured during the Italian campaign. On this day, Joyce arrived at Pier 21 for a very different reason. Accompanied by her daughter Peggy, she's here to visit the two bricks she was gifted on the Museum's Wall of Service; one honouring her, the other her husband and both honouring their journey. The words on the brick are few, but the story behind them brims with love. Joy passes through the original doors she would have passed through as a girl entering Canada. She poses for pictures with the Wall of Service behind her. Names stand-out on varying bricks, each with its own story; a Canadian journey.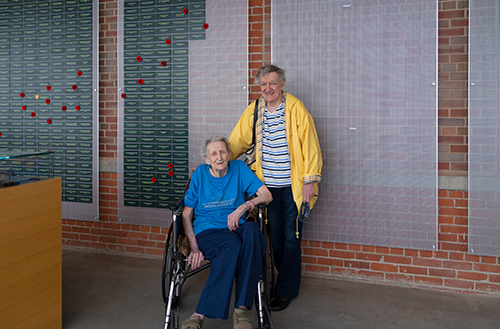 For more information on gifting a brick on our Wall of Service, please contact Maria Almeida, Donor Relations Manager, at malmeida@pier21.ca or (902) 420-6656.