Winter Brings a Different Set of Challenges for Some Newcomers
Immigrating to a new country comes with a whole host of challenges, including adjusting to different customs, traditions, and languages.
Canada's harsh winter means that some newcomers have an added element to contend with, making their transition that much more difficult.
Invariably, however, newcomers learn to cope with the onset of winter and, in many cases, even laugh about it.
Clarecia Christie was born and raised in Kingston, Jamaica, but immigrated to Toronto in 2005.
Learning how to dress for winter was one of her biggest challenges, including days when the wind chill dipped to 30 below.
"And I tell you, if I didn't have to go where I was going, I would have turned back and go back home. Because this was the thing—it felt like the cold was burning my face, that's how it felt to me," she said in an oral history interview.
"And I remember pulling up my scarf up to cover my mouth. And I must have looked like something else—I don't know—because I remembered walking down the street and I looked across at—it was like a glass, somebody's store front, but it looked mirrored," she recalled. "And I look, and I couldn't recognize myself. Because all I saw was just my eyes."
Italian immigrant Maria Rosario Pagano arrived in Halifax along with her children Luigi Antonio and Maria Grazia in November 20, 1961.
The reality of their new life set in on Pagano during the train ride to Montreal, where she and the family was reunite with her husband, Antonio, who moved there in 1958.
"Along the way there was a lot of snow. In some places, the snow was quite high and it was very cold," she said. "Having been used to a mild climate, the winter clothes that we brought did not keep us very warm. I kept looking out the window and would say, "Where have we come to, Siberia?"
Dutch immigrant Dorothy Van Helvert landed in Halifax with her family in May 1950 before moving on to Port Rowan, Ont.
The 16-year-old didn't know what to expect when winter set in.
"The first Canadian winter was terrible since we were not used to snow from November to April! We had neither boots nor warm clothes nor money to buy them with," she said.
German immigrant Christine Schlechta arrived in Halifax on Christmas Eve, 1951 before heading to Ontario by way of Montreal.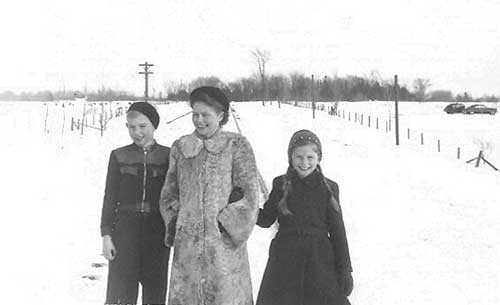 "What I remember most about Montreal was the blue sky, the clear air, and the intense, bone-chilling cold," Schlechta recalled. "One Sunday we walked to the top of Mount Royal and watched children tobogganing on strange-looking wooden boards that curved up at the front. We longed for our beautiful Alpine sled where we sat on a webbed seat about 30 cm above the ground."
Colombian native Monica Valencia and her family left for the United States in 2000, but later moved on to Windsor, Ontario in 2002.
It was at her first sighting of snow that she said she began to feel more Canadian.
"I was in my geography class and we had two windows and then I looked back and I saw that it was snowing. And I approached the girl beside me and I told her, 'Oh it's snowing! This the first time I saw snow.' And then she told the teacher and then the teacher stopped the class and then everyone got up. And she took me to the window," she recalled.
"They start explaining to me about snow and the children—the children, well, the classmates—they started talking about the type of clothes that you have to wear. And I really liked that experience because I felt that they cared about my experience and that they wanted to share something with me. Whereas, in the United States I felt as if nobody cared about it—what I was going through."
Alix Pinciv moved from Dijon, France to Quebec City in January 1999 and, while same may have complained about the cold winter, she had the opposite reaction.
"It was minus fourteen or minus fifteen with a very beautiful sunlight, and, wow, it was—It was really nice. I would have been wet and cold with my coat in Dijon but here it kept me warm," said Pincivy, who later moved to Newfoundland.
"I didn't buy a new coat when I left France for Quebec actually. And I found that, no, it was beautiful—the snow, it glistens everywhere. I found it much sunnier than where—than where I come from. I think people complain a bit too much because it's dry, it's sunny. So there's nothing to complain about.
English immigrant Christine Welldon arrived in Montreal in July 1958 and then moved on to Thunder Bay, Ont.
She vividly recalls her first winter being a "delight" for her and her siblings.
"I remember my mother wiping away tears as she stood washing dishes and looking out of the kitchen window at the snow that was over 4 feet deep," she said. "Skating, tobogganing were all new experiences, and the huge star-studded skies were a marvellous introduction to our first year in Canada."