The Walnut's Enduring Legacy
It was a moment that Tiiu Roiser wasn't fully prepared for.
Throughout her entire life, Roiser had heard hundreds of stories about SS Walnut, the small minesweeper carrying 347 refugees, mostly Estonians, that arrived at Pier 21 on Dec. 13, 1948 after a perilous 26-day voyage from Sweden.
Among the passengers were her parents, Eduard and Koidula, along with three of her father's sisters and their husbands.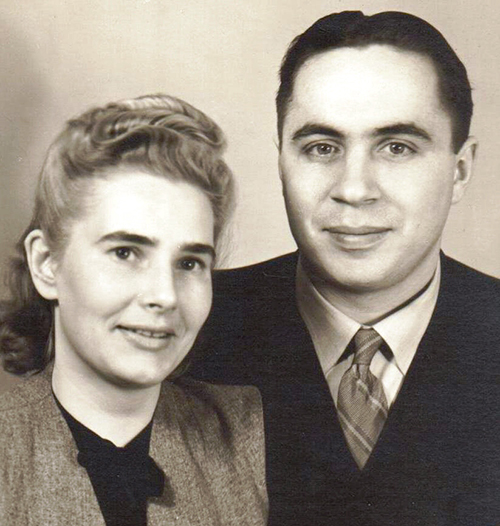 She had visited the Canadian Museum of Immigration at Pier 21 before, but it was her second visit, on September 1 of this year, that the significance of the site really hit home for her, as she approached on board a cruise ship.
"I was more emotional than I thought I would be," Roiser said in an interview, noting that it was her first visit to the site since her mother passed away last year. "I was up super early in the morning, we came in the dark, but I was imagining what they would have seen, what buildings would be here. It was extremely emotional for me."
Eduard and Koidula had spent some time in Sweden, displaced from their native Estonia by the Second World War.
But then they had decided to make the voyage to Canada.
Fifty men and their families pooled their money together to purchase and retrofit the Walnut for $63,000, and they then sold fares to others to pay for the trip. Eduard served as the secretary of the corporation set up to purchase shares in the boat.
On November 17, 1948, SS Walnut set out from Gothenburg, Sweden. Many of those aboard, including Koidula, had very limited experience on boats, and the journey ahead was fraught with uncertainty.
"She was petrified of the water because she nearly drowned when she was younger," Roiser said. "But even though at one point (my father) wanted to change his mind and stay there, her wanting to leave was so strong that she said that she would swim if she had to."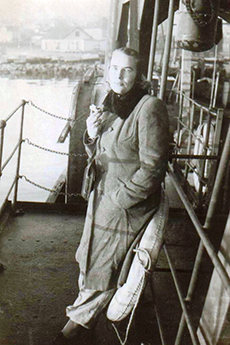 Roiser said her mother, along with many others, were seasick from the first night at sea.
"She said that in the beginning the voyage was nice and smooth, they were playing cards, sitting in their little cubbyholes eating oranges and then once they hit the water, it was unbelievable," she said. "It was like storm after storm, she had a horrific time on the ship just because of the seasickness."
But there were joyous moments as well, none more so than when the vessel made a stop in Sligo, Ireland.
"The one story that is very emotional for me is that as the ship was leaving in the fog and everybody was singing, the people in Ireland chased after them with their cars to the top of Rosses Point in Sligo and they were flashing their lights goodbye," Roiser said. "And then the ship would flash its lights and you could still hear them singing through the fog because it carried until finally you couldn't see the flashing anymore."
Johannes Kikkajoon, a refugee from Estonia and one of the shareholders in SS Walnut, had previously told the Museum that the boat was initially heading to Quebec but had to turn around as the waters in the Gulf of St. Lawrence were frozen.
"People were crammed in wherever we could make room, the food was not very good but nobody complained. We were going on to freedom," Kikkajoon said.
SS Walnut first docked in Sydney before making its way to Halifax the next day, and Canadian immigration officials were made aware that a vessel of refugees and displaced persons would soon be arriving. Approximately half of those on board were kept in Pier 21's detention facilities, while the remainder, including Roiser's family, were sent to the Rockhead Quarantine Hospital in Halifax's North End.
They were there for about six weeks and, given the circumstances, had a relatively good time as they got acclimated to their new environment.
"Everyone was really happy – I mean, really happy that they had come," Roiser said. "The jubilation of not having to go back onto the water and ultimately getting to where they wanted was indescribable, is what she would say."
Kikkajoon had recalled that the people were welcoming.
"We were so fortunate as the inhabitants of Halifax were very friendly and seemed to take a true liking to us. We felt very welcome. We become known in the media as 'The Little Estonian Ship of Freedom'," he said.
SS Walnut's arrival also heralded a change in Canadian immigration policy, wrote Pier 21 Researcher Jan Raska in a blog.
"Often there was a gap between Canadian immigration policy and procedure and what was enacted in practice at Canadian offices overseas and at various ports of entry across Canada," he wrote. "SS Walnut's passengers helped to alter Canadian immigration policy and how Canadian officials processed new arrivals."
After six weeks at Rockhead, Roiser said her parents were allowed to leave and decided to settle in Toronto, where they had acquaintances.
Today she runs a website dedicated to collecting and preserving stories and artifacts from the passengers of the Walnut.
In September she donated SS Walnut's minute book, which was handled by her father, to the Museum.
"What changes us or what forms us as human beings is what our past is. And being a teacher, I see that there's so many young people that have no idea where they've come from, what their culture is like," she said.
"And I mean, we're a melting pot, but I think your culture is important and how you got here is extremely important."