The Immigration Story of Sam Bartucci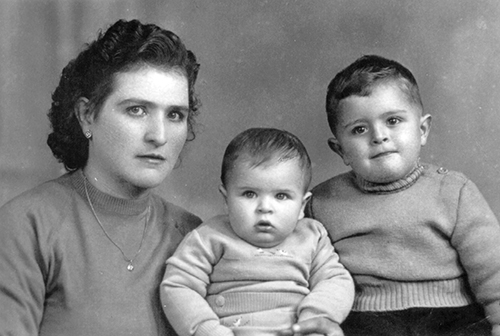 "In the mid 1970s on my first business trip to Halifax, I asked a taxi driver to take me to the docks where the immigrants used to come through, we couldn't find it, my recollection is that we found the general area and it was all boarded up and in disrepair. Many many years later in 2013, I had the opportunity to visit Pier 21 and it brought out a lot of emotions. In March 2017, I had the opportunity to bring my whole family including my 4 grandchildren from Alberta where we now all live, to Pier 21. We had a family portrait done in front of the mock Canadian National immigrant train in the museum and I attach to this story."
My name is Sam Bartucci. I came to Canada on June 9, 1959 by sea. I was eight years old and travelling with my mother and my younger brother. I can't remember what I had for dinner last night, but I can remember the day that we landed at Pier 21 in Halifax. I was born in Rende, in the province of Cosenza in Calabria Italy. My father left for Toronto, Canada when I was three years old, so when we departed from Naples, Italy I was very excited to be seeing my father. The ship we travelled on was the Vulcania. My mother was afraid to cross the ocean, but she hadn't seen my dad in five long years. For me the voyage was exciting, I came from a rural region in Italy and I had never been on a train or had never seen the ocean. The train ride to Naples was new and full of expectations. We were at sea for six or seven days and I still have flashbacks of that voyage. The only reason that my parents came to Canada, was for opportunities for myself and my younger brother.
We landed at Pier 21, and I remember rushing off the ship thinking that my father would be waiting on the dock for us. I didn't know that Toronto was a two day train ride from Halifax. My mother was very nervous travelling with two children. I remember the waiting area and having to go through customs and going down the long hallway to the train station to board the train. My mother had bought a new sewing machine about a year before we left Italy which was housed in a nice stand-up cabinet. Someone had told her, that the Canadian customs officials would take it away if it was new and that she had to make it look old. Before we left Italy, she scratched up the nice cabinet to make it look old. It broke her heart to damage it. She had that sewing machine for 51 years until her death.
The train was full of Italian immigrants, and we all received a bag of goods, two items that I remember and will remember forever, was we received a loaf of Sunbeam Wonder Bread and Kellogg's Cornflakes. The bread was very soft and totally alien to us, we were used to crusty Italian bread. The Kellogg's Corn Flakes....... we didn't know what to make of it. The whole train car started lamenting the food and then everyone started singing the Italian national anthem. Even as a young boy, it was a moving experience. The houses next to the train tracks looked small. We couldn't get over the shingle roofs, in Italy all they were all ceramic tile roofs. We were on our way to Toronto and when the train pulled into Montreal, my mother woke us up and changed us into brand new clothes to see our father, not realizing that it was another 8 hours or more to Toronto. I remember being so excited to see my father at Union Station in downtown Toronto and our journey in a new land began.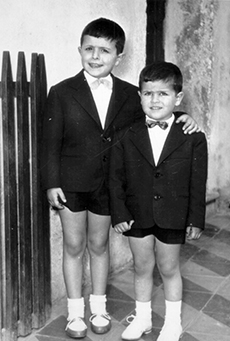 The buildings outside Union Station looked massive to a little boy from southern Italy who had never been in a car before, never mind seeing tall buildings. We lived in Little Italy above an Italian grocery store for a while, sharing one bedroom with my parents and a common washroom with other tenants. Both my parents worked and in no time were able to save enough money for a down payment for our own house just down the street from where we were renting.
My parents were older when they had children and my father was 50 years old when we came to Canada. I remember when I was about 9 or 10 years old going with my mother to factories in the garment district around Spadina Ave, as she was looking for work and I was the interpreter as I had learned to speak English.
My childhood in downtown Toronto was unbelievably happy. Full of love.
My dad's feelings of Canada could be summed up by one moment of reflection that I caught him in, in his early 70s after he had been retired about 3 years. I was in my early 30s, married and working in Toronto, Director of Finance for a major supermarket chain and periodically I would go to my parents house for lunch. As I got out of my car and came around the backyard, I saw my father sitting on the picnic bench under the trellis of grapes in the shade. I asked him what he was doing. He replied "I can't believe it I'm like a King, what a great country, I sit here doing nothing and they pay me" my dad was referring to his CPP, OAS, OAS supplementary cheques he had just received in the mail.
My parents never learned to drive or speak English but their dreams were more than fulfilled. My brother and I have become very successful and Canada has provided us tremendous opportunities.
"Dad and mom, I have been successful beyond my wildest dream. Two great children and four grandchildren."
Click here to watch Sam's video >