Give Peace a Chance
American Vietnam War Resisters
Dick, Margot and Roger Share Their Stories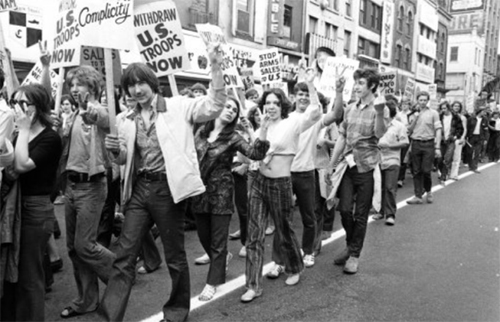 Peace, violence and war have been central to the history of immigration to Canada. Many immigrants have come to escape violence caused by war and conflict or to avoid forced military service.
From 1965, as anti-war demonstrations escalated in the United States, until the Vietnam War ended in 1975, Canada became a refuge for American war resisters. An estimated 30,000 to 40,000 objectors to the war, military deserters, and draft dodgers facing compulsory military service, made the often difficult decision to leave everything behind and begin new lives as immigrants in Canada. Many put down roots and made Canada their permanent home.
Each war resister who came to Canada during the Vietnam War had personal reasons for doing so and faced unique circumstances surrounding their choice. It was not an easy one to make knowing that, for many, if you ever went home, you would be faced with imprisonment or forced military service. For some, leaving meant not only being separated from family, but being disowned by them. For others, the decision was more like embarking on a new adventure, with hope for a brighter future.
Dick Cotterill, Margot Overington and Roger Davies all followed unique paths to Canada. Since settling in Nova Scotia, their paths have crossed, not only due to their shared experience as American war resisters and immigrants, but through their faith as Quakers. All three have made Canada their home, have given back and shaped their communities in special ways.
They each share their personal immigration stories with us: Dick describes the difficult decision to desert; Margot shares her uncommon experience as one of few women in the army; and Roger reflects on what life in Canada has held for him.
Dick Cotterill: My Difficult Decision to Desert
"I felt a patriotic duty to serve my country and enlisted in the United States Marine Corps for four years…As I met more and more Marines returning from Vietnam it became obvious that the war was a mistake, unjust and immoral. Eventually, I reached the moral and ethical decision that I could not complete my enlistment."
Margot Overington: My First Step as a Pacifist
"I was one of 150 women chosen to enter the United States Army through a program designating women of high calibre to enter the Army in support of the Viet Nam War effort; 150 women entering our last year of university. The offer was four weeks of training...if you like us, join us. I graduated from Clark University on June 2, 1968, and I was on a plane to Canada the next day."
Roger Davies: My Life Well-lived in Canada
"Because Canada was here for me and accepted me, part of it all in the back of my mind was that I wanted to give what I could of myself, and I think a lot of war resisters who came to Canada had similar kinds of feelings."
---
Peace – The Exhibition, a travelling exhibition produced by the Canadian War Museum, is presented at the Canadian Museum of Immigration at Pier 21 from May 16 to October 19, 2014. Visit Peace to learn more about Canada and the Vietnam War.