Celebrating Citizenship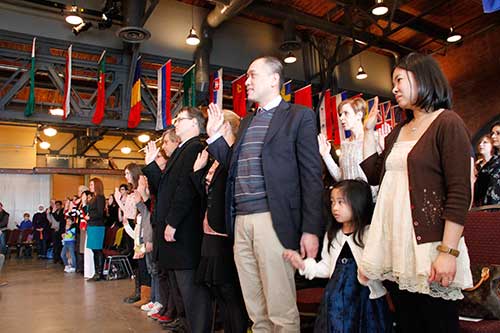 Hosting an official citizenship ceremony, in partnership with Citizenship and Immigration Canada, is a special Canada Day tradition at the Canadian Museum of Immigration at Pier 21. Over the years, almost 1000 immigrants have become new Canadians on our nation's anniversary, here at the former immigration gateway that historically welcomed so many to our country.
While the story and experience of each immigrant is unique, for many individuals obtaining Canadian citizenship is a significant milestone in their journey as newcomers to Canada. In celebration of this personal, symbolic and official step, we wanted to explore this experience through the story of Angelique Cishahayo, one of the Museum's very own Visitor Experience Interpreters.
Angelique was born in Burundi, where she spent the first 25 years of her life. She grew up surrounded by a close-knit family, which made the decision to immigrate to Canada a tough one. Although she left behind an extensive network when she moved to Halifax in October 2007, she embarked on this new adventure in order to rejoin her husband, Bonaventure, who had settled in Canada before her.
Angelique describes that, "The transition into Canada was not easy. I went through many changes to adapt to my new home and become an integral part of my new society. Being separated from your family and friends for a number of years is not easy. The saddest thing is that you don't know when you will return to see them again."
During her first few years in Canada, Angelique adjusted to life in her new community coupled with another new experience—being a new mother (her son Miguel was born a few years after she arrived). She also worked to improve her English language skills by taking ESL classes. Although this was an exciting time for her, she shares that "being a new immigrant can be very challenging. Some of the biggest barriers to integration are the language barrier and the technological advances."
Angelique feels like she was able to overcome some these barriers in part by her participation in the Museum's Welcome Home to Canada (WHTC) program, presented by TD Bank Group. Through this employability and integration program, newcomers gain what is often their first significant Canadian work experience through six-month work terms. Angelique worked as a Visitor Experience Interpreter through the program and was hired full-time afterwards.
Angelique's brilliant smile is a welcoming sight for visitors to the Museum. Her open personality and passion for her work shines through. She shares that, "My favourite part of working at the Museum is interacting with visitors. Hearing peoples' stories makes me feel like I am not alone in this country, because I can relate to their experiences." Meeting visitors who immigrated through Pier 21, or who are more recent newcomers like herself, is a highlight of Angelique's day. "Working here at Pier 21 has influenced my view of what it means to be Canadian," she says.
Angelique shares some words of wisdom for other newcomers who are transitioning into a new home, "Every immigrant has to work hard with courage, persistence and patience. With hard work, anything is possible!" Angelique has certainly personally proven her own words.
For her, the road to citizenship was a long process ("there was a lot of paperwork," she shares laughingly). To prepare, Angelique studied on her own, and also attended a few of the Museum's Canadian Citizenship Test Preparation classes.
After successfully writing her citizenship test, Angelique waited to learn details about her official ceremony. Bringing her story full circle, she found out that it would very fittingly be held at the Museum in February 2013. Having her ceremony at the place that has come to mean so much to her since settling in Canada—with family, friends and colleagues able to share this milestone with her—was an extra special ending to this part of her journey as a newcomer.
For Angelique, becoming a Canadian was a meaningful experience. "Canada is my new home, my new country. Having the rights—and responsibilities—of a Canadian was very important to me," she says.
Aside from her work at the Museum, Angelique volunteers with Immigrant Services Association of Nova Scotia ISANS (formerly known as Immigrant Settlement and Integration Services) in Halifax, helping integrate and familiarize French-speaking refugees with how things work in Canada. From helping them navigate local transit and the medical system, to daily tasks such as grocery shopping, Angelique gives back to her community by 'paying it forward' to other recent immigrants.
Angelique is just one example of the many immigrants who contribute so much to our communities, to our culture and to our way of life in Canada.