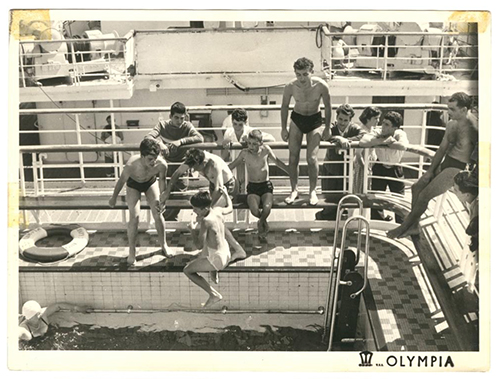 As far as countries go, Canada is pretty much the coolest...
There's a saying in Canada that if you don't like the weather, wait five minutes. We're a toque wearing, ice hockey crazed nation known for our cold weather and unique ability to take mountains of snow in stride (stereotypically). We scrape our car windows, shovel our driveways and understand the significance of putting chains on our tires and sending children to school in snow pants. Testimonials from new arrivals attesting to our (sometimes) cruel winter months fill the Museum collection.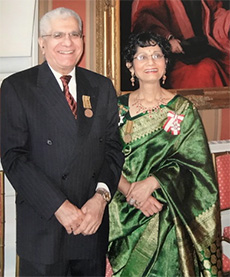 In Season 2 of Countless Journeys, the Museum's own podcast, Dr. Lalita Malhotra, the first immigrant woman of colour to set up a medical practice in Prince Albert, describes what it was like arriving in Saskatchewan, "Well, we arrived in summer, actually, and at that time I could never imagine how cold it can be because the summers were beautiful, 30 above at the time. But then winter came. And you can never imagine, it's 40 below outside . . A friend said, okay, I'll come pick you up for coffee, and I have this sari on, and she stands there. She said, 'Do you know how cold it is outside?' And I said, 'It's beautiful outside.' And she said, 'Go change. Put some pants on (laughter). I'm not taking you with a sari!' But you could never imagine, from 30 to, about, 40 below. It was so unpredictable!"
One can only imagine the shock our weather patterns must bring, but not only for the cool temperatures, but the warm ones as well. Despite what the stereotypes will have you believe, Canada has a hand in the hot weather as well as the cold. When Zeana Issa came to Canada in 1997 from Jordan, she remembers, "The weather was very nice, which was surprising. It was July!"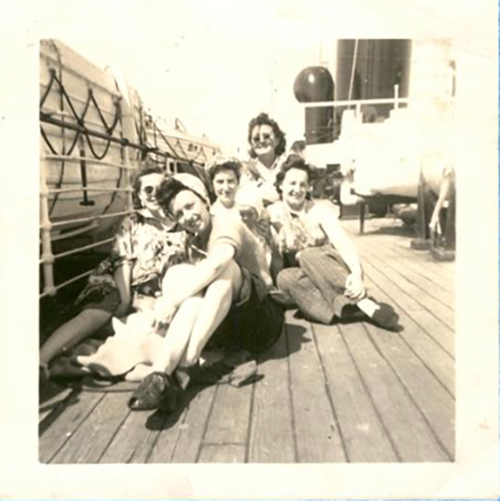 In 2014, when Betty Ryckman was in England and going through her father's effects after his death, she came across a packet of letters that had a familiar look. They turned out to be letters she had written to her family more than 50 years ago detailing her journey to Canada as a 21-year-old War Bride with a 5-month-old baby daughter named Linda. Betty said, 'There aren't too many of us left' and she offered to share these memories with the Museum. She discusses the Atlantic crossing saying, "Life on the ocean waves gets worse. This morning we opened the portholes and got a shower bath. The waves came right in and we are on the top deck. This afternoon however, matters calmed down and we are running into the Canadian weather belt. The wind is still strong but it is like a hair drying machine it is so hot. You can hardly imagine what it is like. And still there is no sun, I haven't seen a sign of it since we left England . . . We have run into the Canadian heat wave and what a heat wave. It even woke me up in the night it was so hot, and as you know that takes some doing. Linda has come out in a heat rash behind her ears and on her stomach but the M. D. says it's nothing to worry about. 99% of the babies have it." In her letters, Betty chats about what it will be like on arrival at Pier 21 and ends her letter saying, "they definitely do play 'Here Comes the Bride' when we walk down the gangplank. I thought it was a leg-pull but it's right." Upon arrival in London, Ontario, Betty describes the lovely weather and the new culture which she is delighted to partake, "Last night I undressed Linda, put her in her carrycot in the back of the car, and just drove around London. It's a wonderful place, just like a high-class holiday resort. At night, it's all lit up with neon signs and lights for adverts – just like fairyland. We called in a drug store coming home for a 'hot dog.' Late at night, the young folks sit around on high stools drinking iced drinks and playing jukeboxes just like in American films. I am enjoying every minute of it all."
Winter in Canada isn't all bad, with some being milder than others. Martin Seagull's son describes how his father came from Poland aboard the Baltic American ship, Estonia, in 1926. Martin was destined for Winnipeg, Manitoba, as a farm labourer, but while travelling by train to Montreal, he struck up a conversation with a gentleman who told him how very cold Manitoba was and that the winters were brutal. On hearing this, he hopped a train for Southern Ontario and rode it as far south as possible, ending up in Windsor, Ontario, where he settled and later brought his wife and three young sons.
Newcomers and long time residents alike, Canadians remain ready for some of the planet's most diverse weather systems – whether that means digging out shovels, umbrellas or sunscreen.
.