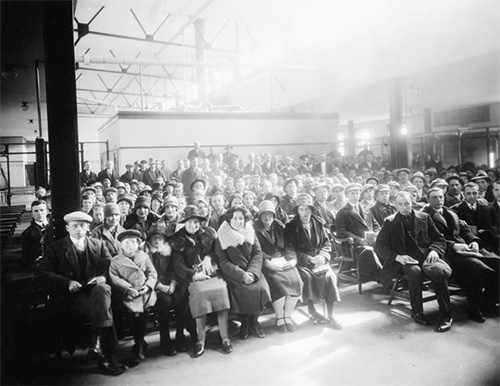 It must have been something to approach Canada's East Coast by steamship on March 8, 1928 — to sail from Europe across the ocean towards a rugged coastline before spotting a lighthouse that would mark the beginning of a new life.
Fifty-four men, women and children — hailing from the Netherlands, Romania, Russia, Germany, Lithuania, Finland and Greece — would disembark from the Nieuw Amsterdam on this historic day. They would be the very first of nearly one million people to arrive in Canada by ship via Halifax's Pier 21 between 1928 and 1971.
Several months have passed since we partnered with Canadian travel blogger Kim Gray of Toque and Canoe, asking for help in solving our mystery. In typical Museum style, we wanted to know more. We know the beginning of the story; our records show the names, birth dates, departure ports and destinations of the first families who arrived at Pier 21 onboard the Nieuw Amsterdam, but what about the rest of the story? What twists, turns and varying directions did these families take as they navigated a new life in Canada? On March 15, 2021, Kim published the above words; a call out for these families, their descendants, to come forward and for us to finally know what happened after that momentous occasion on March 8, 1928, when Pier 21 saw the first immigrants arrive through its doors.
In the short days following its publication, our call-out spread to 41,831 people country-wide. It sparked 637 shares across social media with 235 comments of people telling their own origin stories of arriving through our immigration terminal. It wasn't long before Kim sent an email to the Museum exclaiming, "looks like we found one!"
Terry Taks was the first to contact the Museum. He explains, "a friend of a friend of my niece saw your article on Toque & Canoe and they saw the name 'Taks' on the passenger list. She knew my niece's maiden name was 'Taks,' so she sent her the link. My niece then posted that link to her Facebook page. That is how I saw it" (ah, the magic of social media). Terry's uncle (the youngest son of Terry's grandparents, who are confirmed as one of the first families of Pier 21) grew up hearing stories from his father, Lambertus, about how he worked each day onboard the Nieuw Amsterdam when making the crossing. Terry says, "He remembers he had to work in the kitchen and was mainly assigned to doing dishes. Making beds and cleaning rooms were also left to the passengers to do. Cornelia (my grandma) was apparently very seasick for most of the trip and would look each day hoping to see some land." The Taks family were on route from Holland and knew very little English. A fact that concerned Cornelia, "grandpa continued to tell her not to worry and everything would be fine," Terry says. "The story goes that when they arrived in Calgary, Alberta, via train they heard 'Taxi, Taxi' and Grandpa turned to Grandma and said, 'see people know us already -- they are calling out names and looking for us.' To them of course, only knowing Dutch, they mistook 'Taxi' for 'Taks.'"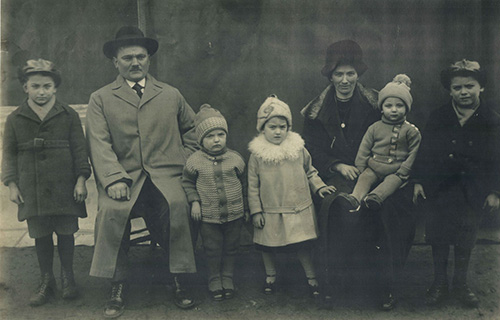 As it turns out, the Taks family (including Lambertus, Cornelia and the five children) were not alone in their crossing to Canada. Enter Mary Ann Sparling. It was Mary Ann's grandmother, Cornelia Klys (yes, another Cornelia) who travelled with the Taks family (related through Cornelia Taks by marriage to her brother). Mary Ann says, "my grandmother traveled with the Taks family, so she didn't have to make the journey alone with the three children." The family had had word from a friend, who worked for the Canadian Pacific Railway in Southern Alberta, that there was an abundance of land available and how the area around Strathmore would provide a good living for a family. "Land was not easy to find in Holland," explains Mary Ann. "My grandfather came to Canada in 1927 to secure land for the family prior to their arrival." Mary Ann contacted the Museum through the Scotiabank Family History Centre, having seen the call-out on Facebook. Naturally, the Taks family is listed directly below the Klys family on the arrival record. The record also indicates the spelling of Klys as K-L-Y-S. Mary Ann explains that the original spelling of the name was Klijs, but, due to a mistake and misinterpretation of letters, the 'ij' became a 'y.' Mary Ann says, "since it was complicated to change it back to Klijs, the family decided to leave the spelling as Klys." The family was also informed of their new given names upon entry into Canada. Cornelia became Cora, Johannes (John), Adriana (Ann) and Johanna (Nancy).
The Taks and Klys families first settled in Strathmore, Alberta, as farmers. Mary Ann says, "farming stayed in the family's blood and was and still is a several generation passion." Terry remembers how his grandmother retained her Dutch language and kept her heavy Dutch accent for the entirety of her life. He says, "it would always take me 10-15 minutes at the beginning of my visits to fully understand what she was saying in English." The Taks and Klys descendants have met through various family gatherings and reunions throughout the years.
Cara MacDonald, Librarian and Genealogical Research Manager at the Museum, says, "firsts are momentous occasions. Think of it, we all remember our first job, the first time we rode a bike, our first home . . As an immigration port, the most significant first would be the first arrival. The arrival of this ship — the Nieuw Amsterdam — was our first major event." Although the Museum connects with people every day who share a history with Pier 21, we had yet to connect with any of the first families. Although the Taks and Klys are but two of the 54 first families, they provide a beautiful glimpse into the first stories of the millions that Pier 21 would go on to collect. As a Museum our eyes remain peeled. We still hope to connect with other first families. Think your family could be one of them? Check the link below, you never know where history may lead . . .
https://pier21.ca/sites/default/files/blog-images/CaraFirstFamiliesBlog-EN.pdf
The Museum would like to thank Terry Taks and Mary Ann Sparling for being generous with their time and willing to speak to us about their families fascinating journey.