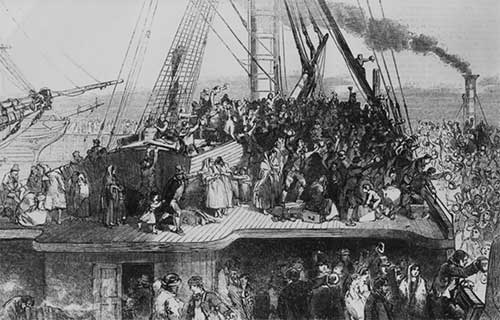 'Black 47', simply a word and number, however it recalls some of Ireland's darkest years. Specifically, it's an epithet endowed upon 1847. The repeated failure of Ireland's potato crops (1845 – 1852) led to the death of over one million people and saw one of the most devastating migration crises in Canadian history.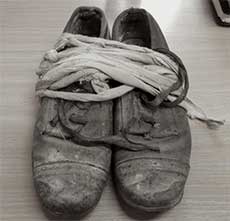 Dedicated to the journey of 1,490 emigrants forced to walk the 165 km to the Quay in Dublin and bound for Quebec, is National Famine Way. This interactive historical trail encourages visitors to follow in the footsteps of Irish emigrants across six counties. Scattered along the route are bronze shoes that hold their own interesting history. The children's bound shoes were originally discovered by a local farmer, in the roof of a ruined nineteenth-century cottage. According to the National Famine Museum, local folklore holds that such offerings were made to invoke good luck. These shoes symbolize the hopeful journey that emigrants embarked upon, emphasizing the fact that two thirds of them were children. The binding evokes the difficulties they encountered and their eternal bind to their homeland. One such story, inspiring the bronze shoes, is that of Mary Tighe and her family. In 1847, Mary Tighe was widowed with five children to feed. She succeeded in her mission to save some of her family but paid a high price. Mary Tighe, her brother, and three of her children, lost their lives onboard the ship The Naomi that sailed from Liverpool to Quebec. Daniel, aged twelve and his nine-year-old sister, Catherine, were the only family members who survived the transatlantic voyage. Taken into the care of the Coulomb family in Lotbinière, Quebec, these two children found themselves on a 168-acre farm, a world away from everything they had ever known or loved.[1]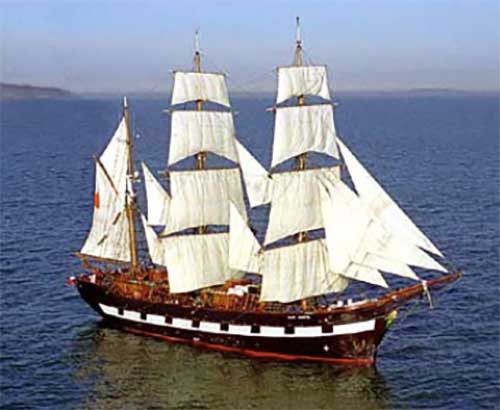 Many Canadians can trace their Irish roots to ancestors who emigrated due to the Great Famine. A look in the Museum's Collections revealed several such stories:
I'm in the fourth generation of Irish immigrants on both sides of my family. We're a fairly big clan, but for the purposes of sharing a specific lineage, I've chosen to start with my great-grandfather, James Dunn. James Dunn was born in 1830 in Ballindaggan, County Wexford, Ireland. He immigrated to Ontario, with his mother in 1851, following the Irish Potato Famine. There is no ship manifest to say where they arrived, as this was before official record-keeping was initiated . . . James was a lock laborer. He married Eliza and had five children, my grandfather, John Francis born 1871, was one of them.
As a young adult, John Francis worked as a teacher so he could save the money to put himself through medical school. After becoming a doctor, he travelled to England in 1914 for further studies. When the first world war broke out, he offered to stay and treat soldiers, but they were 'full up' with medical staff.
John married my grandmother, Mary Helena Moynihan, in 1917 and settled in Almonte, Ontario within the Ottawa Valley. They had 13 children and lived in a grand home known as The Doctor's House, where my grandfather and other doctors before and after him, had an office attached to the house. He was a typical country doctor of the time. He travelled with a buggy pulled by a horse named Francis and was often paid with food. He once saved the life of a farmer's son, who was suffering from diabetes. At the time, there was no treatment. Dr. Dunn had heard of the work being done by Banting and Best in Toronto...so he called them up and with nothing to lose, asked if he could try out the new insulin they were researching, which worked like a miracle and the boy lived into his 70s.
I'm very proud of our Irish heritage and the fact that we have grown as a family throughout (and just before) Canada's 150 years.
- Maureen Hart[2]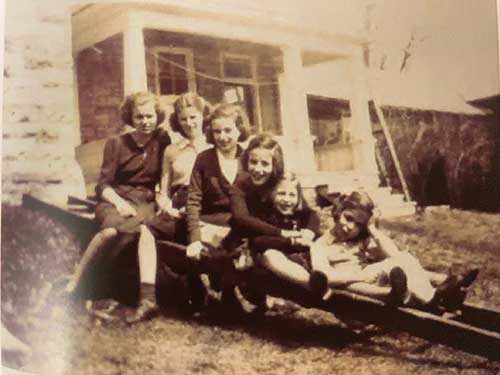 Currently, the Irish National Famine Museum is looking to trace the descendants of the 1,490 tenants forced to emigrate to Canada and the United States from Denis Mahon's estate in 1847, specifically Irish Famine orphans adopted in Quebec.
Please view the links to the list of 1,490 Emigrants and the list of the Famine Orphans below, and contact Dr. Jason King, Irish Heritage Trust at : faminestudies@irishheritagetrust.ie with any information.
https://nationalfamineway.ie/wp-content/uploads/2017/05/Strokestown1490FamineEmigrantList.pdf
https://nationalfamineway.ie/wp-content/uploads/2017/05/Strokestown1490FamineOrphansList.pdf
---
Westmeath 1 – Ballinacarrigy Harbour Bronze Shoes – National Famine Way, 2021. NationalFamineWay.ie.