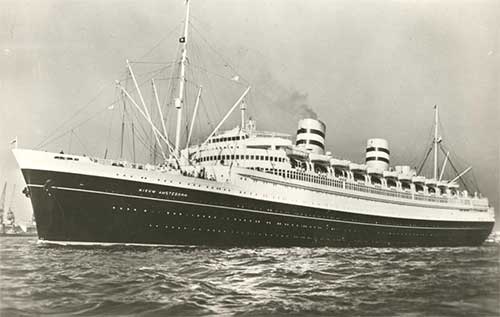 When was the last time you did something for the first time? When have you last experienced the sense of anxiety that comes with not knowing what lies in store? When did you last feel the nervous energy and excitement of a new beginning and new potential? These were the feelings of nearly one million immigrants who immigrated through Pier 21 between the years of 1928 – 1971. Their experience entailed long sea voyages, medical screenings, civil interviews, quarantine and detention (for some), custom inspections and, maybe, boarding a train to further destinations. Pier 21 operated as an immigration facility for 43 years and thus absorbed 43 years' worth of 'coming to Canada' stories from the many people who passed through.
It's suggested that the last family processed through Pier 21 was the Matthews family, coming from England and settling in Lunenburg, Nova Scotia. Peter Matthews says, "throughout my childhood it seemed that I always knew a lot about Canada because my grandfather and three of his brothers had emigrated (there) in the early 1900s and were sod busters on the Prairies in Saskatchewan. . I grew up hearing stories about life in Canada, with its cold winters, open spaces and going to school in the 'Little School House.'" Peter grew up in Surrey, England, during World War II and lived near an armed camp as the Allied Forces prepared for an invasion on Europe; the land was used by the British and Canadian troops as a training ground. Peter spent much of his childhood interacting with the soldiers. He says, "there was no question about it, we preferred to be with the Canadians. They were so open, friendly, kind and patient, and always had time for us. . We were intrigued by their accents, which seemed to us to be odd, and we loved to imitate the strange words they used like, 'OK, Buddy, Eh and Crumbs.'" Little did Peter know then that Canada would someday become his future.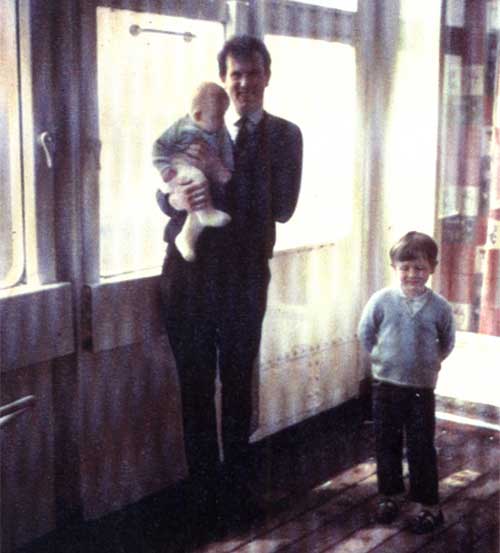 A grown-up Peter took a position in East Yorkshire, as a Fisheries Development Officer. His employment included consultancy work in Nova Scotia which, eventually, led to a job offer in the area. Peter remembers, "we (he and his wife) made the decision to leave a good job in Britain, to come to Canada and to change our lives forever, after no more than a then minute discussion in our bedroom." According to Peter, his family's voyage would not only be one of the last immigrant fares that would be offered, but also the last voyage of the SS Nieuw Amsterdam. Peter remembers the Atlantic crossing fondly, "we finally docked at Pier 21 at 11am on June 21st 1971. Of course, we didn't know anything about Pier 21 or its significance. To us and I suspect everyone else, it was just a dirty, dusty warehouse." The Matthews family was the last off the ship as Peter's wife did not want to disrupt her children's routine and allowed them to nap. "Does this make the Matthews family the last immigrants to pass through Pier 21? We can't be entirely sure," says Peter, "but it certainly seemed very possible that we were! If it is correct then we are very proud to have the honour . . what is important is that we have made our home in Canada for 27 years and we are proud to call ourselves Canadians . . We are fortunate to live in one of those big, old, wooden homes, with moldings and hardwood floors, built by a Lunenburg Fishing Captain for his young bride eighty years ago, which is situated right on the water. . We never plan to leave."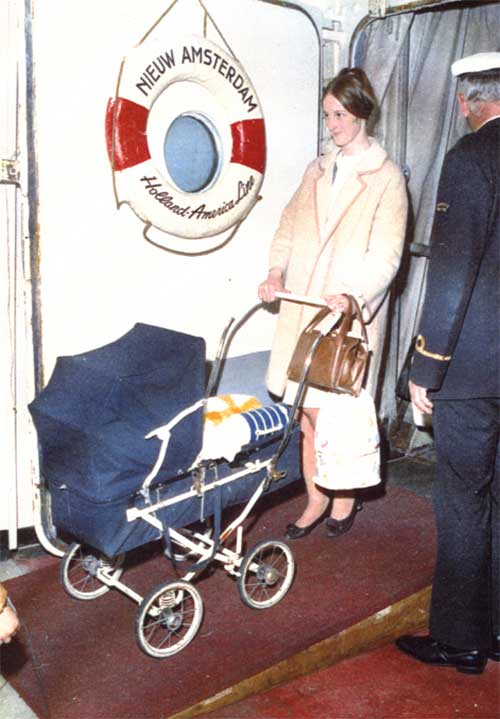 In Pier 21: A History, a book by Steve Schwinghamer and Jan Raska, it explains that in its last full year of operation in 1970, Pier 21 saw 2,281 travellers arrive. A small number compared to 98,695 travellers processed at the height of passenger traffic in 1951. "The emergence of affordable and accessible air travel signalled a shift from ocean liner passenger traffic to air travel, and the emergence of the Halifax International Airport as the main port of entry into the province hastened Pier 21's closure." On April 1, 1971, Pier 21 ceased all immigration operations. Passenger vessels were only arriving once per month at the time. Travellers who required an overnight stay were placed in other accommodations around the city, the detention facility was closed with immigration detainees being held in the local jails or transferred to detention quarters in Quebec, and passengers received their immigration examination onboard.[1]
Peter Matthews' story is only one of many that began with an entry to Canada through Pier 21. Peter and his wife returned to Pier 21 in September of 2013 to share their arrival story at an event celebrating the 140th anniversary of Holland America Line. For many, to return to Pier 21 today is a pilgrimage of sorts; both emotional and nostalgic. A comment left at the Canadian Museum of Immigration at Pier 21 reads: "Pier 21 was a gateway to a new life for my family. The friendliness of the people was memorable – a good indication of what kind of country we would be calling home." This emotional attachment to Pier 21 was widespread, within a few decades' plans would be underway to commemorate this historically significant location. The resulting national museum is dedicated to the immigrant experience and telling stories like that of Peter Matthews and all immigrants who came before or after.[2]