From 900 Pound Polar Bears to Confrontations with Skunks:
Stories of Wildlife Encounters and Newcomers to Canada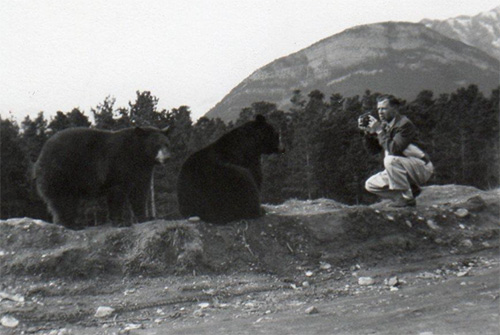 When you think of Canada, what's the first thing that comes to mind? Is it snow . . maple syrup . . unyielding politeness . . wildlife . . .?
Our Collections are filled with stories and oral histories of first impressions of Canada. Many speak about the vastness of the country or the good-naturedness of the citizens. Naturally, many focus on first reactions to the Canadian winter (our diverse weather always seems to be a topic of discussion) . . .
Oral History of Dionne Sinclair
There was a lot of room, but I wondered why the trees didn't have any leaves. And I thought there was something wrong. . . I thought that maybe God had cursed the place. Why they didn't have leaves on the trees. Why there wasn't any grass . . you didn't see many people, there weren't kids playing as much. People were like—they called it cabin fever now—but you're locked inside. You go to work, you go in because it's so cold. . . It got better come spring when everything started melting and I saw grass for the first time. I was so excited I went home and said, "Mom! Guess what! I saw grass like we had back home!" And she just laughed at me.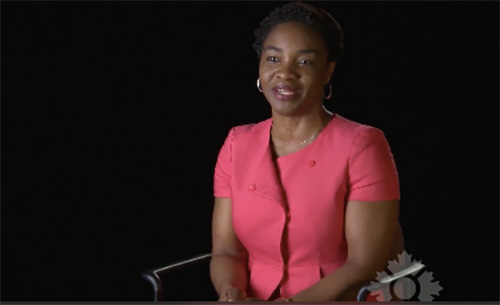 Credit: Canadian Museum of Immigration at Pier 21 Collection (14.05.13DS)
Nature is a key-part of Canada's identity. Many first impressions of Canada focus on the wildness of the country; with immigrants asking what kind of wilderness (they) were coming into upon arrival. Depending on location, Canada's forests, mountain ranges or open spaces, come with inhabitants of the non-human variety. Although encounters with grizzlies, skunks, humpback whales or polar bears may be commonplace for some seasoned Canadian citizens, it's a surprise and adventure for the newcomer. We wanted to explore this theme further and dove into our Collections and Oral Histories for more stories on first-time animal encounters with newcomers to Canada . . .
The Immigration Story of Trijn Steenbergen Lopers
Frits Lopers (born 1918) and Trijin Steenbergen (born 1920) were born in Koekange, a small town not far from Meppel in Drenthe, an eastern province of Holland. They found that the economy in Holland had few prospects for them, so made the decision to emigrate. . .

We were the first ones in our families to decide to leave Holland . . . there was a letter from Canada with word about a farmer in Alma, Ontario, who needed help. . . We went in a big, old boat called the Volendam on 16 May 1950, and travelled for 10 days. There were not just Dutch people on the boat. The men all stayed together in one room, about 100 men. The children stayed with the mothers, so all four kids were with me. Beds were arranged three high, without rails. Some people were seasick; one man vomited overboard and lost his false teeth in the water. We saw nothing but water, water, water, but on the 26th of May we reached the shore in Halifax.
Upon arrival in Ontario, the house was not that bad, but there was no sink and no running water. You had to get it from the pump in the back part of the house. There was a toilet in the back, a pit toilet, and we noticed that sometimes skunks would crawl inside. We didn't know what a skunk was, but when Frits noticed how frightened the grown ups were of a skunk that was walking on the farmyard, he thought he would show them how brave he was, so he kicked the skunk with his wooden shoe. Then we all knew what a skunk was . . .
Credit: Canadian Museum of Immigration at Pier 21 Collection (S2014.337.1)
The Immigration Story of Finn Sander
Many coming to Canada stories in our Collections begin with crossing the Atlantic; these stories introduce a whole other category of Canadian wildlife. In the Immigration Story of Finn Sander (a Danish immigrant), he recounts the adventure in his crossing to Canada in 1953 . . .
The excitement was not lessened by the fact that, once we passed below Greenland and neared Newfoundland, we encountered conditions comparable to those the Titanic had met in that same general area some forty odd years prior. Fog patches, pack ice, and small icebergs abounded . . . we did experience a collision, when the ship encountered a large whale in its path. For me, it was a fortuitous event, as I happened to be on the foredeck at the time and clearly observed the incident. For the record, the captain's version of the event, communicated to the passengers over the ship loud speaker system, was that the vessel had hit a dead whale. He could have been right, I suppose.
Credit: Canadian Museum of Immigration at Pier 21 Collection (S2012.363.1)
The Immigration Story of Maurice Claeys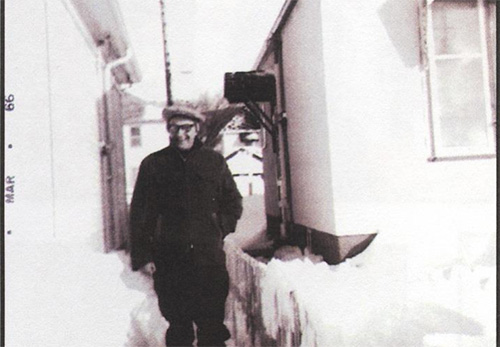 Skunks and whales may not seem extreme in Canadian wildlife encounter standards, however we've not yet ventured into those immigration stories from further north. Maurice Claeys remembers . . "I made up my mind; America for me. So, on May 24, 1927, I stood at the big seaport of Antwerp to board the ship the Pennland Cunard". Upon arrival, Maurice worked helping to clear brush for a new railway in Manitoba,
. . . twelve of us Belgian greenhorns, all inexperienced bush workers, took a half mile bush clearing job, cutting those big trees and burning them . . . It was truly a wilderness, with swamps, muskeg, isolation, and no human beings for hundreds of miles . . During that time, there was one incident that I shall never forget. On the way to the Hudson Bay line in August 1929, I felt very happy and decided to take a walk. I was whistling a tune when; about halfway it happened. I looked sideways into the bush and to my surprise there was a big silver haired polar bear staring at me about twenty-five feet away. My whistle froze; I could feel my hair rising up on my head. It was as though I was paralysed. I'm sure a jack rabbit couldn't outrun me that time. The bear was later shot further up the line. He weighed nine hundred pounds. That was the only bear I've seen that close outside of a zoo.
Credit: Canadian Museum of Immigration at Pier 21 Collection (S2012.1952.1)
Gaetan Pierrard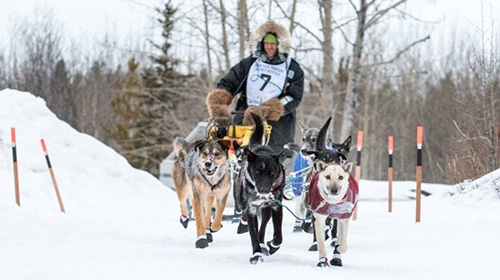 The North, in particular, calls out to those adventurous souls and those wishing to embrace mother nature; Gaetan Pierrard, a musher from Belgium who also lives in the Yukon, is a prime example. In the Museum's new podcast, Countless Journeys, he talks about his motivation to immigrate to Canada. "Coming to the Yukon, there's less and less humans and more and more forests . . I liked it", said Gaetan. Originally, Gaetan travelled to Canada in a quest to learn English. Upon finding himself in Dawson, Yukon, he stumbled upon the Yukon Quest; a passion was born. The Yukon Quest is a 1,600-kilometer race between Whitehorse, Yukon, and Fairbanks, Alaska. It consists of one person on a standing sled pulled by dogs, takes 10 – 13 days to complete and is executed in the harsh Yukon February weather. "I barely knew that dogsledding existed before", said Gaetan. His dream and determination to one day compete in the Yukon Quest became a reality in 2016; he completed the quest and placed red lantern (a term used for those coming in last). This did not dampen Gaetan's experience; he remembers the adventure fondly and speaks of his 10 years of preparation as a dream in the making.
Oral History with Xiao Fei Zang
The moose and beaver are Canada's mascot, but the country is home to so many other species. Canada houses 70% of the entire global population of polar bears. Residents of Manitoba will leave car doors unlocked in case someone needs shelter from a polar bear attack. Driving down a highway in the East Coast, deer, skunk, porcupine, raccoon, bear or moose sightings are common. Tours of Canada's coastline can (almost always) guarantee orca sightings. Xiao Fei Zang, who immigrated to Canada in 2011 from Shandong, China, remembers,

when I got to Halifax . . It's like the air—just going to my nose and goes straight out of my body. It's like, Oh my God, I've never smelled air like this. It's so fresh! . . When my husband picked me up from the Halifax airport I think, Oh my God, forest! Then there shows up a deer. It's like, Oh my God, I came to wonderland!
Credit: Canadian Museum of Immigration at Pier 21 Collection (12.08.23XFZ)
Rugged and vast, Canada's natural beauty can involve a bit of a culture shock. Keep exploring!