A Melodic Memory of Returning to Canada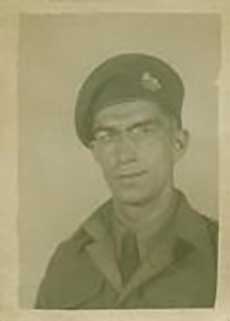 There I was – In the Army by Edward J. Weaver is a favourite in our collection of memoirs donated by veterans. Private Weaver was a fish out of water when he joined the army in 1944. His memories ranged from sleeping on the top bunk in the Nieuw Amsterdam's ballroom where the breasts of a three dimensional ceiling sculpture were directly over his head to harrowing encounters with the enemy, a meaningful lifelong relationship with a Dutch family and the tragic loss of his brother. As we reflect on the end of the war and the return voyages to Canada here is his description of an incident likely to have made an impression on all the service personnel present.
"…I remember one afternoon, a small blue piano was on deck, and an airman who had lost his left arm in the war, was playing with his right hand. It was obvious he had been a talented pianist. One of the soldiers, who had been playing poker on the deck, as were many others, got up from the game, walked over to the piano, and after a few words with the airman, sat down and we were entertained to wonderful classical music.
The airman played the melody with his right hand, and the soldier played the bass and accompaniment with both hands…
And so my career in the Canadian Army came to an end on 2 May 1946. I have been fortunate and privileged to have been part of a great Canadian tradition, and the circumstances that enabled me to travel and see parts of the world at a difficult time in history, left me with memories of wonderful and courageous people, sadness and hardships for some, but most of all, the realization that our own country Canada, is indeed worth fighting for."
Edward J. Weaver
Canadian Museum of Immigration at Pier 21 [S2012.1324.1]
Homer and Joan Sellar's First Kiss After the Second World War
The story collection of the Canadian Museum of Immigration at Pier 21 includes many tales of kisses. Kisses to a scared child's forehead, heartbreaking goodbye kisses to parents never to be seen again, and, as this story described, romantic kisses upon reunions. Here, story donor Rae Sellar Ryan, paints a clear picture of the sights and sounds that were the setting of his parents' first kiss after the war.
"The war was over. They were going home. The Ile de France, the famed art deco ship of the French Line, pressed into service as a troop ship, steamed westward across the Atlantic headed for Halifax. On board were eight thousand Canadian servicemen; my father, Homer Sellar of Winnipeg, among them. Dad was a pilot with the Royal Canadian Air Force, having flown the heavy bombers, like the Avro Lancaster, with 429 Bison Squadron.
As they approached the coast of Nova Scotia the ship inexplicably slowed and began doing lazy zigzags. Word quickly spread; their homecoming was being deliberately delayed because General Andrew McNaughton, former commander of the Canadian division, was to be among the official party to greet them on their arrival, and he had been held up in Ottawa.
My mother, Joan Sellar, was a 'Wren', a member of the Womens Royal Canadian Naval Service. She met dad in August 1941 at the roller rink in Toronto. They were married in December and until Dad was sent overseas they were stationed at various RCAF bases across Canada, from Summerside, PEI to Lethbridge, Alberta. They decided that while Dad was overseas, Mom would join the navy so that she would have something to do in his absence. By 1945 she was a captain's writer stationed at the 'stone frigate' HMCS Peregrine in Halifax. Shortly before the ship was to arrive, the officer in charge of ocean transport came into her office with, "Guess whose name is on the manifest for the Ile de France?" The officer was to be among the official party to greet the ship and he told her he would take her along with his own writer. Only officials were to be allowed on the pier. Families who had travelled to Halifax to be there could get no closer than the harbour fence. The plan was that the servicemen would not be released in Halifax and could not leave the ship until going directly to the train that would take them to Montreal to be 'demobbed'.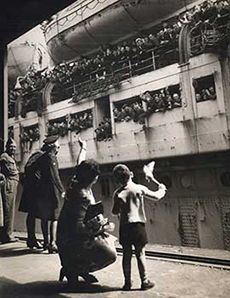 So, when the ship finally arrived on August 8, 1945, just a handful of people were on the pier to greet it: General Harry Crerar (Commander 1st Canadian Army), McNaughton, the mayor of Halifax, the officer in charge of ocean transport with his writer, and -- Mom.
Thousands of men lined the railings of the ship tied up at the pier. Dad said there were so many people on that side of the ship it must have listed. General Crerar spoke, then General McNaughton attempted a greeting on behalf of a grateful nation. They were having none of it. As far as they men on board were concerned, he represented only the reason for their delay in getting home. McNaughton was drowned out by boos and catcalls. No one could hear a thing. With a place at the railing high up on the ship, Dad could see Mom easily, but she couldn't find him in the sea of faces. For forty-five minutes she walked up and down Pier 21 searching for him. She did spot a few men from her home town of Aurora, Ontario with whom she had gone to school. They recognized her too, "Joan, get us off this tub!"
Dad had a brain wave. He called out to those around him, "Anyone who can hear my voice -- point to me." All around him, beside and below, hands reached out to point in his direction. She got it; she saw him. Now she had to try and tell him that she had managed to get leave to meet him in Montreal. She tried, but the din was impenetrable. Finally, the mayor of Halifax came to her assistance. "What is it you're trying to say dear?" he asked. She explained. Nodding, he took a deep breath, pointed at Mom, and bellowed at the eight thousand men on the ship, "Sunday night. Queen's Hotel. Montreal."
Finally, an officer took pity on the only man on board with a wife waiting on the pier. Dad was to be allowed off the ship -- briefly. An aide was sent to get him. Heaven only knows how he managed to find him, but Dad felt a tap on his shoulder, and he was led through the press of servicemen. With an audience of thousands, he managed to trip at the bottom of the gangway and literally fell into Mom's arms. Now that they could cheer for, and did. There was bedlam as he led her behind a convenient pillar for a welcome home kiss. Then, it was back onto the ship; the men on board to continue waiting impatiently to debark for their train, and for Mom, back to duty at Peregrine.
The question, of course, is obvious. 'So Mom, how many guys showed up at the Queens Hotel on Sunday night?' She grins, 'Just one'."
Rae Sellar Ryan
Canadian Museum of Immigration at Pier 21 [S2012.1758.1]