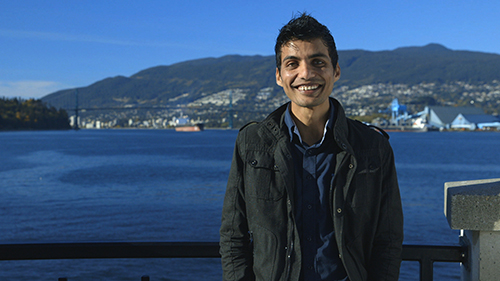 Tehseen Ahmed knew he wanted to come to Canada at the same moment he realized he was gay. "We used to talk about Canada as the best place on earth… maybe one day, I can go to Canada and be safe, be able to get married to a guy and be proud of myself."
His actual journey here began on a university commons in Karachi, Pakistan. In the midst of their studies, Tehseen and his friends were secretly planning what would be Pakistan's first Pride Parade. One day, he heard his friends urgently discussing something they'd heard on TV. A broadcasted statement by President of Pakistan had announced "we cannot give gay rights in our country because we don't have gay people in Pakistan." Tehseen was outraged. "This is a lie and we should show the world that we exist."
The group pulled together nearly 50 people for their parade. "Everything went great," he says, "we wore rainbow colored T-shirts and we walked on a very busy highway." A video of the parade was shared on social media. Even with their identities carefully obscured, their message was clear. "We are here," says Tehseen.
Pakistan is one of the world's least tolerant countries when it comes to LGBTQ rights. Tehseen says punishments include being crushed or stoned to death. So, when the BBC contacted the group for an interview, they were justly terrified. But the idea of sending their message out internationally was impossible to turn down. Besides, the BBC assured complete anonymity. Devastatingly, they did not live up to that promise.
"The videos weren't really blurred… and they did not alter the voices at all ," remembers Tehseen. "As soon as the videos were circulated everywhere, we were we out, ousted from our homes."
In a moment, everything changed. His family refused him, and Tehseen was forced into hiding. "You can imagine us, a university going student like one day he went to university and after on his way back, he's out on the streets… trying to hide… I don't know how to even describe that kind of feeling."
He started contacting human rights organizations around the world with his story. One was the Rainbow Refugees, based out of Vancouver, BC, who advised him to leave Pakistan. Tehseen travelled to Afghanistan along a route that took him through the tribal areas of the two countries, "where all the wars and bloodshed is going on," he says "it's not very easy to pass from that area even if I am a citizen of Pakistan…"
In Afghanistan he found himself doubly persecuted, for being gay and now for being Pakistani. "I was badly scared," he says, and completely alone "nobody's behind or nobody's forward to even have a check on you whether if you are okay or not … every second is uncertain."
The UNHCR put Tehseen into an urgent protection program, and after four months, his application for resettlement was accepted. When the officials asked him where he wanted to go, Tehseen remembered his dream of freedom and acceptance. "I said… I know it's not up to me to decide, but if it's possible, I would like to go to Canada."
From the time he donned his rainbow t-shirt for the parade, to being on his way to Canada as a refugee, it had only been a year. Tehseen landed in Vancouver, October 1st, 2010 to a surprise welcome organized by members of Rainbow Refugees. The group cheered and waved a giant Canadian flag for him as he came through the airport.
A theme that repeats throughout Tehseen's story is gratitude. The realization that his journey, though made alone, was not done in isolation. First, the support of his friends who marched with him in the Pride Parade; the act of defiance that ignited Tehseen's trajectory. Then the response from Rainbow Refugees who encouraged him to leave Pakistan and counselled him in his resettlement application. And the UNHCR, who pushed the application's urgency.
This month, it will have been ten years since he arrived. His Canadian path brought him back to Rainbow Refugees as a volunteer, and to Geneva where he represented Canada at the UNHCR's Annual Tripartite Consultations on Resettlement. Today, he can be found at home with his husband, or guiding newcomers at the Immigrant Services Society of British Columbia where he was just promoted to Assistant Manager of the Advanced Literacy and Essential Skills program.
Tehseen says his path was shaped by the groups that supported him along the way, but not just in the aid they provided, "I was profoundly inspired by them which also made me interested to pursue a career in social service." It's why he now chooses to give back, "not just because Canada has given me protection, because I belong here. This is my country, this is my home."
Tehseen Ahmed's story is part of Refuge Canada, the Museum's travelling exhibition, now on at Galt Museum and Archives until January 2021. Learn more about Refuge Canada's travelling schedule here >