There are many kinds of teachers, some you remember forever. Van-Nha Tran might have been one of those. A geography teacher in Saigon, his journey to Canada was ignited by a desire to teach honestly.
Born in 1955, Van-Nha Tran was the sixth of ten children. His first school was a seminary where most students were on the path to become priests. Instead, Van-Nha pursued Psychology at the University of Saigon. He was an excellent student, and many of his happy childhood memories took place at school.
Mid way through his degree, the Vietnamese government transformed. "After '75, the communist government changed a lot of things at the university." Van-Nha was required to change his major from Psychology to History and Geography of Vietnam, one of just three options sanctioned by the new government.
Van-Nha remembers purposely choosing to stay positive. To view this as an opportunity to learn something new. But it was hard to ignore how the history was massaged to fit a specific perspective.
"Controlled information, always," he says. "Geography was not so bad because it's something natural. But history... It was another perspective for the same event."
After graduating, Van-Nha became a geography teacher. He had misgivings about being the source of mistruths for his students. "I tried to find a way to tell the truth, but how to avoid going directly against the government? If I did, I'd have some problems."
When he married and had kids of his own, the thought of giving his kids this kind of education became unbearable. "Because at home, we'd say one thing, and in school, we'd say something else. The kids would get all confused," he recalls.
"And that's why I... left the country."
Listen to Van-Nha Tran's story, part of the Museum's Oral History collection >
Van-Nha figured the best course was to get set up on his own first, and send for his family later. There was already a cousin in Canada who might be able to help sponsor him. So, Van-Nha found himself making one of the most difficult decisions of his life; to leave his wife and three children.
"At first, you can't really imagine what is going to happen when you decide to leave," he remembers. "The problem is, no one will know if I'm alive or dead. We don't know when we'll be able to see each other again."
It was late January 1988, when Van-Nha set out on the first leg of his journey to the Banthad refugee camp in Thailand. He remembers the day he arrived very well. January 26th was also the eighth anniversary of his marriage.
For two years, he lived in limbo. He kept up contact as best as he could, but the mail was unreliable and irregular. He told his wife in a letter, "Each month, at the beginning of the month, if you didn't get my letters, write anyway. I will do the same." The first letter he received was six months into his stay.
Just like when he was at school, he chose to stay positive. "By thinking positive, you save your life first, and then you share your experience with others," he says. He found joy in teaching, offering French language classes for a small fee. He sent all the money he earned to his family.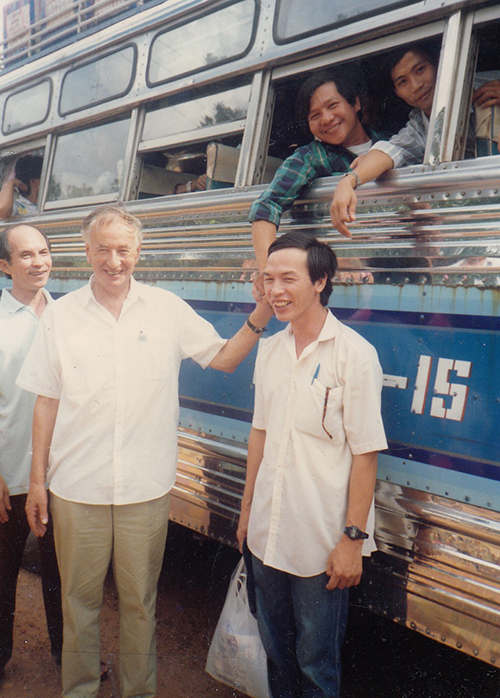 In 1990, his sponsorship finally came through. Van-Nha travelled to Quebec in October, and by the spring of 1991 he had his driver's licence, a job at Dunkin Donuts, and had completed all the papers to request to bring his family to him.
"I'm quick on my feet," he says, "so, a mere few months later I was doing everything I could to adapt to my new host community while waiting for my family to arrive."
To see Van-Nha's journey laid out on a timeline, long periods of waiting are marked by quick changes of pace. Every two years a major milestone. In 1993, two years after his arrival in Canada, and nearly five years since he had left them, Van-Nha's family was able to join him. Their reunion at the airport was a moment of realization of how much had changed, and how much had stayed the same.
"It was really moving," he remembers, "especially for my daughter. When I left the country, she was only six months old... She jumped into my arms to give me a hug."
"We felt like we had overcome an enormous obstacle, that we had finally achieved our goal."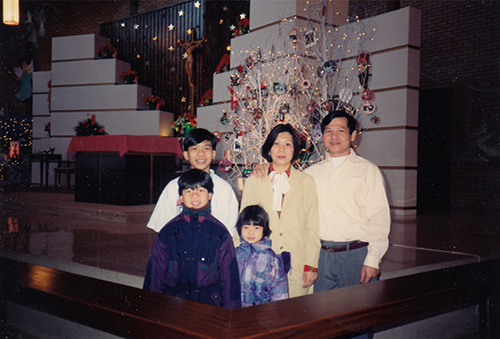 Today, Van-Nha Tran is president of l'Association des Vietnamiens de Sherbrooke. His first boss at Dunkin Donuts invited him to become co-owner of a new location. He also owns a Vietnamese restaurant and a tobacco shop.
Of all these achievements, the one he appreciates the most is sending his kids off to school, worry-free. "In general, I really like Canada and Québec's education systems," he says. "And I would like to thank the many people who helped us fit into our new community, who gave us a chance without discriminating."