The Pull of Adventure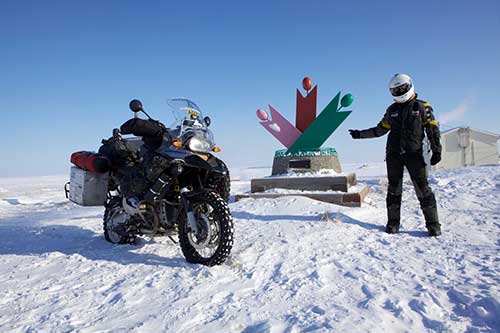 "I just want to see more." This is Bostjan Skrlj, a Slovenian immigrant, explaining his love of travel. This, plus an almost fanatic love of winter and relentless need for adventure pulled him away from his home to forge a different path.
As a teen, he set out on his motorcycle to explore Europe, parts of Scandinavia and Western Asia. He visited 42 countries, all from a motorcycle, before coming to Canada in 2011, and heading to Alaska. When the cold air of of the Canadian North embraced him, he knew Whitehorse was destined to become his new home base.
Bostjan retrofitted his bike to handle the frozen terrain and began mapping out new Northern routes to trace. That March, he drove to Tuktoyaktuk, NWT, an almost 1400 kilometre journey one way, revelling in the beautiful Arctic terrain.
"It was like 46 below.... I feel like my mind works way better. I love to be on the edge... to see what I can do and cannot do. It feels like a meditation to me."
Today, Bostjan continues to call Whitehorse home. When he's not working or motorbiking, he's pushing the limits with a new hobby, paragliding. As if zipping through frigid temperatures on a motorcycle wasn't intense enough, he launches himself off tall cliffs and soars through the northern sky. "We fly with birds... we join them," he describes, "once in awhile there is an eagle or two."
It's not surviving the cold, but missing his family that Bostjan says is the hardest thing about living in Whitehorse. He says even though it's difficult to be so far away, the promise of the North is irresistible. Next year he plans to cross from Barrow, Alaska to Alert, Nunavut, the northern most inhabited place in the world.
"It's gonna be my next challenge. And my mother is not happy about it."
The Push of Fear
From another part of the world, a very different journey. Born in Egypt, raised in Lebanon, when civil war broke out Marie Khourie describes how her family suddenly found themselves living in danger.
"Can you imagine living next door to a neighbour two streets away and all of a sudden the border is between the two of you?" She remembers. "It's not two nations clashing, it's actually the people amongst themselves, in the same neighbourhood. That's when the savagery really reaches its peak."
Marie's mother scooped up Marie and her brother and fled to Spain. Her father stayed with the hope that things would resolve. Two days after he put his family on the plane, he was assassinated.
The Khouries applied to come to Canada as refugees, arriving in 1976 via Montreal. They settled in Vancouver.
Marie journeyed back across the ocean to attend art school in France, discovering her passion for sculpture, and an emotional release as well. "To me, it was like discovering a new language. All of a sudden I could say things with my hands that I'd never expressed before," she explains.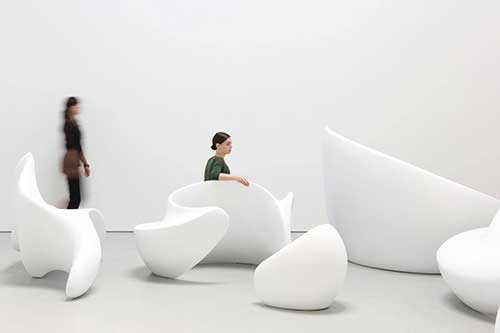 28 years later, she returned to Canada with her husband and children. This time, by choice.
"I think it's especially during this second arrival that I really realized this country's strength, generosity and openness, and above all, this feeling of peace and calm that you feel here. True serenity."
The Power of Storytelling
The "push and pull" factors are these magnetic forces that draw immigrants towards Canada, or fling them away from their homes. The Museum's ongoing Oral History program also explores these, and the many other fascinating nuances of why and how people come to Canada, in fact, Marie's excerpts, above, are from her Oral History interview.
"Conducting an oral history interview is a full-body experience. I listen with my mind and heart, with experience and empathy, knowledge and compassion," says Emily Burton, the Museum's Oral Historian, "I see my role as opening up a space where someone feels they can tell their story comfortably. I am amazed by the trust that is often placed in me."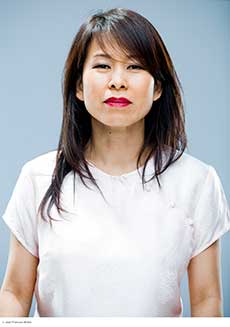 Producers Tina Pittaway and Philip Moscovitch also tapped into this powerful intimacy to create Countless Journeys, the new podcast by the Canadian Museum of Immigration at Pier 21. Drawing in part from the Museum's collection, they branched out to spark more conversations with newcomers that answered "why Canada?"
The hosts, Mark Sakamoto and Kim Thúy are storytellers in their own right. Kim's debut novel Ru won the Governor General's Award for French-language and Mark's memoir Forgiveness: A Gift from My Grandparents has been optioned for a television miniseries. Each podcast episode invites the listener into a fascinating conversation between host and guest digging into their unique journeys.
"Podcasts combine the intimacy of a conversation with everything that's great about a good story," explains Tina.
"There's something very intimate about the human voice," agrees Philip, who says that the closeness is also thanks to the medium's portability. "You can be listening to podcasts when you're walking your dog, driving you car, cooking your meal, it's with you in your every day life."
Beyond the intimacy, part of why both the Museum's collection and podcast are so special is storytellers' true desire to help people understand.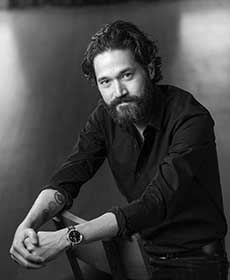 "There's a real spirit of generosity that comes though in their interviews," says Philip.
The result is a series that helps the listener through a gateway to understanding the individual stories and also connecting to something bigger.
"Understanding the kinds of experiences that have shaped the lives of Canadians, no matter how deep their roots that are here, goes a long way towards fostering strong connections among all of us," says Tina, "And there's so much to learn from one another, as well as from our own family histories."
Phil sums up, "the stories of immigrants are the stories of Canada."
Season one of Countless Journeys is available now on Apple Podcasts and Google Podcasts. For more information visit https://podcast.pier21.ca/