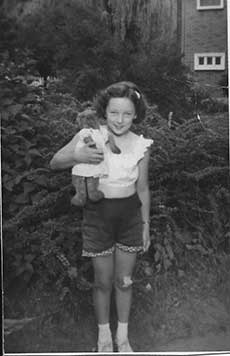 His honey coloured fur has thinned from decades of hugs, his ears are a bit raggedy, and long ago his eyes were replaced with shoe buttons. It's clear he has a story to tell, but he doesn't talk or even growl (his growler mechanism finally wore out years ago.) Like many teddy bears of the world, if Teddy Marshall could speak, he would tell of how it felt to be endlessly loved as a cherished and constant companion through the bittersweet adventure of childhood.
He would also tell of leaving his home in Liverpool, England, an amazing journey on a huge ship all the way across the Atlantic Ocean, and of starting a new life in Toronto, Ontario.
Teddy and his person, Pat Marshall were nearly inseparable since Pat first rescued him from cousins who were using him as a football. When the time came for ten-year-old Pat and her parents to immigrate to Canada, Pat remembers that she was only allowed to bring a limited number of items. There was no question Teddy would be one of them.
Teddy comes up several times in Pat's immigration story. Notably, when she whispered in his ear as they boarded RMS Samaria, "we are really going to sail to Canada on this big ship," and her horror when her dad jokingly dangled Teddy over the side of the ship, "It was unthinkable. Teddy's little arm was so thin. It might come loose even if her Daddy didn't drop him."
Teddy first came to the attention of the Museum in December of 2019 when Collections Coordinator, Sarah Little received word from the Canadian Immigration Historical Society that a woman named Pat had a story to share. The curatorial team was delighted to learn that along with the story, letters and photographs, was a child's suitcase and a beloved stuffed bear.
"The thing about Teddy is that he's been with Pat for 71 years," says Sarah who acted as the liaison to bring Teddy to the Museum. "Before he came here, she had celebrated her 75th birthday with him… WITH him… we have a picture of Pat and her grandchildren and Teddy on her birthday."
He wasn't just a beloved childhood toy, he's been a beloved teddy bear her whole life."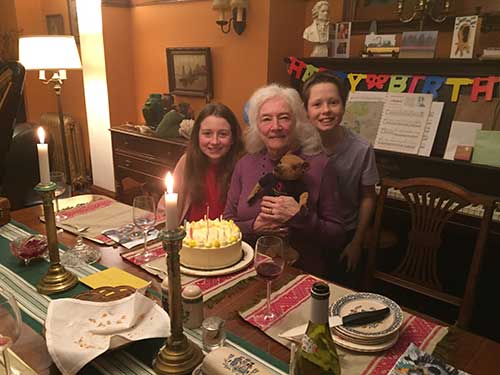 The curatorial team knew just how important this bear was, so his arrival on loan via couriered package from Ontario was carefully managed and highly anticipated.
"It was very exciting. I was tracking the package from when it left," says Sarah, "I had only seen pictures of Teddy, but I had heard a lot about him."
Teddy journeyed to the Museum the same way he travelled from England to Canada, nestled into Pat's tiny suitcase. His arrival was met with some amount of fanfare from the team. "I immediately opened it up, and I showed him off to everyone in the lower annex," says Sarah, "everyone was very excited to see him. We took pictures."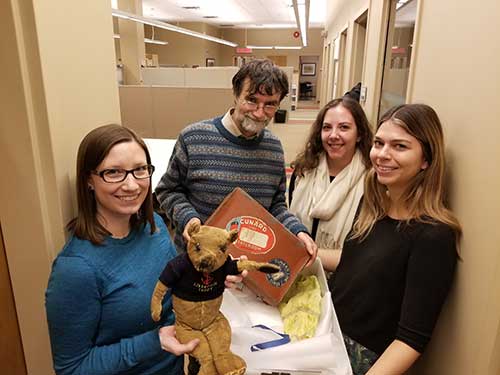 Now it is the Museum's honour to pick up Teddy Marshall's story for awhile, and to propel it along in the many ways he will connect visitors with Canada's immigration story. Sarah hopes his time at the Museum will help visitors think about immigration from the point of view of a child, demonstrate the power of a great story, and remind people of why their own childhood toys were so significant.
"Teddy was her best friend and her brother," explains Sarah of Teddy's significance, "In some way I think that helped her adapt. She had her parents with her, but she also had her little Teddy friend with her as well."
"He really helps tell Pat's story, and a child's immigration story."
The Teddy Marshall display can be found in The Pier 21 Story exhibition at the Canadian Museum of Immigration at Pier 21.