Tareq Hadhad, Founder and CEO of Peace by Chocolate holds up his certificate of Canadian citizenship at the Canadian Museum of Immigration at Pier 21. He's just been sworn in as a citizen, and the smile on his face tells it all. Tareq is one of the happiest, most enthusiastic new Canadians you'd ever have the fortune to meet.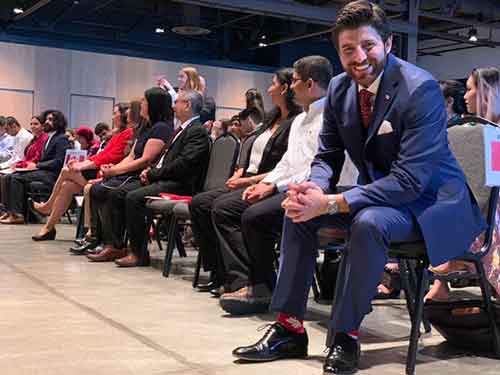 Most people in Atlantic Canada, and increasingly across the country, are familiar with the Hadhads' story. Tareq, his father, mother, four siblings, niece and nephew arrived in Canada as refugees, having fled the civil war in Syria where their family chocolate factory was destroyed by bombs.
In Damascus, Tareq's father ran the chocolate business. Tareq's passion was medicine, and he was well on his way to becoming a physician. But once in Canada, with a wisdom beyond his 23 years, he embraced a change of plans.
"Everyone has a life goal, and they think it's all about time, that things will just happen," says Tareq of his pivot towards entrepreneurship, "It's just a different way of thinking … to do things differently, and adapt your recipes, adapt your goals, to your new home."
The new direction pointed him to his community in Antigonish, Nova Scotia. He says he knew the close knit and supportive town would be the perfect platform from which to re-launch the family business. That, plus a fearlessness he says comes naturally to the whole family, is what encouraged him to make the leap. "I just realized that there is a chance for us … to translate the family talents and experiences into entrepreneurship because I think that entrepreneurs tend to be risk takers and I think that's exactly what my family were."
Peace by Chocolate opened its doors in 2016. In just three short years, it has grown to become more than just a purveyor of delicious chocolate, but an inspirational story of success.
"I wanted to be the face of my family's business here in this country because I believe that there is so much impact and change that can happen through a business," he says.
The company began selling boxes of chocolates molded into Middle Eastern symbols alongside hearts and maple leaves. The combination symbolized the merging of their Syrian heritage with the warm welcome they received in Canada. As the company grew, they experimented with other flavours, fills and combinations like cranberry, wild blueberry, strawberry cream and salted caramel.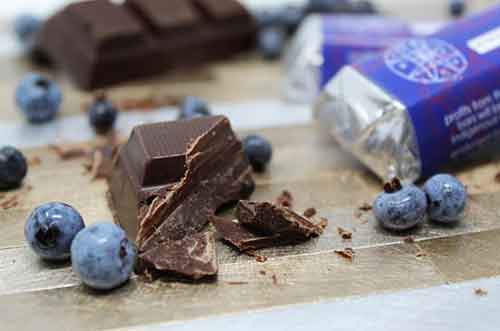 Their special Valentine's Day box contains "Unsolicited Love Advice" as signed notes from some of Canada's oldest couples. Each mini story demonstrates the importance of sticking together, and the unbreakable bonds built through life-long collaboration and mutual respect.
Peace by Chocolate now works with organizations across the country to encourage this same message of respect and understanding. Organizations like the Canadian Mental Health Association, The Refugee Hub and the Paq'tnkek Band Council of the Paq'tnkek Mi'kmaw Nation have all benefitted from a custom chocolate bar with unique messaging.
It's all because Tareq truly believes in this magical, connective power of chocolate. Something that has been proven to him time and again throughout his whole Canadian experience. "Chocolate was our ambassadorship since we came to this country," he explains, "It's a vehicle to open connections with our new community, because with every piece of chocolate we can open that connection with a new person and we feel that they've become a part of our family."
With his proven success and noble endeavor to continue to spread a message of peace through chocolate, it's no surprise that Tareq has become a symbol for the contributions of immigrants to Canada. He's someone that many now look up to as a new Canadian, as an entrepreneur, and is seen as a bit of a hero in the community, bringing people together with his famous chocolate.
"We've been receiving many messages that we have changed minds in the country of people who were hesitant about bringing immigrants," he says of the impact he's told he's made, "people know what is possible with kindness, what is possible with opening doors, what is possible by offering support and lending a hand."
"This is a Canadian story now. It's happening and these are the ingredients for the recipe of success."
A measure of sweetness, more than a dash of determination, folded with friendship and community support, these are the ingredients that combined to create Tareq's Canadian success story, and now citizenship. Just like how the wonderful chocolate produced by Peace by Chocolate is enhanced by sea salt or cranberries, Canada is better with Tareq Hadhad and his family in it.
Peace By Chocolate products can be purchased in the Museum's Gift Shop.