The documents discovered by staff at the Museum's Scotiabank Family History Centre display a manifest of in-bound passengers arriving in New York, 1952. Typed black letters spell the names of six family members, all Djokics.
There are many different ways to connect with family heritage. For violinist Marc Djokic, the typed names and dates are just points in time. Marc's doorway into his family story is via a vibrant thread of music first woven by his grandfather.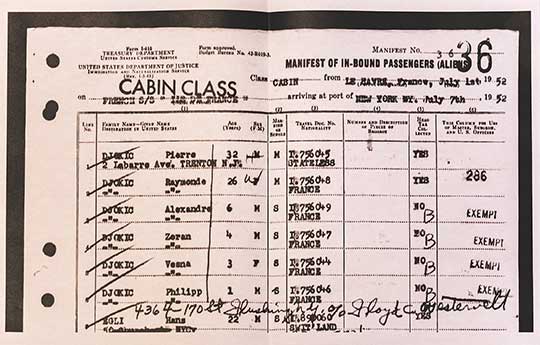 A Serbian immigrant from former Yugoslavia, and concentration camp survivor, Pierre Djokic came to the US via France with Marc's grandmother, Raymonde. They brought little as far as material possessions, but filled their family home with music. "Even though he had many children and one income to support everyone, he still found it extremely important that everyone learn an instrument," says Marc. Music was their key to happiness, and Marc believes it was a balm for the wounds of war.
The joy of music-making knit the family together, and from it sprung more branches on the family tree. All seven of Pierre and Raymonde's children studied classical music. Marc's father, Philippe attended Juilliard School where he met Marc's mother, pianist Lynn Stodola. The family moved to Halifax, Nova Scotia so Philippe and Lynn could teach at Dalhousie University. Marc and his sister Denise were born in Halifax.
Following the thread along, we find Marc as a child, listening intently to the violin music emerging from his father's studio where he is giving music lessons. His earliest memories unfold against a nearly constant backdrop of music. "You just heard music," he says, "maybe even from the womb I was hearing music." It sparked something in him. "When you're a little kid and you see someone playing an instrument… you want to try it. You want to pick it up and use it."
By the time he was in junior high, Marc knew that playing violin was more than a hobby. It was a calling. He made his orchestral debut with the Halifax orchestra at age 14. Today, he is considered one of Canada's most prolific violinists, and his performances have been described as powerful and virtuosic.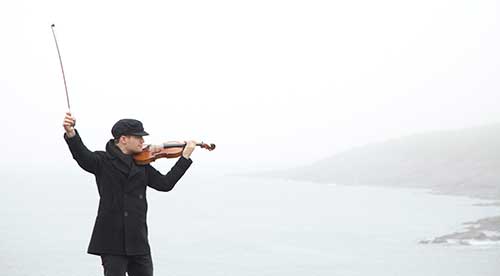 Marc believes his talent was forged directly from his family's heritage. "I really do owe them my craft," he says of his grandparents, "It's really quite a powerful thing… the only thing, really, that could tie our story of immigration was the music."
Marc's grandfather continued to surround himself with music his whole life. Marc would play for him, and he would listen to Serbian traditional songs on his stereo. As he neared the end of his life, it was a comfort to hear the traditional songs of his homeland. They reminded him of his journey, and of the musical legacy that arose from his teachings.
Because of this musical link to his own global roots, Marc says that as a classical musician "I feel connected to the world."
"Immigration can be seen in classical music, historically and present," Marc explains, "It has brought composers and musicians together from across the globe to embrace each others' culture, traditions, and ideas."
"That's probably why people say someday music will save the world."
Marc promotes this philosophy throughout much of his work. His debut CD, "Solo Seven," interprets a variety of Canadian composers with an emphasis on their international influences. "One of the main points of my CD was to introduce a very diverse list of Canadian composers of all these different heritages." Marc says he felt especially close to pieces by composer Ana Sokolovic, with a Serbian last name like his. These compositions were inspired by traditional dances and rhythms from Serbia, and the opportunity to master them was "almost like another education on the traditional music from Serbia," says Marc, "I knew it was in my blood."
"I thought of my grandfather," he says, "and if he were alive, he would be really proud. "
Marc Djokic is performing in Halifax, January 2020, for Symphony Nova Scotia's Masterwork's Series, "Magnificent Mozart." His album, Solo Seven, can be purchased through his website.
Interested in researching your family heritage? Learn more about the Museum's Scotiabank Family History Centre