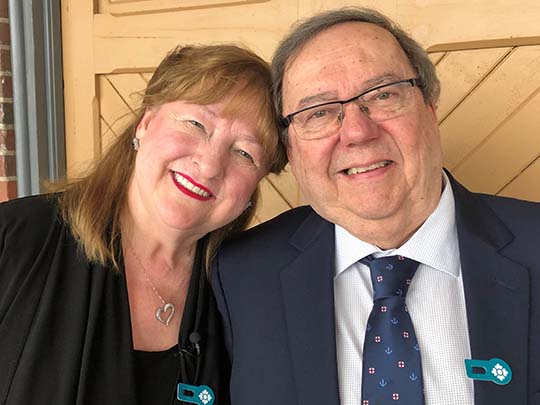 Diane Poitras reaches out to touch a plaque on the Museum's Sobey Wall of Honour engraved with two different sounding names. Her own Québécois name, and her birth mother's, Janina Szeptuszynska. The emotion in her face tells a story: of a quest completed, of happiness and relief. It's a moment she will never forget.
Diane's birth mother was pregnant with her when she arrived at Pier 21. To date, she knows little about the life of the woman who carried her across the Atlantic, and left her in the care of the "Crèche de la Réparation", a former orphanage in Montréal.
She always knew she was adopted. Diane had a wonderful upbringing in Gaspésie, under the care and guidance of her loving parents. It wasn't until adulthood, married and with children of her own, that a desire to know about her heritage prompted a more earnest search for her biological beginnings.
She reached out to Québec's social services with a request for any information they could provide. When an envelope arrived, she was so excited she couldn't open it. Her husband read the contents for her.
The details were scant, but they were astounding. The bits and pieces sketched a Polish woman who came to Canada as a refugee to escape post-war Europe. Diane was floored to learn her birth mother was an immigrant, and the description of her, the woman's gray eyes, brown hair and intelligence, prompted her husband to exclaim "Diane, that's you!"
"I was so happy. It was one of the good moments in the whole story that followed."
Her immediate instinct was to organize a reunion. It was very painful when her request to meet was declined. Diane says she can understand, "But I was extremely sad, because I would have liked to know her name, at least, to fill out my story."
Diane kept a line of communication open, inquiring through social services about her birth mother every two years. In 2010, when she received word she had died, she still did not know her name.
In 2017, Bill 113 passed and lifted the confidentiality attached to adoption records in Québec, following the lead of other provinces such as British Columbia, Alberta, Manitoba, Ontario and Newfoundland and Labrador.
"Finally, on October 18, 2018, I was given my mother's name. The first name was right, But the last name didn't exist." Despite the setback, she persevered until four months later, there came another letter, and Diane finally set eyes on her mother's full name. It was typed and official proof of her own timeline, and a doorway to her heritage finally unlocked.
Diane enlisted the help of a Québécois genealogist to check the correct spelling against other public records. A friend in Poland confirmed it, and helped with pronunciation. From the "Centre historique des Sœurs de Notre-Dame-du-Bon-Conseil", Diane found documents that showed Janina had been assisted by the parish, and dates of her arrival in Montreal. With this new knowledge, she contacted staff at the Scotiabank Family History Centre at the Museum to pinpoint the ship and arrival date, RMS Scythia, December 20, 1948.
The more Diane learned about Janina Szeptuszynska, the more the meaning deepened. It reinforced her own identity, "it makes my identity truer," she explains, "it makes it sturdier. It deepens and reinforces my story." It had also become something larger, something that belonged to Canada's vast story of immigration.
When Diane learned about the Sobey Wall of Honour at the Museum, she knew it would be the perfect way to pay tribute to it all. She filled out the form to request a brick.
"I do it to pay homage to my mother. And it is so important to give Janina her dignity and honour her courage."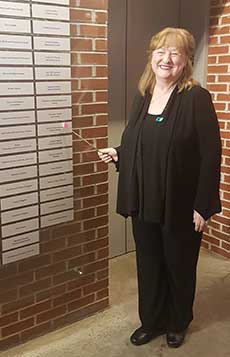 "We speak of courage, separation, suffering and exile. And, ultimately, my mother's immigration was that too," she explains, "but when we are [at the museum] we become aware of what immigrants might have experienced."
Diane's plaque was added to the Sobey Wall of Honour in mid-November, 2019. Just a few weeks later, she followed up with a visit to the Museum. On her tour of the Pier 21 Story exhibition she walked through the same double hung wooden doors that her mother would have crossed. She placed roses in the gateway, and as she looked out into the harbour, was comforted, "I was inside my own story… I was enveloped in a sense of peace."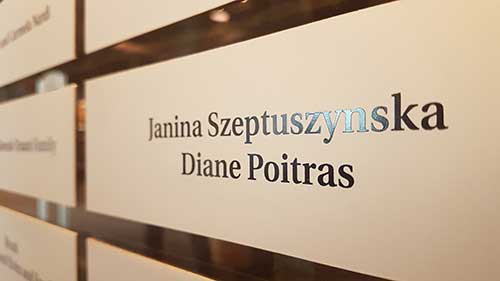 The engraved bricks on the Sobey Wall of Honour eternalize moments in time, like Janina's and Diane's. Each symbolizes a decision, sometimes a struggle or sacrifice, but always of a journey. Like a web, the stories that began with these names expand outwards through generations to add to the larger fabric that is Canada's story.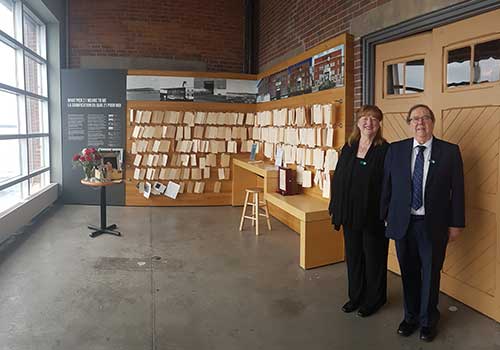 Dedicate a brick to your family member or loved one on the Sobey Wall of Honour >