"Wish me luck, as you wave me goodbye …"
This story begins with a song. "Wish me luck, as you wave me goodbye …" These words carried by a chorus of voices across the Halifax Harbour, from one ship to another one sunny day in June, 1940.
The voices belong to English entertainer Gracie Fields on the deck of the Duchess of Richmond, along with a small choir of the ship's children. Gracie formed the singing group to entertain the children during their tense Atlantic crossing. Among them, was 11 year old Ann Miller. "We knew her from the odd movies that we'd seen and we'd heard her on the radio. And there she was in real life!" says Ann of meeting Gracie.
Their ship was part of a convoy on its way to safer harbours away from Europe. It had just berthed in Halifax Harbour after ten days at sea when the captain called the choir up to the deck. He pointed out a troopship at Pier 21, and Ann remembers the "hundreds of soldiers in their khaki uniforms with their packs on their backs, climbing up the steep gangplank."
"We did not need to be told that they were going to England to fight and perhaps die for us," she says.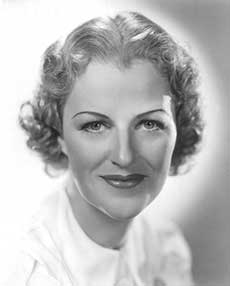 When the captain asked if they would sing for the deployed soldiers, it was an easy yes. Gracie led the children in renditions of her own songs and other favourites. They sang Pack up your Troubles, We'll Meet Again and Wish Me Luck as You Wave Me Good-Bye. "Then in the late afternoon as the troopship sailed Gracie sang Red Sails in the Sunset, her beautiful voice resounding across the sea," says Ann.
Bill Pineo was one of the soldiers boarding the troopship that day. "Suddenly the air was filled with the beautiful clear voice of Gracie Fields," he wrote, "it had to be the favourite of almost everyone, and the timing was most appropriate."
"The silence on the ships was broken by cheers, and it is almost certain that the day will remain in the memory of all those who were there."
It was an indelible moment for Ann too, "It was something I never forgot and through the intervening years… often wondered at the fate of those brave young men."
The Letter
Nearly 50 years later, the war over but never forgotten, lives lived and families built, Ann and Bill's stories intersected again.
Ann, now living in Australia, was visiting the (then) Pier 21 Museum, on the hunt for the photo from a cherished newspaper clipping about Gracie's choir. She remembers the eureka moment very well. "I walked in and this young girl said 'can I help you'… and I said I was on a ship with Gracie Fields… and she just jumped!"
Little did Ann know, weeks earlier, this staff member had received a letter addressed simply "Pier 21, Halifax, Nova Scotia." It was Bill's story, and it began with a moving description of a choir of voices singing Gracie Fields songs as he waited to depart Halifax in 1940.
Museum staff helped put Ann in touch with Bill, who lived in Nanaimo, BC. Ann made the trip to him. She couldn't wait to meet the former soldier who had always wondered who sang to him that June day.
The Reunion
Though a local newspaper covered the story, Ann and Bill's reunion took place without fanfare. Like two old friends meeting for a coffee, "I met him in the car park outside of a Whitespot, or one of those cafés," says Ann.
They had talked on the phone beforehand about how they would recognize each other. "He said 'How will I know you?' " remembers Ann, "he said 'I know what, I'll wear my poppy.' "
Ann also borrowed a poppy to wear and having never laid eyes on each other before, the red emblems pinned to their lapels helped them spot each other across the parking lot.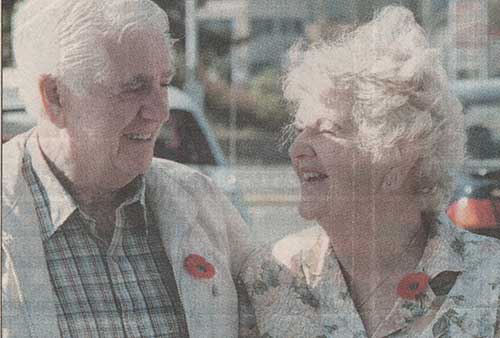 "Oh, it was very exciting," says Ann.
From the smiles and laughter we know it was a happy reunion. Bill was able to fill Ann in on everything that happened after she helped serenade his ship out of the Halifax Harbour.
He talked about his role as dispatcher during the War. How he would race around London on a motorbike to deliver messages from Prime Minister MacKenzie King to Prime Minister Churchill.
He also talked about meeting his wife Pamela, a War Bride, and her journey across Canada by train with a new baby.
Ann and Bill's friendship was a long time coming, but was forged now by the satisfaction of a decades long circle finally closed. From then every one of Ann's visits to Canada, and there would be many more, included time spent with Bill.
Bill passed away just a few months ago. Ann, now 90 years old, does not travel out of Australia anymore. But their stories continue in the Museum's collection, and the hearts and memories of all those who share them.
This Remembrance Day, the Museum is open so that visitors can stand in reflection on the same deck where so many Canadian military service personnel, like Bill Pineo, stepped from on their way to serve in Europe during the Second World War. The gateway represents the beginning of thousands of these journeys, many that ended in Europe, some that continue to this day, and the sacrifices made by all who's lives have been touched by war.
More stories of military service can be read in our online collection.