Artist Margarita Fainshtein calls herself a "cultural collage." There's the collage formed by her own journey to Canada, and there are the intricate installations of different materials that she builds to interpret that journey. To speak with her, or view her art is to encounter the layers of a life-long search for belonging. "My art is very international, as I am," she says.
Born in Ukraine, she calls herself a "double immigrant." Before repatriating to Israel, Margarita just wanted to fit in and like any 15 year old, her identity was shaped by her friends' opinions. She remembers how their reactions to her Jewish culture made her feel like an anomaly. "Being Jewish in Ukraine was kind of… meh," she sums up.
In Israel, where she lived for almost 13 years and completed her BFA at the University of Haifa, she still couldn't shake the feeling of otherness. With an accent and Ukrainian origin story, she says, "we had different identities."
In 2009, Margarita and her husband immigrated to Canada, directly to Halifax, and have remained ever since. "We stayed because we loved it. It's home."
Home is not a word Margarita uses lightly. It's a concept deeply connected to her life-meaning and art practice. The attempt to define it prompted an excavation of her family's history. A dig that uncovered trails of documents that revealed she wasn't the only person in her family who had been on this search.
An initial discovery was her paternal grandmother's story. A woman who had left her family to fight during the Second World War, leaving her family in the "safe" Ukrainian village. When she returned, they were gone. They had been outed as Jewish by neighbours, and were killed. Left with nothing, and no records, the village administration handed her grandmother a stamped and signed paper. It became the only proof she had that her family had existed. Margarita calls this paper "the empty document."
"That was the very first document I found… the whole research for home and identity started there."
A conversation with her now 95-year-old maternal grandfather helped her pin down a definition. As he described his family's evacuation during the Second World War, of not having a physical building to call home, he reflected that being able to keep his family together was enough. "[Home is] more about a feeling, an emotion," was Margarita's revelation, "where you feel home, you feel included. One of."
She always knew she was going to be an artist, so it was natural for Margarita to want to express the results of her search through creation. She pursued an MFA at the Art Institute of Chicago where she says she finally found the freedom to dive into the research and open her mind to the concepts. In Canada, she put what she learned into practice. "This art voice of the little Ukrainian girl who I was, repatriated with me to Israel, and then through the Art Institute of Chicago became a really solid and liberated voice in Canada."
Much of her impressive body of work interprets the archive of family documents she's uncovered over the years. Evacuation decrees, military records, passports, repatriation and immigration records, in many languages from around the world. Her architectural installations are screen-printed with layers of these records.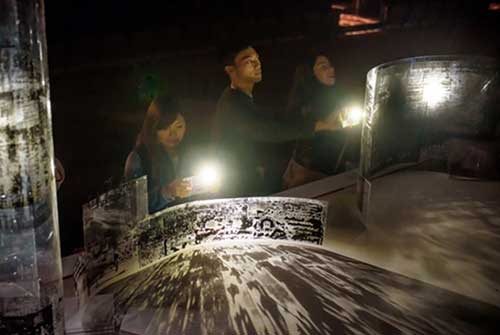 Two years ago, Thinking with an accent - Part 2 was a miniature cityscape of clear plexiglass shapes printed with layers of the documents and shown in a darkened room. Visitors used their cell phones to illuminate the work, casting warped shadows. The combination of shapes, inky words, light, shadows and visitor interaction formed a changing collage that evoked both the fragility and importance of family records. "The question of, during all this movement, immigration, evacuation, repatriation… if you lose these documents, then who are you?"
Nocturne 2019 is Margarita's fourth time presenting at the Museum. It's not by accident. Margarita says she has always felt a strong connection to the Museum's message. "I don't even know how to put it in words," she says, "This is the museum of immigration and I am double immigrant."
Her project, The Beige Room is something completely new. The project will literally be a room with everything beiged-out including furniture and objects. In one section, a video provokes perspectives of reality from inside a contained space. After viewing it, visitors can write or draw their reactions onto any part of the room with graphite. "It's about the social, physical and political structures that shape our behaviours," she explains.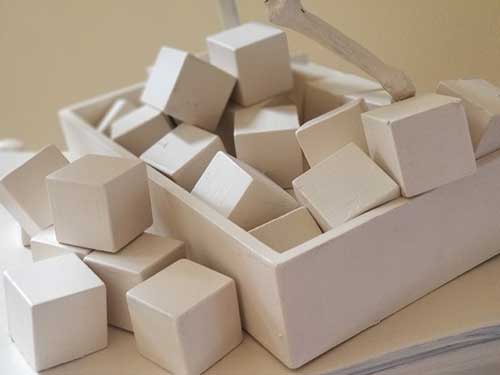 Like many of her projects, like the archive of documents that tell her family story, like Margarita herself, the end result of The Beige Room will be a collage. Layers of video, paper, words, drawings and an overlay of people's movements in the space to raise the question of how our environment shapes our identity.
The final piece of The Beige Room is the conversation. Something Margarita hopes will be sparked by the experience, then take on a life of its own after Nocturne. She says this is how her art can help visitors with their own struggles. "I use this art as a voice and a tool to express these very crucial things that are relevant not only for me as double immigrant, but for a lot of people who are searching for their identities and feel lost."
The Beige Room will be presented during Nocturne at the Museum, Saturday, October 19 from 6:00 p.m. to midnight along with other incredible installations from Ursula Handleigh, Israel Ekanem, Katarina Marinic and more. Learn more about Nocturne at the Museum on our Events Page