Between 1869 and 1948 over 100,000 children aged 4 to 14 were sent from the United Kingdom to Canada, Australia, New Zealand and South Africa. Today, British Home Child Day is commemorated on September 28th, and this year marks 150 years since the first Home Child set foot on Canada's shores. Early last month nearby the Museum, a monument was unveiled to honour the history.
The Home Child history is difficult, and veined with the best and worst memories a person could have. The British Home Children and Descendants Association believes 11% of Canadians have a Home Child in their lineage. Yet, many are unaware of the family history because the painful story was buried. Other times, the memories are happier ones that speak of opportunities and a life built anew. Sometimes, it is a bit of both.
Many British Home Children landed in Canada at Pier 21, and some of their stories are in our collection.
This is Ethel's. It was compiled and donated to the Museum in 2008 by Joyce Carey, Ethel's daughter.
Ethel Mary Hales was born in Birmingham, England in 1913. She had three brothers and a sister. Ethel was 10 when their mother passed away, and all five children were placed with the "Middlemore Orphanage," writes Joyce.
Boys and girls were separated, and Joyce remembers a story her mother would tell over and over was of how she would scale the wall of the boys' orphanage to catch a glimpse of her baby brother, Stanley.
Ethel spent three years at Middlemore before she was sent to Canada onboard SS Samaria. She lost contact with her siblings along the way. She had no one, and next to no belongings. "She had no money," writes Joyce, "her prize possession was a small bible."
Joyce says her mother would often describe how she felt on the long sea voyage. She spoke her loneliness, and the great uncertainty about who or what was waiting for her at the end of the journey.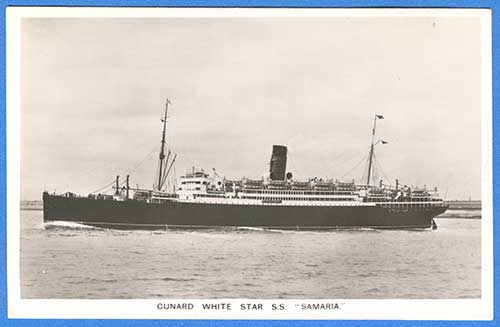 Ethel landed in Halifax May 20th, 1927. Joyce writes that her mother was put up in a home on the Bedford Highway to be screened before being placed as a maid. It was here that fate intervened when Ethel learned her sister had arrived at the same house, ahead of her. Destined for New Brunswick, she had been quarantined in the home to recover from an illness, "otherwise my mother would have never known where her sister was," writes Joyce.
The story does not contain details of Ethel's time working as a maid, except to say she was placed with "a nice family in Canning, Nova Scotia." And Joyce does not specify how many years passed before the next pivotal moment: "while swimming at Kingsport beach she met my Dad, Gilbert Spinney."
From Joyce's description, Ethel and Gilbert built a happy life. They married and had 10 children, including Joyce. Ethel was renowned among friends and neighbours for her singing voice, contributing it to the Canning Baptist church choir and at weddings. Joyce writes that Ethel "lived for her children," and would hand-make all their clothes. Joyce often felt like she was the best-dressed kid in school.
Yet, even surrounded by her large family, the feeling of being 13, alone on a ship to an unknown destination would return. "I know she thought of her mother and the family she left in England," writes Joyce.
When Ethel was 69, she decided to make some inquiries. She enlisted the help of a son-in-law's uncle, who was visiting from England, to place an ad in a Birmingham, UK newspaper. The ad was a simple question about the whereabouts of her family. She waited, then, a response arrived.
"A nephew wrote and said perhaps we are related," writes Joyce.
Ethel did not waste time making the trip to find out if it was true. In 1983, Ethel, Joyce and some other family travelled to England and at last reconnected the broken ties. "My mother's nephew visited Canada every year until her death."
After more digging, Ethel discovered that another brother was sent to Australia. Though 81, Ethel did not hesitate to travel to the other side of the globe to visit her newly found nephew and nieces. Her family tree now literally encircling the world, Joyce says, "her nephew and nieces from Australia also visited her in Nova Scotia."
In the girl that scaled the wall of the boy's orphanage, in the mother who hand-made clothes for ten children and in the woman who reconnected with lost family half a world away in her golden years, we see why Joyce says, "my mother had great faith and determination that kept her going."
Ethel passed away in 2003, but her story of resilience and of family built and found lives on in the Museum's collection, and in the hearts of her family in Canada, England and Australia.
Not every former Home Child is open to sharing, and we are lucky to have Ethel and Joyce's contribution to our collection. They are just one of many, and we invite you to discover more Home Child stories in our online collection.
Are you looking for more information about British Home Children, or a relative who may have come to Canada as a Home Child? Visit our Scotiabank Family History Centre for research assistance.