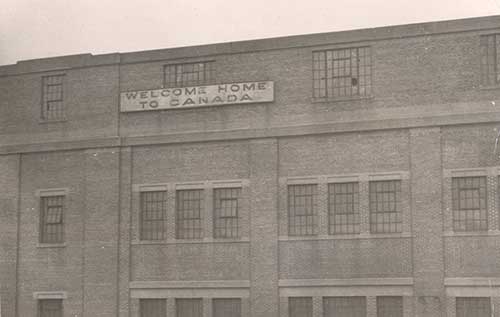 Inside these brick walls are countless journeys. We call ourselves a Museum of Stories, but our own journey to become a national museum is a story in and of itself. This month, as we celebrate 20 years since our opening, here is our own account.
By the 1960s, immigration by ship was being replaced by air travel. In April of 1971, Pier 21 ceased all immigration operations as an ocean terminal. Of the nearly one-million people who arrived here to forever change the face of Canada, only echoes of their footsteps remained.
A National Historic Site
The building did not stay empty for long. That summer, Public Works renovated the site for the 1971 Canadian Census enumeration. After, the iconic brick warehouse returned to the auspices of the National Harbours Board. Then in 1973, it housed the Nova Scotia Nautical Institute, followed by a stint as studio space for artists, some of whom still occupy rooms in the Immigration Annex.
Saved in part by a degree of neglect, by the 1990s Pier 21 was the last-standing ocean immigration shed in the country. The Pier 21 Society, founded by J.P. LeBlanc, formed with the goal of commemorating the history and landmark. Soon after, Ruth Goldbloom joined with a broader vision to raise funds, preserve, and breathe new life into the historical treasure.
Ruth's impact and determination continues to resonate. To hear people talk about her today is almost to have known her.
Carrie-Ann Smith, now VP of Audience Engagement, worked alongside the inspirational woman since the beginning, "she made everyone feel ownership and pride in the museum's success… It will always be here just like she will always be here, on the plaque in Nation Builders Plaza, on the Sobey Wall of Honour and in the memories and hearts of everyone blessed to have worked with her."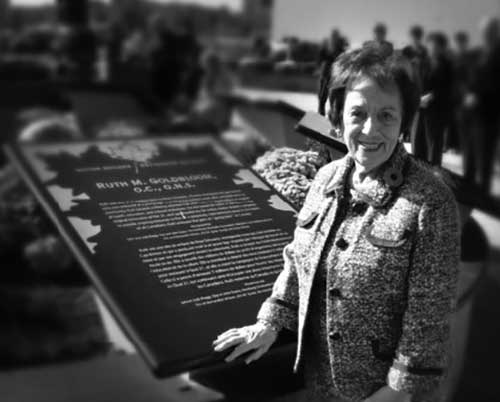 When Ruth took over as president of the Pier 21 Society, the push to name Pier 21 a national historic site proceeded quickly. In 1997, the designation was awarded and fueled the next phase of evolution.
A New Purpose
Alongside the Pier 21 Society, Ruth worked tirelessly to spearhead fundraising efforts. A total of $9 million was raised by three levels of government and matched by corporations, foundations and individual donors. It was enough to build an interpretive centre in the site.
As the opening approached, Canadians from across the country began to send in memories of arriving or working at Pier 21. Immigrants, refugees, War Brides, veterans, evacuee children, former staff and volunteers contributed their stories and photos.
Carrie-Ann's first job was to build an index of immigration records in partnership with Library and Archives Canada. To her, each record was a gateway, "It sounds boring but even just seeing the records made me start to imagine the stories behind them," she says "so when my six month contract ended I wanted to find a way to stay."
In Carrie-Ann's work, and in the hundreds of stories donated daily, it was clear that Canadians had a deep connection to Pier 21. The time was right to honour Canada's immigrant roots and pay tribute to the "alumni." In cooperation with the Halifax Port Authority, Pier 21 the interpretive centre was officially opened on Canada Day in 1999.
It was an immediate and resounding success. "On the day we opened, visitors asked for guided tours so in the following days we whipped up a script and hired a handful of students," remembers Carrie-Ann.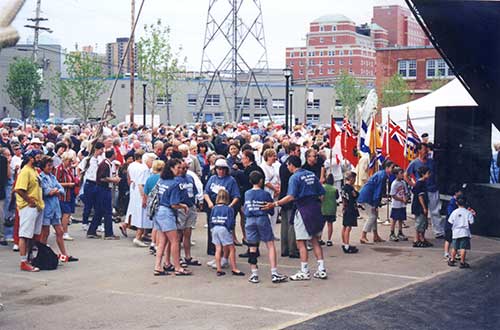 A National Museum
The impact and desire for this type of Museum as part of Canada's official narrative did not go unnoticed by the government. In 2009, Stephen Harper announced a Statement of Intentions to designate a National Museum of Immigration at Pier 21. In 2011, the Canadian Museum of Immigration at Pier 21 joined the ranks as Canada's sixth national museum, with special mention for being just one of two located outside the National Capital Region.
The new title came with an expanded mandate: to tell the broader story. The Museum's exciting new challenge was to share 400 years of immigration history. "The interpretive centre was created to celebrate Pier 21 and the people who passed through it specifically," explains Carrie-Ann, "The national museum is about negotiating settlement with the indigenous people who live in Canada and all the immigrants who followed and who continue to come."
"It is about everyone and for everyone - as it should be."
Thematic Expansion
To tell it all as fully as possible, a $30 million renovation expanded exhibition space in 2015. Now, two core exhibitions flank the historic site to portray the Pier 21 Story and the Canadian Immigration Story, along with a temporary exhibition space.
Today, our message extends across the country with events, partnerships and travelling exhibitions. Just as it did 20 years ago, people are inspired to add their voice to our growing, living narrative. Our collection, content and programming continues to evolve to reflect the countless journeys, and our understanding of immigration's impact on Canada and Canadians.
All who work here, from staff to volunteers, feel the pride and privilege of this evolution.
"I have only been a small part of it but if I left my position tomorrow I would still consider it my life's work," explains Carrie-Ann, "I have the original and the new logo tattooed on my leg and when I am out of town I wear a Pier 21 baseball cap so that strangers with a connection to the site will tell me their immigration stories."
Meeting immigrants to Canada and hearing about their experiences is the joy of my life."
Condon MacLeod, a volunteer tour guide for more than 10 years, also finds deep gratification in evoking a story. "I really do get more out of it than you can imagine. You meet people from all over the world," he says "I think it opens their eyes to how important immigration is to the country."
The Future
Whatever the future holds, sparking conversations about immigration will continue to be relevant. "I think that there is ever increasingly value in our role to show the success of past waves of immigrants and refugees," says Carrie-Ann, "there is a place for us in helping to alleviate concerns and inspire empathy."
"It is a joy that people who immigrated through the site can come back and walk the exact same floors but I think that over the next 20 years the Museum will increasingly live in the digital space where user generated content will be co-curated so that presentation will take a back seat to public contributions," says Carrie-Ann.
One thing is for certain, the echoes of the footsteps of the nearly one-million who came through this brick building can once again be heard in the work we do preserving, and sharing these stories. Today, and tomorrow, we will continue this mission. Countless Journeys. One Canada.