"Nisei," meaning "second generation," is a Japanese term referring to children born to Japanese immigrants. Those who were born in Canada, sent to Japan before the Second World War, and returned afterwards, are called the "kika-nisei." Their journey uniquely bookends the war, and as such, they escaped the internment camp experience that we often associate with the Japanese Canadian narrative.
Haruji Mizuta is Kika-nisei. "Everybody calls me Harry," he begins.
Harry's family story is a complex web of trajectories. It begins with his parents who immigrated to British Columbia in the early to mid 1900s. His father left Osaka in 1906 to work with the Canadian Pacific Railway (CPR). His mother arrived in 1926 as part of an arranged marriage to her first husband, who later passed away.
Harry was born in 1933, in Revelstoke, British Columbia, and his sister came along three years later. Their Canadian citizenship forged by birth.
In 1938, the family of four returned to Japan, to the small village of Mio in the Wakayama prefecture. Harry explains it was common for Canadian born Japanese children to be sent for a quintessential Japanese schooling, "it was mainly for the education purposes," he says, "on the other hand it might help to minimize their parent's living expenses in Canada."
In the village, Harry's father missed Canada deeply. "He couldn't … should I say… hack it," says Harry, "the way of life in the small village." The discontent stemmed from a language barrier between his Osaka Japanese, and the dialect spoken in the village. He returned to Canada after just two years.
With Harry's father back in Revelstoke working with the CPR, and the rest of the family in Japan, the Second World War became the inescapable backdrop to their lives for the next five years. They lost contact with Harry's father, but learned he escaped the fate of internment camps for a couple reasons: in Revelstoke, he was outside of the 100-mile coastal order, and Harry says "because they needed labour to maintain the railroad, he was able to keep working."
The day Harry's father re-appeared in Japan, it's easy to imagine how much of a surprise and relief it would have been. From Raga, the port near Tokyo he sent a simple message to his family, "I'm here now."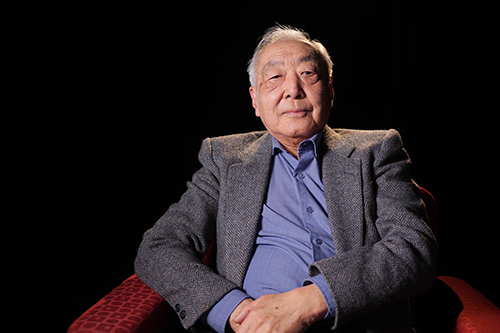 The family is reunited, until 1955 when 22-year old Harry makes the decision to return to Canada. His coming of age and formative years all took place the past 17 years in Japan. Harry now says he will always feel that at heart he is Japanese: "I try to be a Canadian… but whenever I have to make important decisions it's always based on my Japanese thinking."
It was not a warm welcome back. Harry had a hard time finding work, and remembers being called derogatory names. "I realized that I should learn English as a first priority as I was not accepted as a Japanese Canadian in Japanese Canadian society as I acted in the Japanese style," he says.
He set to work at odd jobs and enrolled in vocational school for auto-mechanics. Though he continued to wrestle with the language, he used his technical knowledge to pass the exams and landed a job at a motor factory. He saved every penny and was eventually able to open an auto service centre. "I learned quick enough that 1500 dollars doesn't go far," he says, "somehow, I survived."
Being the only Asian service station operator on a street with six other stations, Harry explains, "I didn't have many customers at the beginning." But he persevered and business began to pick up. Around this time, he met his wife, Akemy. They married in 1961, at a Buddhist temple surrounded by nearly 70 guests.
As they searched for a place to live, Harry says many doors remained closed because of their Asian heritage. They finally rented a flat behind a restaurant. "Terrible place," says Harry of this apartment with no heat and infested with mice. Their first daughter was born here, but the couple knew the situation was not sustainable for a new family. Together they saved enough for a down payment on a house.
Their new neighbourhood was multicultural and on the surface, seemed lovely. But Harry found out a year later what was happening behind their backs, "We were the first Asians to move into that district," says Harry "all our block neighbours put the petition up to kick us out."
He learned it was the family directly across the street who had started the petition. The same people who had been so kind as to offer to babysit their daughter. "So I was kind of shocked, but knowing everything else it was nothing new."
Harry talks about this experience in this clip from his Oral History in our collection >
Despite the challenges, Harry had begun to put down deeper roots. It was time to welcome his parents into their home. "In Japanese tradition, the first boy is supposed to take care the whole family," he says. Harry's parents arrived in 1964, and the family was reunited for a final time.
Things have changed a lot for Harry since those first days re-settling in Vancouver. He moved on from the service station to begin a successful business exporting lumber to Japan. Now retired, when Harry thinks about his journey he feels conflicted. Appreciative, but sad.
"At the beginning, we're so grateful" and explains how living in Canada allowed him to care for his parents, "but there's a lot of disappointment too… in Japan… I thought, maybe, Canada is more free. But it wasn't… a lot of discrimination," he says "that was a disappointment."
"But other hand, there was a lot of good people that helped us. So, no regrets."