Museum Curator, Dan Conlin is concentrating on the exhibition map of the Museum's next temporary exhibition, Family Bonds & Belonging. Today's challenge is to find an extra partition wall, maybe borrowing from another section. It's hard to believe this gallery space will soon be a full blown exhibition, open to the public on March 9th.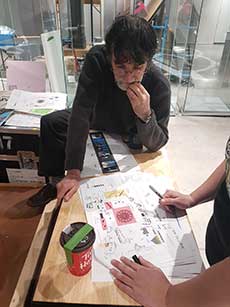 Dan is accustomed to the challenge, and says the team has a good track record of "of bringing big, impressive interesting shows to our Museum."
"We find exhibits that are about other things but have powerful immigration stories within them," he says "then we find a way to adapt them for our space and our themes."
Family Bonds & Belonging, produced by the Royal BC Museum in Victoria, was a natural fit. Unless you are Indigenous, almost every person's family story includes an immigration journey, and the opportunity to pull those stories to the forefront was compelling. The team enjoyed incorporating East Coast material and stories to the originally West Coast based exhibit, resulting in what Dan calls "a bi-coastal take on the definitions of family."
Every travelling exhibition comes with its own set of challenges, and one of the puzzles presented by Family Bonds & Belonging was the amount of "interactives." For example, "this exhibit has a whole pile of home movies," says Dan, "we had to find a way to show all these home movies with suspended screens and projectors." To do so, the team is building a full-size replica of a 1970s style rec-room with multiple screens and films running on a loop.
The throw-back rec-room complete with orange couches and wood paneling is a vibe that's continued throughout the exhibition. Tanya Bouchard, Vice-President, Exhibitions, Research and Collections, says this element of nostalgia is one way Family Bonds & Belonging is universal and approachable.
"There's a lot of opportunities for people to relate," says Tanya, "our aim is to develop exhibits that have a universal topic, because then more people can connect to it."
Tanya says part of the reason Family Bonds & Belonging was selected was because of its potential to attract visitors who might not have a specific interest in immigration. As they connect to the exhibition's accessible theme, they find themselves discovering the fascinating history nonetheless. Perhaps even within their own families.
"I'm hoping it will draw grandparents, parents and children together," says Tanya, "because it's an exhibit where you share a lot. I would want to visit it with my whole family and compare and share our family stories."
From artifacts to films, photo albums and stories, there are many opportunities to connect. Tanya is especially looking forward to seeing the exhibition's centrepiece, a visually striking circular display of traditional clothing, and period costumes from 1880 to present day.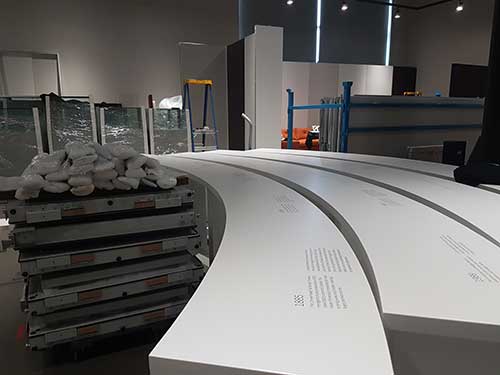 "It's a centrepiece that kind of links all the different themes together… just seeing it displayed in that way draws your attention." Tanya explains how the mannequins that present the clothing were specially carved to allude to the original wearer's body shape as a subtle way of bringing the real person, and their unique story, into the display. The display includes a beautiful Mi'kmaq chief's coat, representing the First Nation family connections of the East and to complement the West Coast Indigenous content.
With the word "Family" right in the title, it's no surprise that the exhibit is geared towards all ages. Just last week, a giant replica of vintage TV was delivered for the exhibition's Kids' Zone. The TV will sit near a giant blanket fort, with games and shadow puppet theatre to create a display that explores the child's unique role and responsibility in the family unit.
Dan's favourite is a display that shows how family members aren't always human. Sugar was the Aspillaga's family dog, and family member for who they went to great lengths to bring to Canada from overseas. As Dan explains, "the dog was part of the family and [Louanne Aspillaga] was as excited to see the dog at the airport as she was to see her father."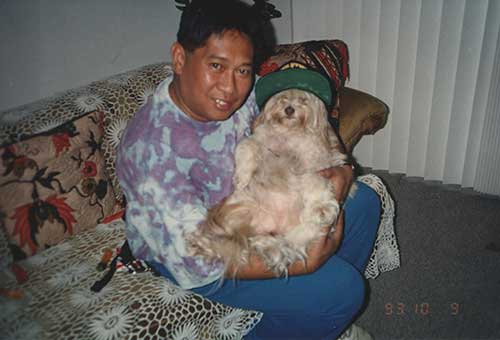 Sugar's collar and "doggie passport" will be on display alongside the Aspillaga's immigration story. "It's a charming and surprising object in terms of defining dimensions of family," says Dan, "It's not just family by biology, it's family by association… and by choice."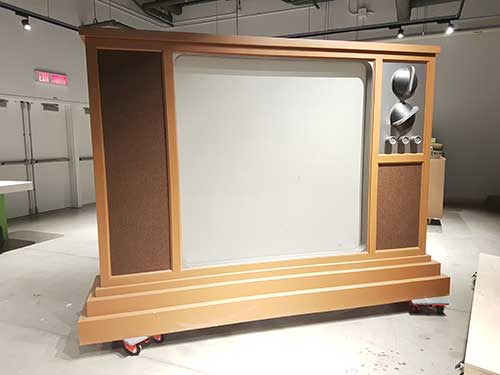 While Family Bonds & Belonging is an overall warm, positive and sometimes funny exhibition, it still takes opportunities to show some of the more melancholy aspects of family. For example, "family separation, families who get interned during the war, family members who disappear for long periods of time, people who lose families when they come to Canada as refugees," lists Dan. He says the opportunity to explore these varied stories of journey was another reason the exhibition worked well with the Museum's mandate.