For many newcomers the first encounter with a Canadian winter evokes mixed emotions, from joy to confusion to downright disdain for the cold, ice and slush. Whether you love or simply tolerate Canada's cold season, here are some wintry stories from our collection to warm the heart.
"Cold and snow and no leaves on the trees."
Daxa Popat arrived with her mother, father and 4 siblings from Uganda in early November, 1972. The Ugandan president, Idi Amin, had ordered the removal of the country's Asian population so the family was forced to leave. They sought refuge in Canada with the help of an uncle who sponsored them, and first landed in Montreal.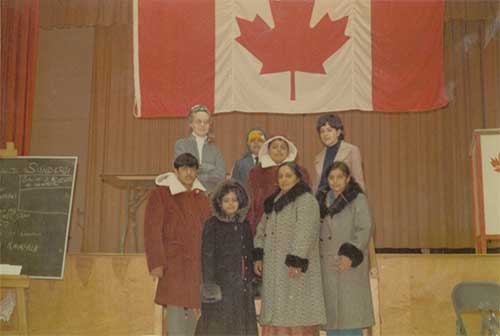 Having come from an equatorial country, Daxa remembers feeling both confused and excited by the bleak Canadian backdrop, "No leaves on the trees… it seemed strange, you know, because we always have leaves on the trees in Uganda … because it's always green," says Daxa in her story. "Cold and snow and no leaves on the trees. It was very amazing and very exciting at the same time." One of the very first things the Popat family did was to bundle up in new winter coats for the whole family.
The day after landing, they boarded another plane to Halifax and eventually settled in Bridgewater, Nova Scotia. Daxa's father worked for the Michelin plant for 16 years before opening his own business, Popat's Grocery, in Halifax.
Long Johns Required
Adriana Salazar and Orlando Garcia immigrated to Canada from Colombia in 2007. Prior to the journey, they spent many months investigating, planning and learning about Canada's culture and lifestyle. Even so, there was no way to be fully prepared for the surprise of Canadian winter.
The couple arrived in Toronto in April with four suitcases "and a lot of dreams," and quickly realized they were going to need more layers, "It was cold!" says Adriana in her story, "I was looking for thermal long johns in different stores. The sales people at the stores just gave me this sad look and told me it was too late to find thermal clothes. So my solution was to wear my winter coat!"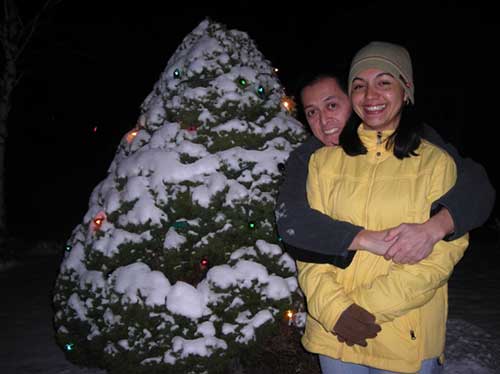 Adriana and Orlando eventually settled in New Glasgow, Nova Scotia and grew their family to four. They became Canadian citizens in 2012, and sponsored Adriana's mother to become a Canadian resident.
"You'll need trousers."
Gayle Roberts, her mother and father left England for Canada in the early 1950s, having been told of the wealth of opportunities in Canada. To prepare, Gayle remembers an important purchase, "I recalled, with appreciation, my mother and father buying me my very first pair of long gray flannel trousers," writes Gayle, "'Canada is very cold,' my father had told me. 'You'll need long trousers.'"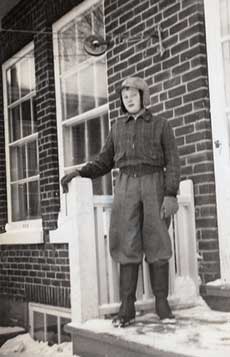 The first winter was very difficult for the Roberts family. The cold weather a dreary backdrop to their troubles as Gayle's father was having a nearly impossible time finding work. Over the next two months, the family moved several times for jobs, but nothing lasted.
Gayle remembers her parents finally weighing two options; going back to England, or going to Vancouver by train. They chose Vancouver. "On my mother's birthday, March 21st 1952, we traveled through the snow covered Rocky Mountains" writes Gayle, "the following morning we rode through the lush and green Fraser Valley to arrive at the snow free city of Vancouver. This was the first time since leaving England that I had seen bare grass."
Gayle writes of a new admiration for her parents after seeing how they persevered through the first winter in Canada, "Those first three months in Canada taught me the greatest of respect for my parents. I don't think I would have had the emotional strength to do what they did – especially with the added responsibility of a child."
"I was like a little kid"
In 2005, Filipino immigrant Tracy Tenedero stumbled upon a job opportunity in Canada and decided to pursue it "what can I possibly lose?" he writes. Several months of paper work and interviews later, his plane was descending into Ottawa, Ontario. His new home.
Looking out the plane window, he describes being overjoyed at seeing snow for the first time, "I was like a little kid, enjoying my first glimpse of the Canadian landscape from some 30,000 feet above ground," he writes. "Snow, rugged terrain, frozen lakes, more snow… it was the middle of one of the longest winters Canada has ever had."
After the plane landed, Tracy ran outside for a closer look at the wintry landscape, "Even in my thin winter jacket, I managed to hold a lump of snow and smiled for the photo op."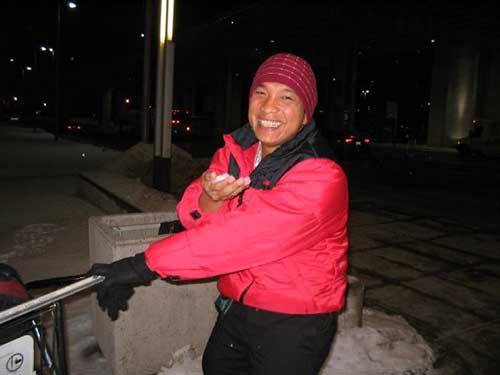 Throughout that first year, Tracy did not stop delighting in all of Canada's seasons. He continues his work with l'Arche Arnprior as an independent living assistant and 2014 he became a Canadian citizen.
Magical Moose Jaw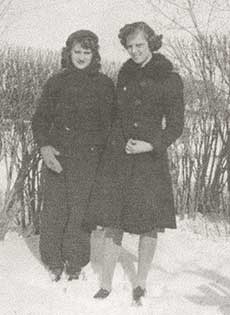 Sisters Patricia and Pamela Pye arrived in Canada from Britain as Evacuee Children in 1940. Their story of living with a family in Moose Jaw, Saskatchewan includes awe-inspired descriptions of the endless expanse of the Prairie landscape. "At night the sky was blessed with the light from the Milky Way and in the wintertime, the Northern Lights played against vast ribbons of shifting, reflecting light and huge tracts of colour and white lights dancing across the sky, quite magical," writes Pamela.
That first Canadian winter, the sisters took the ever-present cold in stride, "Pat and I were fascinated with the winter and took to skating in the school ground," describes Pamela, "I occasionally skated all the way from home in Lillooet Street to the Empire School… I loved the openness, the wide skies stretching from horizon to horizon without interruption, except for the silos and the occasional elevations in the distance."
Patricia and Pamela eventually returned to their families in England. But the close bond they forged with their host family in Moose Jaw was never forgotten, and they returned to visit their Canadian home-away-from-home many times.
The Canadian Museum of Immigration at Pier 21's collection contains many more stories that reference Canadian winter and other Canadian firsts. Explore our collection of stories from the warmth of your home.