In the Museum's collection, there are hundreds of stories of immigrants who experienced acts of kindness in their new homes. In most cases, it's a simple gesture of giving; a helping hand, something to eat, speaking a familiar language. Often these moments have a tremendous impact on the individual, and even carry forward into future generations. In the spirit of the season, here are some stories of kindnesses that arrived in different ways, but always at just the right time.
A Box of Cornflakes
Italian immigrant, Sara Davis remembers a very special box of cereal. Sara was 11 when she arrived at Pier 21 with her mother and sister. She remembers her loneliness and missing all the friends she left behind. "When we arrived in Halifax I remember the Salvation Army was there to welcome us and handed to myself and my sister and brother a box of cornflakes," she writes "That gesture of kindness to an immigrant … going through a very traumatic change in life will never be forgotten."
Sara carried this feeling with her for the rest of her life. "I associate the Salvation Army with acts of kindness and have supported their organization in my adult life," in the hopes that immigrants entering the country will also experience the same kindness.
"How are you?"
Italian immigrant, Ulderico Ficaccio spent his first Christmas in Canada on a train bound for Timmins, Ontario. Just twenty-four, he had immigrated on his own and was already feeling homesick. He remembers the cold, "-25 degrees Celsius and I had never experienced this kind of cold in all my life," he writes, "it hardly even snowed where I came from."
Ulderico started work at a lumber camp the day after he arrived, cutting down trees with an axe and handsaw. A month in he over-exerted himself and ended up in the hospital with inflamed stomach muscles. "This was one of my lowest points because I… didn't know what was wrong with me, couldn't find out because I didn't speak English," he writes. On the eighth day of his hospital stay an older woman came into the room and asked "Come stai? ('How are you')" With this simple question, a floodgate opened, "I couldn't believe my ears, I was ecstatic, but all I could do was cry as all of my emotions poured out." Ulderico was finally able to understand his injury, that he was going to recover and only had to stay for three more days. "She came to visit me and brought me fruit every day until I was discharged," he says.
A Turkey Pie
Scottish immigrant, Mary Zahar was ten when her father won a football pool. It was enough money to pay for his passage to Canada, and so he went ahead to "pave the way for a new start for our family." Mary, her mother and three siblings joined him in Edmonton, Alberta a year later.
Mary remembers after seven days on the ship, the train journey seemed especially long, "there was very little money left for food and we made do with apples and oranges brought from the ship, and treats given us children from fellow passengers."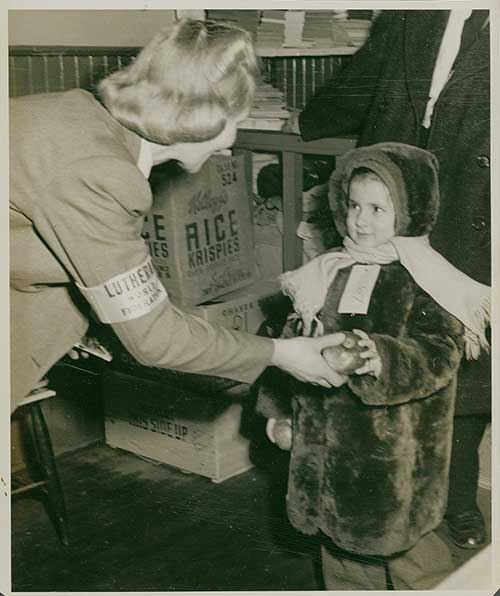 Once in Edmonton, settling in was a challenge for the large family. They bought a "four room shack for $200.00," writes Mary, and specifically recalls the kind people who sold it to them, the Murphys. "I guess Elda Murphy saw the hardship - all those kids - no money," writes Mary. As a welcome to the family, Elda Murphy "arrived at our door with a turkey pie, vegetables and I believe some kind of dessert." Mary writes that her mother cried at the simple gesture of "thoughtfulness, generosity and neighbourliness."
"The Murphys remained friends with my parents for the rest of their lives."
We Felt At Home
South Sudanese immigrant, Abuk Tong arrived in Canada with his mother and four brothers, with the help of his uncle. They had escaped the war in Sudan and were living in a "camp in Uganda" for three years before immigrating to St. John's, Newfoundland. All four brothers went to "one of the best schools in Newfoundland," and what Abuk remembers is immediately feeling accepted.
"We met so many people that were so kind, so welcoming and most of all so patient with us as we learned English as a second language," he writes. "We felt at home for the first time in a long time as soon as we landed here. Everywhere we went we were greeted with warmth and kindness."
"Moving to Canada has been the best choice of our lives. Canada is our home!"
An Invitation
Romanian immigrant Mary Dwyer was eight years old for her first Christmas in Canada in 1930. With the depression, it was shaping up to be a lean one for the family.
One day, Mary brought home a letter from her teacher addressed to the whole family. It was an invitation to a Christmas party at St. Philips Anglican Church on Spadina Avenue. Her elders were skeptical, "my mother, father and uncle were worried that this was a summons to account for something we had done wrong." Their worry stemmed from past traumas. Mary's father had been in the Austrian Hungarian Army during the First World War and had passed dark days as a prisoner of war where, as Mary writes, "he saw unspeakable atrocities in the name of religion."
The family decided to go and have a look together. They approached the church with trepidation. Mary remembers how her uncle went ahead and "peeked in the door of the hall." What he found was a picture perfect display of holiday splendor and welcome.
"A Christmas tree with decorations, table set with gleaming silverware with bowls of fruit and candy at every table." Mary describes her uncle's reaction and relief as he realized "they are going to feed us."
That first Christmas in Canada was one Mary would never forget. The simple gesture of welcome was what made the biggest impact. "This is what was remarkable to us," she explains, "the people who were willing to give a helping hand who went out of their way to see we had the necessities of life."
From all of us at the Canadian Museum of Immigration at Pier 21, wishing you many moments of kindness, joy and friendship this holiday season.