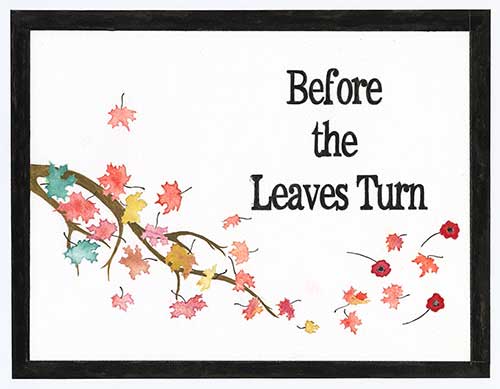 Playwright Jamie Bradley helps audiences wrap their minds around mind-boggling events, like World Wars, by giving them access to his character's private day-to-day lives. "It brings it down to one particular human thing," says Jamie of this technique.
You might know his name from bylines on KAMP: the musical, currently on at Neptune Theatre in Halifax, Nova Scotia. Jamie wrote his dark comedy about a group of gay men in a Nazi concentration camp during the Second World War. The characters find a way to preserve their humanity amidst unthinkable suffering by secretly producing a cabaret.
Or, maybe you had a chance to see Before the Leaves Turn when it was touring New Brunswick and Nova Scotia a few years ago. For this piece, Jamie time-travelled further back to the First World War. The script is a close-up look at two families figuring out how to hold it all together amidst the terrible uncertainty of the time. Readings of Before the Leaves Turn are slated for Remembrance Day at the Canadian Museum of Immigration at Pier 21.
"I'm becoming known as the war writer," he says. Both KAMP and Before the Leaves Turn are not just about the war as an event, but how normal people endured the seemingly impossible chaos. "War isn't just men and women overseas with guns and tanks and bombs and flamethrowers," he says "when there is a war everybody is affected. Even the smallest town in the Maritimes."
To write Before the Leaves Turn, Jamie enlisted the help of a researcher, librarians and historians in Sackville, New Brunswick where the play takes place. The little town was actually central to the Canadian World War One effort, and Jamie dove into the script armed with lots of historical knowledge. As he wrote and researched, he still uncovered some surprises. One of those was discovering how central the women were and "how many women there were overseas, and how many women died overseas."
As his characters' personalities emerged, Jamie realized the women had become essential to the entire story. "The two lead characters in my mind are the mothers," he says, "they're the ones who have to hold everything together."
These two matriarchs make sure that despite everything, life continues. They get the mail, share awful or important news, keep the men's spirits up, make sure the kids have a routine and the list goes on. As the audience watches, their daily activities take on an important gravity when through them a backdoor to understanding is opened. "We always hear about the huge battles, how many thousands of people were killed or mustard gas," explains Jamie "But the little things… that's how we can relate to war, is through the tiny things."
Throughout the process, Jamie kept his audiences in mind. He was writing for a few. For the locals he made sure that "all my New Brunswick-isms were correct." For the history buffs, he researched tirelessly. Above all, he says he wrote for the veterans. During its first tour, many were compelled to share stories of their own experiences with a war. "This play is making old soldiers cry," he says, "there will be some tears."
"Everybody can relate to losing a loved one."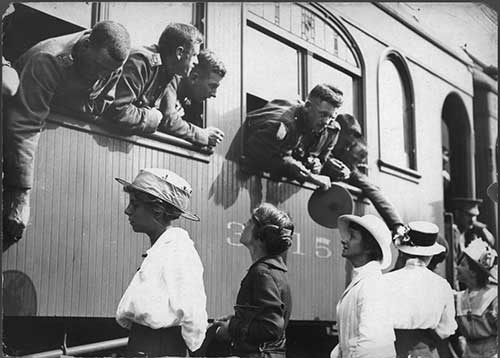 War times are dark times, but Before the Leaves Turn also conveys some of the positives of the era. "There are uplifting things," Jamie explains "it was the start of modern women's liberation… women were wearing trousers, rolling up their sleeves and going to work in factories. Men were coming back expecting the world to be the same, but women had a sense of independence. Socially, things were changing."
Jamie hopes that what people take away from Before the Leaves Turn is not just that "war is hell" but also "just how incredibly strong we human beings can be during awful times" he says "we find a way to cope."
And more broadly, about the day Jamie hopes that people "always remember …. it's easy to remove yourself when you see black and white photographs of soldiers… or watching films… just try to remember they're the same kind of people that are walking down the street right now."
Carrie-Ann Smith, the Museum's VP Audience Engagement, believes the Museum is the perfect place to host Before the Leaves Turn. "Special things happen when history and the performing arts come together in this unique space," she says, "especially on days when we come together in honour of others."
Two readings of Jamie Bradley's Before the Leaves Turn will happen on Remembrance Day at the Canadian Museum of Immigration at Pier 21. Visit our events page for more information and to reserve a seat.