Imagine a Venn diagram. One circle represents Mi'kmaq artist Alan Syliboy who works in acrylic and mixed media to create renditions of Indigenous petroglyphs and quill weaving. The other circle is sound and video artist Lukas Pearse who employs technology to create stunning digital displays. Both with a passion for music, their overlap is a series of collaborations that teleport Alan's paintings to new dimensions through Lukas' video and sound treatments. Examples so far, a huge animated whale, a multimedia tipi, animated dancers spinning around the church at Grand-Pré, and others.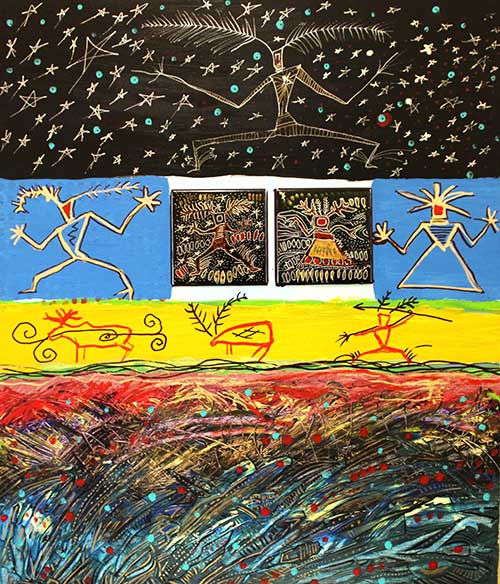 Of their artistic friendship, Alan explains "It just eventually evolved… he was in my band and I had images. I had content and he had technical ability and it was just natural… it worked on every level."
"We had these interesting kind of parallel interests," says Lukas "and this idea that things can be traditional and they can also be really futuristic."
Their most recent collaboration Petroglyph/Electroglyph will soon be on display at the Canadian Museum of Immigration at Pier 21 as Nocturne 2018 Beacon Project.
An interpretation of this year's Nocturne theme, "Nomadic Reciprocity," Petroglyph/Electroglyph is at it's core, about storytelling and the ways that stories rooted in tradition can at once stay the same and completely change over time.
The install is straightforward to understand: Alan's personal understanding of traditional Indigenous symbols are placed into Lukas's video environment. "It's going to be a split screen with my animations on one screen," says Alan, "the other will be the altered screen where it's affected by the sound and it behaves differently."
"The same image, but radically different."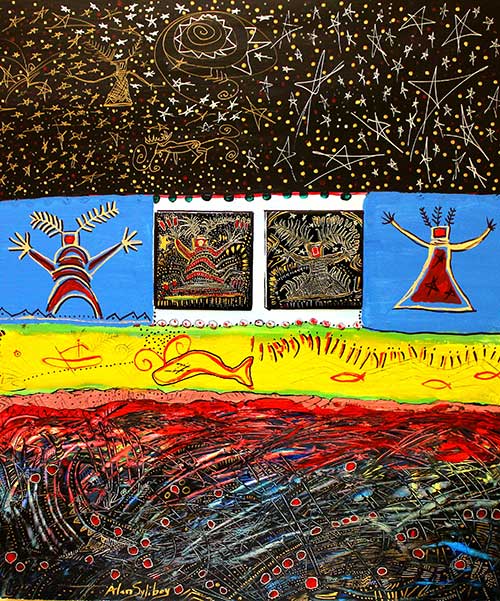 The sheer scale of the installation is another way the images are altered. Projected outdoors directly on the Museum building, "it's going to be like 100 by 100," exclaims Alan.
The viewer's interpretations of Petroglyph/Electroglyph are where the currents become more complex. Both artists anticipate that everyone will come away with something different. Similar to how we do not always understand a story the same way from the first telling to the next, Petroglyph/Electroglyph will change for each viewer.
Like stories rooted in tradition, there are "ideas that connect it backwards over a long time," explains Lukas "going forward, there's still some strength to those ideas no matter where we take them, the shapes we bend them into to make them relevant to ourselves now."
"Just because the forms change some of the seeds of it stay there."
As much as Petroglyph/Electroglyph alters traditions, the potency of Alan's visual symbols throughout are a reminder of their robustness. "The symbols are still recognizable through this digital weathering," explains Lukas of the steadfastness of Alan's art, "I think well… that's metaphorical to all of the other erosion both literally and figuratively that the stories he's bringing have faced to get to this point."
"The fact we can only ever see them from our perspective, that's something to be appreciated and not to be mourned… These images have persisted," he says.
For Lukas, the experience of Petroglyph/Electroglypgh is about reconciliation, and "the understanding between settler culture and Indigenous culture this idea that it's not a fixed thing … it's always something that is going to be re-understood as time, society and people move, change and work together and understand our histories."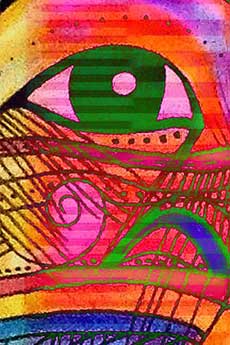 For Alan, part of the experience is also seeing his art and the traditional symbols in huge scale on the historic sites. The chance to see them on the Museum gives him the same feeling as when he saw them projected on the church at Grand Pré, "I'm back together with the church but in a different way" he says.
"Same with this venue, this venue is immigrants and if they could see into the future and see this happening now who would ever think this could happen. Just that alone, time travelling and the thought of it is kind of an amazing thing."
Come see for yourselves, start your Nocturne at the Museum and witness Petroglyph/ Electroglyph along with other fascinating and moving installations from Mocean Dance, Hear Here Productions, Marla Benton, Justin Buckley and Eskasoni Cultural Journeys.