Most of us have seen the photo. The small body of 2 year-old Alan Kurdi on a Turkish beach, his cheek pressed against the sand as though he is sleeping. Only he isn't.
Alan, his brother Ghalib, mother Rehanna and father Abdullah, were Syrian refugees making a last-ditch effort to reach Europe across the Mediterranean Sea onboard a smuggler's small boat. When the overloaded boat capsized, Abdullah tried desperately to save his wife and children, but the waves were too high. Alan, Ghalib and Rehanna died in the tragedy.
The photo of Alan, first shared by a Turkish photographer, swept through the world like a wildfire. The captured moment would become a symbol, changing the public and media perception of the refugee's plight. Tima Kurdi, Abdullah's sister and Alan's aunt was already living in Canada. For her, the tragedy and photo would propel her into the life of an activist, author and international spokesperson for refugees.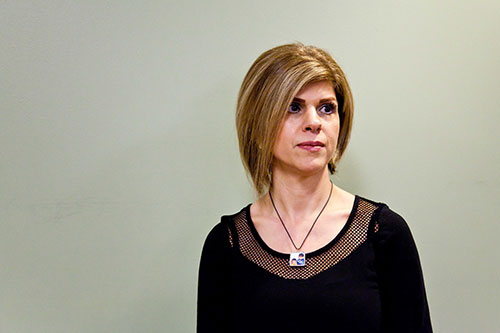 Tima's journey to Canada took place in 1992, when she was 22 years old. Her husband at the time, she has since divorced and remarried, sponsored her initial move to Canada. Tima explains, "I was looking more to be independent woman…. I wasn't really good in school, I failed school all the time." She wanted to come "West" to be with her new husband and pursue a career in hairdressing.
At that time, life was peaceful for her family back in Damascus. She would visit home every second year to nurture her roots. The Arabic word "ghorba," means the feeling of being uprooted. "No matter how your life, perfect or not perfect, if you are away from your home it is ghorba," says Tima, "there is something missing."
As years passed, Tima's homeland deteriorated as civil war destroyed the country. Like many Canadians, most of Tima's information abut the war came from the news. Her family had fled the violence and were living in Turkey. She coached them from afar and sent money, but felt disconnected from the situation, "I was like everybody else, ok I feel sorry for them, I try my best, I send them money," she says "What can you do? You move on in your life. I was an average person."
When Tima visited Turkey in 2014, reality hit home.
"It changed my life," she says. Tima describes walking through the streets of Istanbul and being surrounded by thousands of Syrian refugees who were making do with next to nothing. Many had set up temporary shelter wherever they could, in parks, sheds or abandoned apartments. Children approached to sell her bottled water, songs, dances, even pieces of Kleenex. "It breaks my heart because you look in their eyes, the way they talk to me it's like they are not a child, they are a man of the family." She realized what she had seen in the news was only part of the story
"Why in the world we will be silent about it? Why?"
Tima decided to do everything in her power to bring her family, her brothers their wives and most importantly, the children, to Canada through private sponsorship. Repeated attempts, emails to the UN pleading her case and several months of phone calls to "every church in Canada" ensued. But the required paperwork, and political and administrative hurdles proved insurmountable.
"The restriction in Canada was impossible for me," she says, and explains that each member of her family required a valid Turkish residence permit and passport. Two items that were near impossible for refugees to acquire.
"What will you do when every road you take at the end of that road, the door is shut in your face?" she asks, "You have to find the way around that closed door."
Out of options, Tima sent money to Abdullah to pay for a boat that would take them across the Mediterranean to the Greek island Kos. Of this decision, Tima describes the guilt she now has for pushing Abdullah to come to a decision, either stay or go, to just make a choice.
"If I had done more research in advance, I don't know if I would have sponsored Abdullah's crossing. Or maybe I would have sent more money to pay for a seaworthy boat -- two more what-ifs that I will never be able to change." (Kurdi, 2018, p. 132)
On September 1, Tima sent Abdullah dozens of text messages. The boat had been due to land in Kos the day before and she was frantic for news. The next day she woke early to see she had slept through dozens of missed calls in the night. She knew immediately that something was wrong. The days that follow are difficult to remember as her world fell to pieces. She remembers asking her husband, Rocco, to look on the internet to see if there was any information about what had happened to the boat. What Rocco found when he searched was the picture of Alan.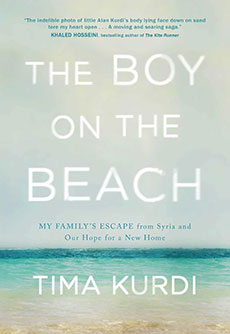 By mid afternoon that day, British, European and North American media had published the image of "the boy on the beach." Tima has a hard time looking at the image, "to this day it makes me sick to think about that photograph of Alan, even though I carry it with me everywhere I go." (Kurdi, 2018, p. 146)
Even as the image became an international message, a symbol forcing people's awareness of the refugee crisis, she explains "it hurts, sometimes, how people use it," but that "at the same time we swallow that pain because it brings awareness."
"The image shook the world…. every single human being across the globe."
Throughout September 2015, memorial services and vigils were organized and donations to charities surged. Artists created interpretations of the image on murals, paintings and statues. The image appeared on protest signs and t-shirts as the world rallied for action. In Canada, with a federal election in its final months, the image was evoked by political parties. The Kurdi family was thrust into the spotlight.
In October, Tima received an invitation from Immigration Refugee and Citizenship Canada to resubmit her application for private sponsorship for her other brother Mohammad and his family. Tima converted the basement of her home into an apartment and the family arrived in December 2015. Abdullah chose to settle in Erbil, Iraq, not wanting to be far from his family's final resting place.
Tima's book, The Boy on the Beach, began as a way to work through her grief by writing, but also, as she says "...to give them the real name, to give them the real age. Alan was two, not three." These were initially misprinted in a number of media outlets, something that Tima says really hurt the family.
The book is Tima's monument to the lives and journey of Alan, Ghalib and Rehanna, a determined effort to dispel myths surrounding Syrian refugees and also a call to action, "I want to paint that picture," says Tima, "It could happen to anybody, to you, me, anybody. We're not different."
"This country it's built from refugees, from generation to generation, look around you… we all come from somewhere."
Tima Kurdi will speak about her book The Boy on the Beach and share her family's story at the next Pier 21 Reads at the Canadian Museum of Immigration at Pier 21. Find out more and reserve your seat >.
Reference: Kurdi, Tima. (2018). The Boy on the Beach. Toronto, ON: Simon & Schuster.